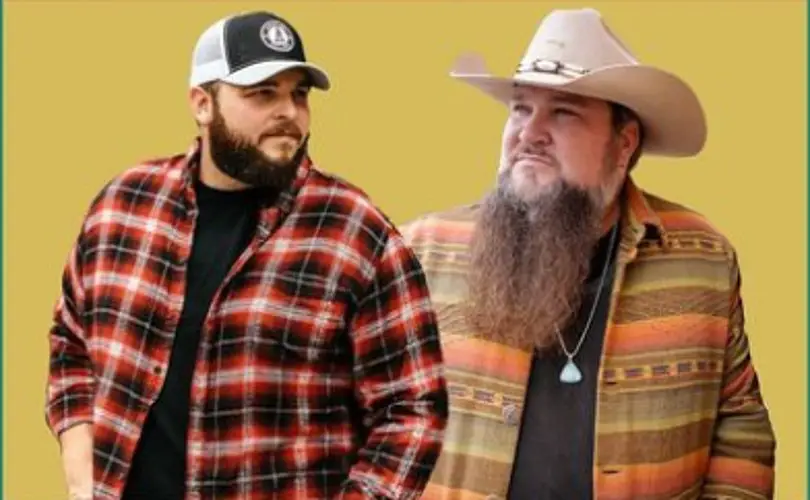 Jake Hoot and Sundance Head are hitting the road — together! Hoot, who won Season 17 of The Voice, and Sundance Head, who won in Season 11, will embark on their The Voice(s) of Texas Tour, a five-city run in the Lonestar State, kicking off on November 17.
Hoot first shared the news on social media
🚨THE VOICE(S) OF TEXAS TOUR🚨
I'm teaming up with fellow @nbcthevoice winner and TX native @sundancehead for a 5 date TX tour! Go to https://t.co/q0z0Y2Gdhh for tickets!#texastour #thevoicealums #teamkelly #teamblake #voicesoftexastour #countrymusictour #thevoice pic.twitter.com/L5UCr3EXg1

— Jake Hoot (@jakehootmusic) October 7, 2021
Sundance Head also shared the news in a video he posted as well.
"We're going on a tour with our buddy, Jake Hoot, who also won The Voice. We're going to take our bands out. We're going to be starting in Texas. The tour is called The Voice(s) of Texas," Sundance Head said, sharing the five cities they would be playing in, and hinting there would be more dates to come.
"Once we get some more, we'll also let you know about those," he added. "We're excited to see you guys out there."
— Sundance Head (@SundanceHead) October 7, 2021
Hoot has been busy on the road for the last few months, including a couple of dates opening for Alabama, and performing on the Grand Ole Opry.
"I tell everybody that the only stage I get nervous on is the Opry just because there's something about the Opry that gets to me every single time. But it was Hertz Arena in Estero, Florida, an absolutely beautiful venue," Hoot tells Everything Nash, recalling his first time opening for Alabama. "I got to meet Teddy [Gentry] from Alabama. He was super nice. But when we got on that stage and the lights went off and that spotlight hit me, my gut dropped. It was unreal. And so, it was such a cool [thing], one, getting to open for  Alabama was very special, and getting to be our first arena show was very special."
Hoot just dropped his new single, "Night Left," and accompanying video. The song is from an upcoming album, which he hints will include a duet with his wife, Brittney.
"She is such a powerhouse, and we both sing kind of in the same range. So, that's going to help out a lot," Hoot tells Music Mayhem, adding that they wanted a song that worked perfectly for them, both sonically and lyrically.
"We want to sing a song that we both relate to and that we both can feel, because you're going to sing more if you can actually relate to the song," he says. "You're going to sing more passionately with it. It's definitely going to happen, and we practice all the time … This new song that I wrote, we're singing it back and forth. We are listening to the demo and practicing and seeing if it's something that we want to do. Whenever the album comes out, it's going to be a duet that we're going to be singing on."
Keep track of Sundance Head's tour dates here, and visit JakeHoot.com for his music and complete concert schedule.
Want to watch more exclusive artist interviews? Click HERE to subscribe to our YouTube channel.