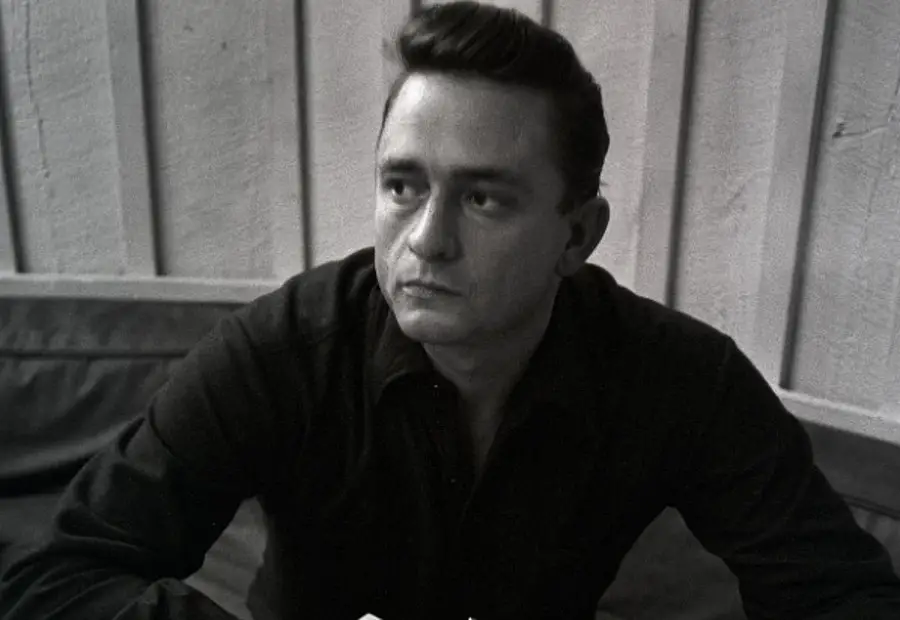 Johnny Cash will go down in history as one of the most important figures in country music. Cash was 71 years old when he passed away in 2003, but his music will live on for generations to come. Read on to find out more about the iconic singer.
1. He was actually born J. R. Cash.
The middle of seven siblings, his mother wanted to name him John and his father wanted to name him Ray, so they settled on J.R. It wasn't until Cash enlisted in the Air Force that he was required to have a first name, not initials, so he went with John R. Cash, later switching to Johnny Cash when he got a record deal.
2. He dug his own brother's grave.
Cash's older brother, Jack, whom Cash deeply admired, was killed while cutting wood, when he was accidentally pulled into a table saw, succumbing to his injuries one week later. Cash arrived at the gravesite early, and helped dig his own brother's grave, wearing the dirty clothes he wore to dig the grave to the funeral.
3.  He only spent less than two months in-person with his first wife, Vivian Liberto, before they got married.
He met 17-year-old Vivian Liberto while roller-skating, and they dated for three weeks before he was deployed to West Germany by the Air Force, for three years. During that time, they wrote hundreds of love letters back and forth, and then got married one month after he returned.
4. He met June Carter Cash in 1956 at the Grand Ole Opry, but didn't get married until 1968.
June was familiar with Cash because she sang background for Elvis Presley, who recommended Cash's music. But although it took 12 years for them to get married, especially since Cash was still married to his first wife at the time, June vividly remembers their first encounter.
"I can't remember anything else we talked about, except his eyes," she wrote in the liner notes of Cash's 2000 box set, Love, God, Murder (via Biography.com) "Those black eyes that shone like agates… He had a command of his performances that I had never before. Just a guitar and a bass and a gentle kind of presence that made not only me, but whole audiences become his followers."
Cash proposed several times before June finally accepted, when he popped the question in London, Ontario, in front of 7000 people.
5. He had a long battle with addiction.
Cash, who reportedly started smoking when he was just 12 years old, had a lengthy battle with addiction. Living with Waylon Jennings early in their respective careers, Cash and Jennings would both use amphetamines regularly, with Cash using them to stay awake. His addiction continued on and off, including through his marriage to June, who struggled with her own battle with prescription pills as well.
"My father, he wouldn't be belligerent or violent," their son, John Carter Cash said in his book, Anchored in Love: The Life and Legacy of June Carter Cash (via Reuters). "It was never that way. He just would simply sort of slip out of the picture. It happened the same way with my mother, later."
6. He once got in a physical altercation with his own ostrich.
In 1983, Cash, who had been sober, got in a scuffle with an ostrich on his farm. The ostrich attacked Cash, resulting in several wounds to Cash, including broken ribs. Cash was prescribed painkillers for his injuries, and relapsed.
7. In spite of his reputation, he never actually spent much time in jail.
Cash released Johnny Cash at Folsom Prison, Johnny Cash at San Quentin, and the song, "Folsom Prison Blues," but he never spent any real time in prison, although he certainly had his share of legal woes. Cash was arrested several times, including for drug possession, reckless driving, and public drunkenness. He was even arrested once for picking flowers in someone else's yard. But he did have a soft spot for prisoners, which is why he often performed in prisons.
8. He didn't actually write "Ring of Fire."
Cash wrote many of his big hits, including "Cry! Cry! Cry!," "Folsom Prison Blues," "Understand Your Man" and more, but he didn't write the song that became the biggest hit of his career. "Ring of Fire" was written by June Carter Cash and Merle Kilgore, although June says the song was inspired by him.
"I never talked about how I fell in love with John," June once told Rolling Stone. "It was not a convenient time for me to fall in love with him, and it wasn't a convenient time for him to fall in love with me. One morning, about 4:00, I was driving my car just about as fast as I could… I was miserable, and it all came to me: 'I'm falling in love with somebody I have no right to fall in love with'… I thought, 'I can't fall in love with this man, but it's just like a ring of fire.'"
9. He earned the title, "Man in Black," because of what he wore on stage — sort of.
Cash wrote a song called "Man in Black," as a protest to the way some people were treated unfairly, saying that that was the reason he wore black. But while Cash did tend to wear black on stage, at least earlier in his career, he also had a penchant for other colors, including an all-white suit he sometimes wore.
10. He was an ordained minister.
Following his legal woes, Cash became close to Reverend Billy Graham, who helped Cash return to his spiritual roots, even receiving a degree in theology. Cash also became ordained, and while he never became a minister at a church, he did serve as the pastor over his daughter Karen's wedding.
11. He died only four months after his wife passed away.
Cash passed away on September 12, 2003, not quite four months after June passed away on May 15. Reports said Cash died of complications from diabetes, but some suspect he actually died of a broken heart.
"He said to me, 'You have to keep me working because I will die if I don't have something to do,'" his close friend, Rick Rubin, once recalled. Cash recorded more than 60 songs after June's death, before he also passed away. They are buried together, side by side, at the Hendersonville Memory Gardens in Hendersonville, Tennessee, where he lived prior to his death.