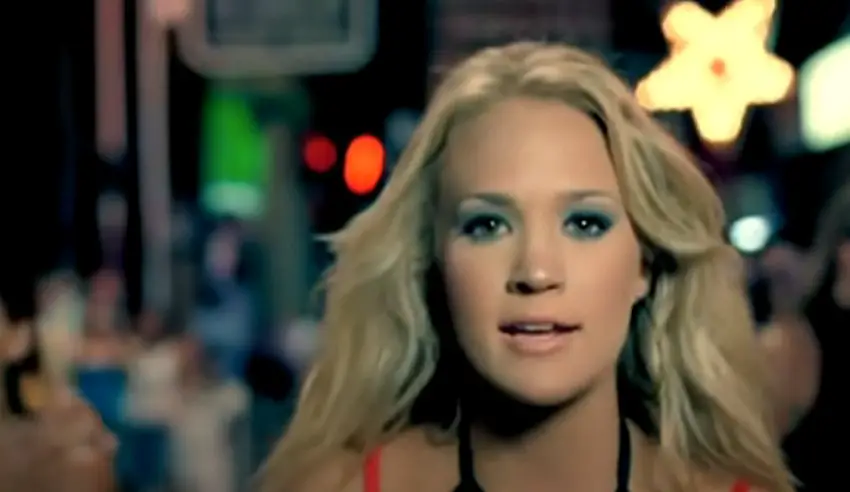 15 years ago today, on August 19, 2006, country music fans got to see a darker side of Carrie Underwood. It was on this day that Underwood released "Before He Cheats," a vengeful anthem of love gone wrong. Written by Chris Tompkins and Josh Kear, the song spent five weeks at the top of the country charts, and became a Top 10 hit on the pop charts as well.
Although the song was a massive success, neither Tompkins nor Kear was even thinking of Underwood when they wrote the song. Instead, they were thinking of another, more established female artist when they wrote "Before He Cheats."
"It didn't start off as a song for Carrie," Tompkins told The Tennessean. "It basically started off as a song for Gretchen Wilson. I went to a computer and was just typing what I wanted to be edgy lyrics. After the success of 'Redneck Woman' everyone wanted to get on the next [Gretchen] record. I typed up part of that verse and thought I had something kind of cool. From that point, I called Josh."
Tompkins and Kear were thrilled when Underwood wanted to record the song, even if one of them had no idea of Underwood's fame.
"I get a phone call from Chris telling me that I won't believe it, but Carrie Underwood is going to record our song," Kear recalled. "I was like, 'Dude, that's great! I don't know who Carrie Underwood is, but that's awesome!' He schooled me very quickly in American Idol and the fact that she had just won. I obviously didn't watch much television at the time, and he said, 'No, you don't understand. That album is going to be HUGE!' I had no reason not to believe him, but even hearing him say it, I still had no idea what was coming."
Underwood was on a plane on the American Idol Tour when she heard the demo of "Before He Cheats," and instantly knew she wanted to record the feisty song, although she did have a few reservations.
"I was a little nervous about just the content and kind of the aggressive nature of the song, because I was on American Idol and … I am a nice person," Underwood admitted to ABC. "And I was thinking about all the grandmothers that sat there and voted for me, like, 'What are they going to think?'"
"Before He Cheats" is from Underwood's freshman Some Hearts album.