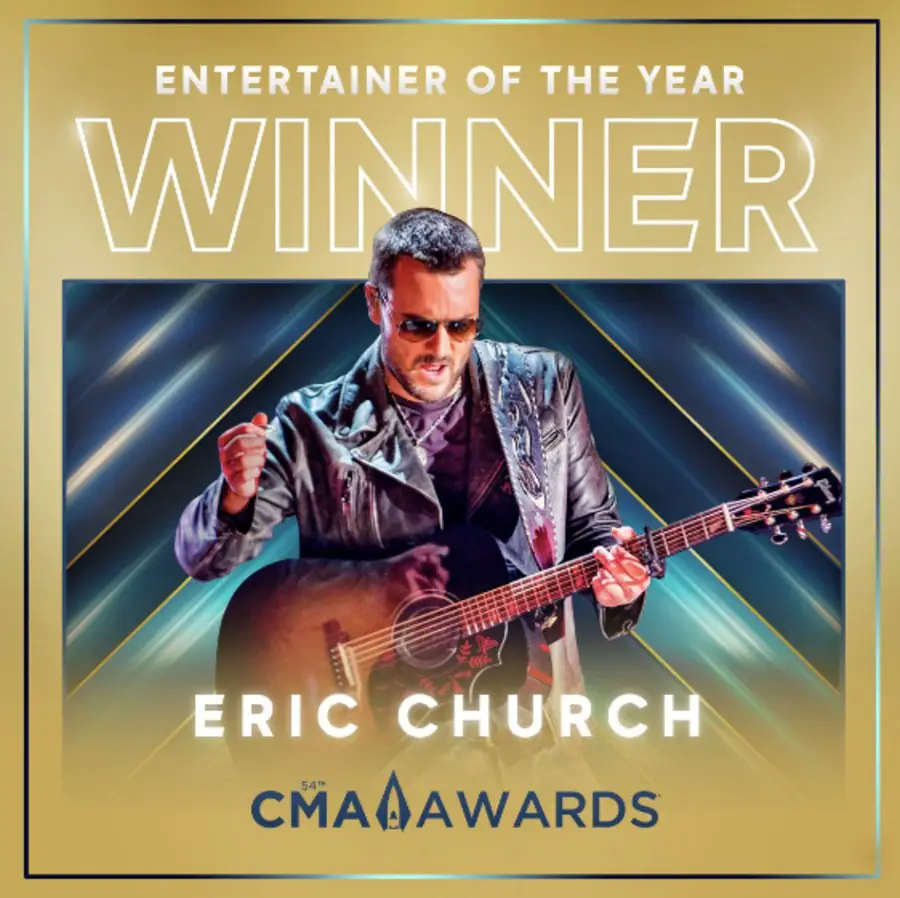 Eric Church is the 2020 CMA Awards Entertainer of the Year winner! Eric shared the Entertainer of the Year category with Miranda Lambert, Carrie Underwood, Keith Urban and Luke Combs.
"If there was ever a year not to win this award," Eric quipped after taking the stage. "I was thinking about this when I walked up here. This award this year, at least for me, has been about the loss of this year. The loss of life, the loss of playing shows, the loss of freedom, the loss of kids being in school. You know what the win is? The win is that we're all here tonight, together. That's country music. In person, live, not on Zoom.
"I think, I believe this, I really believe this: it's going to be music that brings us out of this," he continued. "That is the one thing that is going to save the entire world. Politicians are about division. Music is about unity. I promise you it's going to take everybody in this room to unite. I got a bunch of stuff to say but I didn't think I was going to win this, so thank you guys very much."
Eric previously opened up about the unexpected challenges of 2020, both personally and professionally.
"The hardest thing about this for me as a dad, as a husband, as a business leader, as a citizen, has been the unknown," Eric said during the ACM Presents: Our Country TV special. "I believe we fear the unknown. And after some thought and a lot of prayer, here's what I know — I have hope and you should have hope, because since the beginning of time, people have gathered.
"They've gathered for fellowship, they've gathered for worship, they've gathered for prayer, they've gathered for song, they've gathered for communion, they've gathered for grief –– but they've gathered," he added, and we will gather again. The important thing to remember is to not fear, but to be brave, and endure."
Eric was also nominated for Male Vocalist of the Year, with Luke Combs taking home that trophy. Maren Morris won three CMA Awards: both Single of the Year and Song of the Year, for "The Bones" and Female Vocalist of the Year.