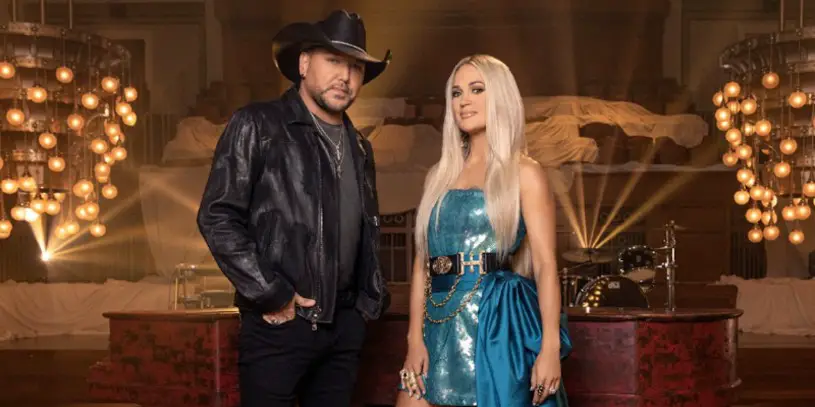 Jason Aldean and Carrie Underwood just won Single of the Year at the ACM Awards, for their No. 1 hit, "If I Didn't Love You."
"Thanks to Carrie for agreeing to do this song," Aldean said, before thanking Tully Kennedy, John Morgan, Kurt Allison, and Lydia Vaughan, who penned the song.
"Thank you, Jesus!" Underwood added. "Thank you fans for requesting and streaming. Thank you to all of our team. You've been absolutely amazing … Thank you, Jason, so much, for asking me to be on this song. Thank you writers, everybody involved … thank you fans!"
Two of the songwriters on "If I Didn't Love You," Kennedy and Allison, are in Aldean's band, which made the song that much more special to him.
"What to me is really cool about that song is a couple of the guys that are in my band who have been with me for over 20 years were co-writers on that song," Aldean said on Apple Music Country's Today's Country Radio with Kelleigh Bannen. "They had written some things that we had recorded before and we had had singles and album cuts and things like that, but never had a No. 1 together that they wrote, that I recorded. This was our first one. Even though we've been playing music together for 20 plus years, this was the first time they had written a number one for me, so it was just pretty special."
Underwood knew as soon as Aldean sent her "If I Didn't Love You" that she wanted to sing on it with him.
"Jason asked if I would sing 'If I Didn't Love You' with him," Underwood recalled to her record label. "I knew I liked the song, and Jason and I have actually been kind of trying to do things together over the years. We've sung together before, but we've never officially recorded anything together. It just kind of felt like this could be our moment. I felt like it was a little bit of an unexpected duet to other people, but I feel like I always knew at some point, I'd probably sing with him officially, and this just seemed like the stars were aligning, and it just seemed like it was going to be the perfect fit."
Aldean and Underwood were also nominated for Music Event of the Year, which went to Ashley McBryde and Carly Pearce for "Never Wanted to Be That Girl."