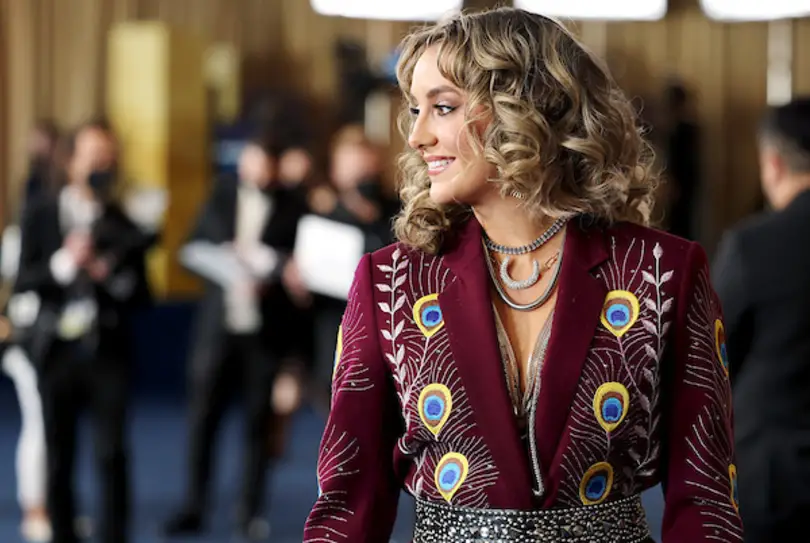 Lainey Wilson has another ACM Award! The Louisiana native, who already won the trophy for New Female Artist of the Year, just won the trophy for Song of the Year, for her debut single, "Things a Man Oughta Know."
"Holy moly. Country music is my life," a stunned Wilson said from stage. "It has been my life for as long as I can remember. I'm from a town of 264 people, where country music is life.  I have so many people to thank. First of all, I want to thank my Lord and Savior for putting this dream on my heart. I want to thank my family who has been so supportive of me from the beginning. They helped me buy my camper trailer when I moved to Nashville."
Wilson went on to thank her co-writers, Jason Nix and Jonathan Singleton, as well as her record label and management team, before turning her attention to her fans.
"Country radio has supported me so, so much, and I'll tell you what — country music fans have wrapped their loving arms around me," Wilson gushed. "I just appreciate you all so much!"
It was Miranda Lambert who told Wilson she beat out  Tenille Arts, Priscilla Block, Lily Rose and Caitlyn Smith to win in the New Artist of the Year category.
"I just want to say thank you for paving the damn way … This is the best news I think I've ever gotten," Wilson said to Lambert.
Wilson is currently enjoying a hit single at radio, with her "Never Say Never" duet with Cole Swindell.
"He actually sent me the song when I was on my first vacation that I had taken in like 10 years," Wilson told Off the Record. "I was sitting on the beach in Mexico, drinking a Pina Colada and Cole Swindel texts me. And he says, 'Hey, I've got this song. I would love for you to be a part of it. I want to hear what you think about it.' I'm not even playing, and it wasn't because I was a little tipsy. I listened to the first verse and I knew it was special. It made me feel something, it was relatable. It told a story. And I said, 'Sign me up.'"