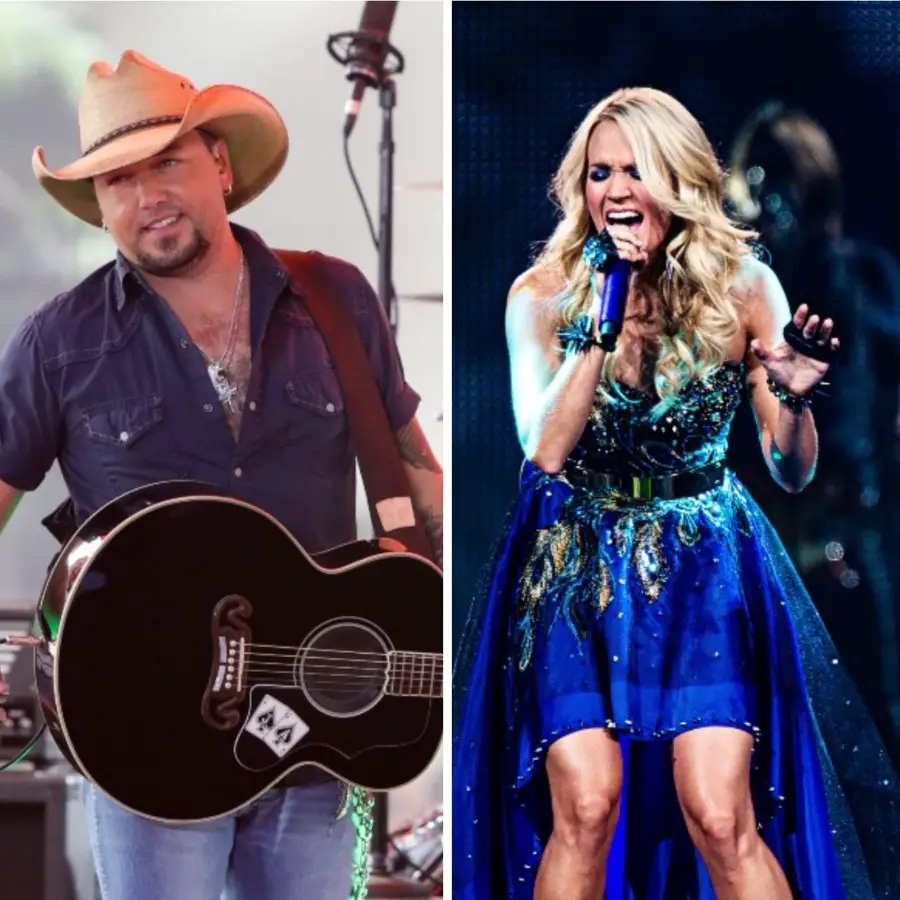 Jason Aldean  and Carrie Underwood have officially released their first duet together, "If I Didn't Love You." The song is from Aldean's upcoming tenth studio album.
The father of four teased the song on social media, asking fans to guess who would be singing with him on the track, with Underwood confirming it was her with a simple emoji of a raised hand.
Aldean, who had a No. 1 song with Kelly Clarkson in 2010 with "Don't You Wanna Stay," previously said he loves singing with powerful females, because of what it does to him and his own voice.
"I remember with 'Don't You Wanna Stay,' Kelly was actually my first choice for that song. I've just always been a fan of her voice," Aldean said on Apple Music Country's Today's Country Radio with Kelleigh Bannen.  "And then when you get on stage or in the studio and start trading vocals with them, it's like, you realize really quick who the better singer in the room is. Those guys are amazing singers and really powerful and just a lot of range."
Aldean will kick off his Back in the Saddle Tour next month. After spending more than a year at home with his family, the Georgia native is grateful that he is able to bring his children out on the road with him.
"My older kids, I have an 18-year-old and a 13-year-old, and it was a little different when they were little because it was the beginning of my career," Aldean tells Bannen. "I mean, even just having the money to take out two buses so that I could bring them around, I didn't have that luxury in those days. It's cool to be in a spot now where we have our own family bus and they come out whenever they want to come out. It's a cool spot to be in and just really fortunate that I get to have them around and have them be a part of it all."
The release of "If I Didn't Love You" comes on the heels of Aldean celebrating his 25th No. 1 hit with "Blame It On You."
"What to me is really cool about that song is a couple of the guys that are in my band who have been with me for over 20 years were co-writers on that song," Aldean said of the song. "They had written some things that we had recorded before and we had had singles and album cuts and things like that, but never had a No. 1 together that they wrote, that I recorded. This was our first one. Even though we've been playing music together for 20 plus years, this was the first time they had written a number one for me, so it was just pretty special."
Get all of Aldean's music, including "if I Didn't Love You," and find Back in the Saddle Tour dates at JasonAldean.com.