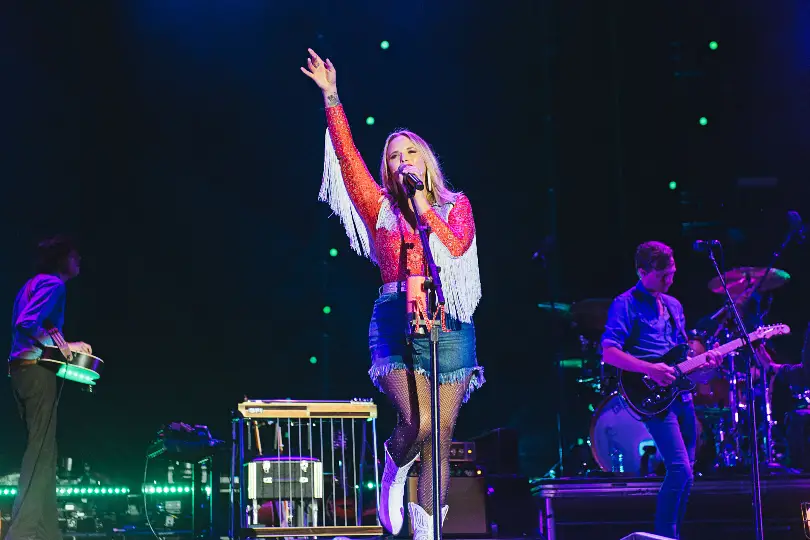 Miranda Lambert is the reigning ACM Awards Entertainer of the Year! Lambert was unfortunately in London preparing to perform a series of shows overseas, so she accepted the night's highest honor via video instead.
"It's the first time to miss the ACMs in 17 years, so my heart's a little broken," Lambert said, "I've been waiting for this for a really, really long time. I actually never thought it would happen. But thank you so much to the country music family for embracing me all these years, and continuing to support me. To the Academy, for everything … This one goes out to all the singer-songwriter girls out there that are putting their blood, sweat and tears into their guitar strings. We did it."
Carrie Underwood, who was also nominated this year, shared the Entertainer of the Year category with Thomas Rhett two years ago. Before that, Taylor Swift was the last female artist to win Entertainer of the Year, which she did in 2011.
In addition to Underwood, Lambert also shared the Entertainer of the Year category with Eric Church, Luke Combs and Chris Stapleton. She won earlier in the evening for Video of the Year, for her "Drunk (And I Don't Wanna Go Home)" collaboration with Elle King.
We WON! This is so incredible! I am so honored, and proud of the video we made! Just goes to show you what happens when you have fun and work with incredible people. Thank you @mirandalambert! And to the mullet groom, my hot baby daddy! This is amazing! @ACMawards #VideoOfTheYear pic.twitter.com/Tb3QJ7zF2T

— Elle King (@ElleKingMusic) March 8, 2022
Lambert is understandably disappointed to miss this year's ACM Awards ceremony, but she was more than ready to head back out on tour.
"I'm ready to move ahead," Lambert tells Rolling Stone. "I'm over it all. I know [Covid is] a real thing; I've had it. All the conversations and all the battles and all of that, it comes down to, I want to do my job and I want to just live my life. I'm proceeding as if that's happening. There are constant changes. I'm constantly Googling things — we're supposed to do C2C Festival [in the U.K.] and I'm Googling what's happening over there. The biggest point is, we're in control of nothing."
Lambert will return from her overseas dates to headline her own in the United States, before joining forces with Little Big Town for their combined The Bandwagon Tour.
See a list of all of Lambert's upcoming shows here.
Photo Credit: Courtesy of EB Media / Angelina Castillo