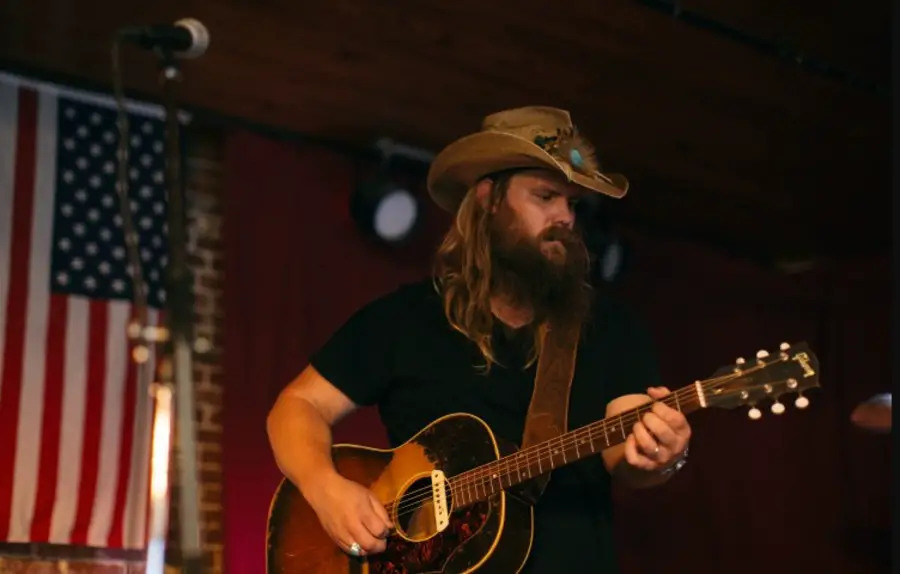 Chris Stapleton is the reigning Male Artist of the Year at the ACM Awards! Stapleton was nominated in a category of impressive talent, which included Jimmie Allen, Luke Combs, Thomas Rhett and Morgan Wallen.
"I want to thank first of all my wife, Morgane Stapleton," the singer said from stage. "She's my rock; everything I do is because of her. My kids are here tonight … This is a dream. Every day I get to live this. Everybody who's in these seats — it's a dream. It really is."
"All of the guys in this category are good guys," he continued. "Any one of them deserved this award. I'm so grateful to be part of this community. Thank you very much."
Stapleton also performed during the live ceremony, which streamed exclusively on Prime Video. The Kentucky native performed "Watch You Burn," from his Starting Over album. The song was written after the tragic mass shooting at the Route 91 Harvest Festival in 2017.
RT this if you loved watching @ChrisStapleton light up the Vegas stage! ⭐️ Tune in LIVE on @PrimeVideo so you don't miss the party. #ACMawards pic.twitter.com/ta8L2f1xzK

— ACM Awards (@ACMawards) March 8, 2022
Jason Aldean, who was on stage when the tragedy occurred in 2017, introduced Stapleton.
"It's a self-therapy session sometimes. Sometimes that's all [a song's] for," Stapleton told The Tennessean of "Watch You Burn," which he wrote with Mike Campbell. "Mike listened and… really got it to a place where he made me feel like it was not a song that was meant to be in my pocket."
Stapleton previously hinted he would be releasing new music, which he wrote when he was at home because of the pandemic.
"I've only recently started to do a little Zoom writing," Stapleton said backstage at the ACM Awards last year. "I've tried some of that, and a lot of it with new people that I haven't written with before, and that's kind of an interesting thing. I enjoy all ways of writing. It doesn't necessarily bother me to do it. I prefer to be in a room with somebody; I prefer to be in the same general vicinity with somebody, because I think that informs in a different way. But it's been fun to find new ways.
"And certainly, for me, there are some things that have gotten written with some people that I normally wouldn't have written with, because of the pandemic," he added. "Absolutely, 100 percent, that has informed what I've been doing. We've all had to find new ways to do what we do, not just musicians. That's been part of it."