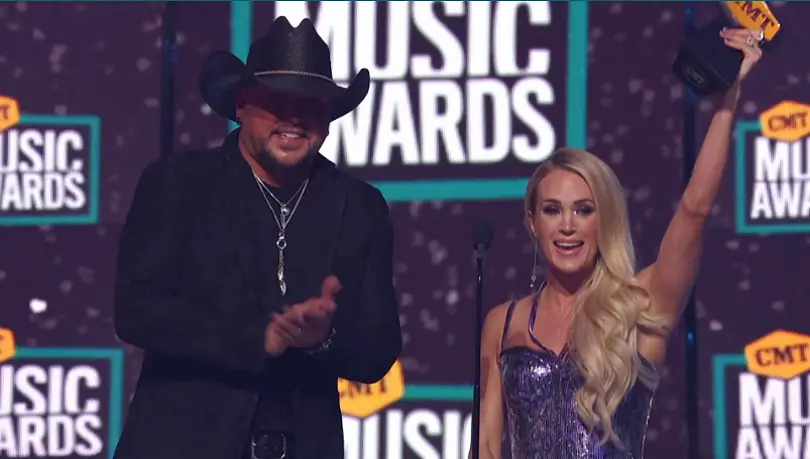 The 2022 CMT Music Awards took place on Monday, April 11. Airing for the first time on CBS, the three-hour show featured plenty of jaw-dropping performances, as well some repeat winners, and a few who took home a CMT Music Award for the first time. See the list of winners below.
VIDEO OF THE YEAR: Jason Aldean & Carrie Underwood – "If I Didn't Love You"
Jason Aldean and Carrie Underwood won for their "If I Didn't Love You" duet, continuing Underwood's reign as the artist with the most CMT Music Awards wins.
"Thank you fans," Underwood said. "This belongs to you … This one is all about the fans, so thank you fans. Thank you, CMT!"
"This is pretty amazing for me," Aldean said. "I think Carrie and I hit [the scene] about the same time. And the fact that you guys still care about us this many years into our careers to vote for us… means the world to me."
FEMALE VIDEO OF THE YEAR: Miranda Lambert – "If I Was A Cowboy"
Legendary female artist Martina McBride returned to the CMT Music Awards stage to present the belt buckle trophy to Miranda Lambert.
"I'm just so damn happy to be here," Lambert said. "I'm so happy to be part of the women of country music today."
Lambert also thanked the "If I Was A Cowboy" director, Trey Fanjoy.
Trey, this one's for you," she said. "We are cowboys, and we are going to continue to be."
MALE VIDEO OF THE YEAR; Cody Johnson – "Til You Can't"
Cody Johnson won his first two CMT Music Awards of his career, including for Male Video of the Year, with his No. 1 hit, "'Til You Can't." He also won the CMT Music Award for Digital-First Performance of the Year.
"Dustin Haney made an awesome video. Matt Rogers and Ben Stennis wrote a great song. I am very proud to be the person who got to get the song," Johnson said from stage. "Do you guys still believe in country music? I am very proud to stand up here with this award. This is the second CMT Award that we got tonight, and the best part of it is that it's fan-voted. So, thank you to every single person who got up there and voted. Long live country music, are you with me?" he shouted while holding up the CMT trophy.
DUO/GROUP VIDEO OF THE YEAR: Maddie & Tae – "Woman You Got"
Maddie & Tae, the duo made of up Maddie Font and Tae Kerr, won their first-ever CMT Music Award with this trophy. While Kerr was unable to attend, due to her newborn baby, Font accepted the award on her behalf, later reflecting on what a huge honor it was for them.
"Based on the numbers, we should not have won this. I researched it. But it's our fans and God. We've been losing this for about eight years. I'm going to go home and cry at Tae's house. That's what's going to happen," Font reflected to CMT. "This is the biggest honor of my life, other than marrying Jonah Font. I don't know why I'm surprised because I've been asking God for it for a long time."
BREAKTHROUGH VIDEO OF THE YEAR: Parker McCollum – "To Be Loved By You"
The reigning ACM New Male Artist of the Year, Parker McCollum, has another trophy to add to his collection, this time for Breakthrough Video of the Year.
"I know my family is watching at home tonight on television. We have been watching award shows my whole life," McCollum said. "My mom is here tonight, my mother and father-in-law are all here tonight. I try to write real country songs from the heart that means something. I appreciate it being recognized, thank you,"
COLLABORATIVE VIDEO OF THE YEAR: Jason Aldean & Carrie Underwood – "If I Didn't Love You"
Before nabbing the CMT Music Award for Video of the Year, Aldean and Underwood won the trophy for Collaborative Video of the Year, also for "if I Didn't Love You."
"This song has just kind of been so unbelievable this year, how you the fans have responded to it, and how everybody has … For me, the video is [director] Shaun Silva, everybody at Tackle Box, Michael Knox for producing this song and just kinda making this more than I ever thought it could be," Aldean said.
"Thank you fans so much for all the support you've given to this song and this video. Thank you CMT!" Underwood added.
CMT PERFORMANCE OF THE YEAR: George Strait – "Is Anybody Goin' to San Antone (from CMT GIANTS: Charley Pride)"
George Strait accepted the award for CMT Performance of the Year remotely.
"I'm sorry I'm not there tonight," Strait said. "But I want to say thank you to all of the fans who voted for me. I really appreciate that. And thank you to CMT. This was really special to me, because it was a tribute song to the late Charley Pride, my friend."
CMT DIGITAL-FIRST PERFORMANCE OF THE YEAR; Cody Johnson – "Dear Rodeo (from CMT Campfire Sessions)"
Johnson's first trophy of the night was this one, an honor and accolade that the Texan said he doesn't take lightly.
"My goal with this is to take what I do with my authentic brand of country music that I've spent my life developing and take it to people that may not have had the opportunity to hear it," Johnson said. "The CMT Awards is an opportunity to be on national television and say, 'Hey, this cowboy hat is not fake. This belt buckle is not fake. This voice and this presentation, it's not fake. I think hard work and perseverance are something we lack in society. That's something that "'Til You Can't" personifies."
Taylor Swift also won a CMT Music Award, in the CMT Social Only category, for Trending Comeback Song of the Year with "Love Story (Taylor's Version)."
Photo Credit: Courtesy of CMT