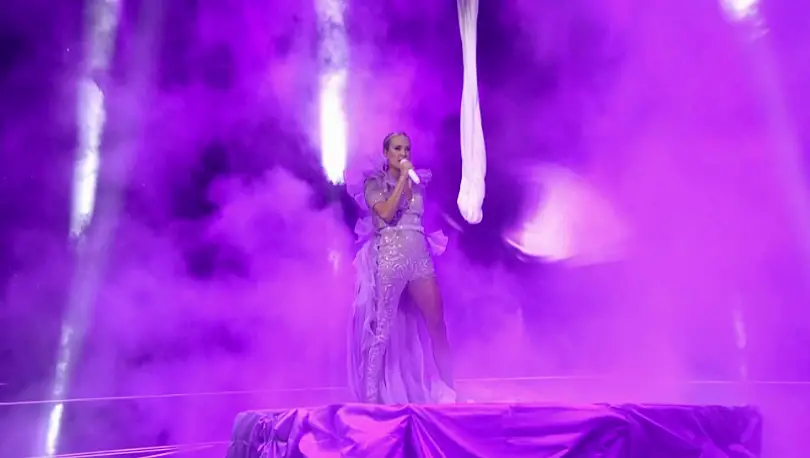 Carrie Underwood not only won two trophies at the recent CMT Music Awards, but she also shared a riveting performance of her new single, "Ghost Story," which was recorded in Las Vegas. The mother of two previously hinted that she would be doing something she had never done before while singing, which happened to be flying through the air, and hanging upside down, while belting out her current hit.
"I'm just always looking for ways to push things," Underwood told CMT ahead of her performance. "I feel like I've been doing this for a little bit, just keeping things interesting for myself and hopefully the audience. We have these incredible aerialists and dancers in my residency in Vegas, Reflection, and I just get to watch them every night. They get to fly, and it's beautiful and it's elegant and it's graceful, and I thought, 'I'm gonna give it a try.'"
Underwood continues her reign as the artist with the most CMT Music Awards wins, after winning both Collaborative Video of the Year and the night's highest honor, Video of the Year, during the ceremony with Jason Aldean, for "If I Didn't Love You"  With the CMT Music Awards being entirely fan-voted, the 39-year-old feels immense gratitude for the way her fans have rallied around her since the beginning of her career.
"To have that support all these years later, it's really cool," Underwood reflects. "People were voting for me from the very beginning, and that's why I'm here in the first place. So the fact that they're still voting, is really amazing. I know how wonderful they are. The two of our fanbases together, they really came through for us. We don't deserve them, but we're grateful."
Underwood just revealed that her next album, Denim & Rhinestones, will be out on June 10.
"We cover a lot of ground on this album," Underwood says of Denim & Rhinestones, in the album's trailer she just released. "We have a lot of songs that have a bit of a 'throwback' feel, but they sound super fresh. I grew up listening to so many different kinds of music and that is extremely evident in this body of work. These are musical influences that are all in me and work their way out, and I just decided this time not to get in their way. I think this whole album ended up being a big reflection of me as a person and as an artist."
Pre-order for Denim & Rhinestones is available here.
Photo Credit: Courtesy of CMT