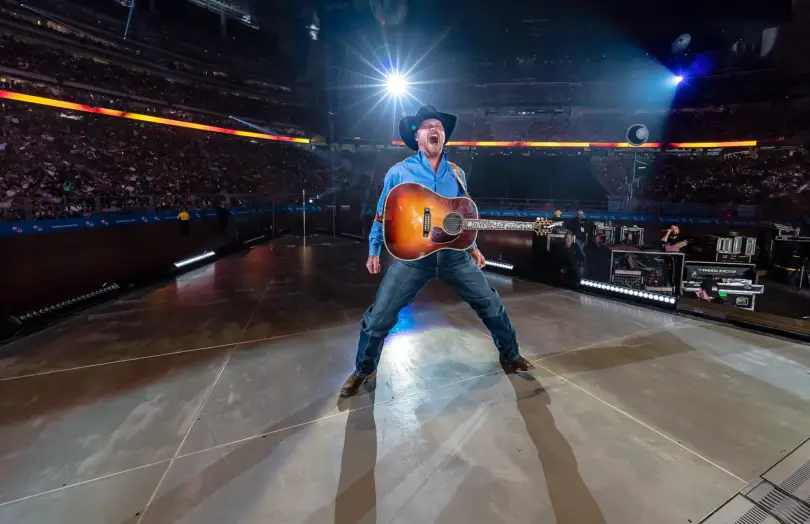 Cody Johnson is sitting at the top of the charts, for the first time, with his powerful single, "'Til You Can't." The song, written by Matthew J. Rogers and Ben Stennis, is from Johnson's Human: The Double Album, released last fall.
Johnson spoke out about the honor on social media.
'Til You Can't is officially #1 on Country Radio! Huge thank you to Country Radio and to #COJONation for loving this song. Y'all, I am so thankful! pic.twitter.com/4rdCN1HSUl

— Cody Johnson (@codyjohnson) March 21, 2022
The Texas native might not have written "'Til You Can't," but he did make it his own, putting his own spin on the powerful tune.
"We were like, 'This needs to be a message,'" Johnson said, via CMT, of the song, which was produced by Trent Willmon. "If you've got a chance, take the chance. Go out and chase your dreams until you can't. Every one of us, you try not to think about it every day, but we all have an expiration date. From now until that expiration date, it's about chase your dreams, take your chance, tell people you love that you love them. It turned into this happy, anthemic experience."
"'Til You Can't" is Johnson's fourth single since signing with Warner Music Nashville, but his first to make it to the No. 1 spot.
"'Til You Can't' is the most reactive song I've ever seen," he said. "People are screaming every word at the top of their lungs. It feels way different, right down to the meat and bones of playing it live."
Johnson not only just scored his first No. 1 hit, but he also just landed his first CMT Music Awards nominations. The singer is nominated three times: for CMT Digital-First Performance of the Year category, for "Dear Rodeo," from CMT Campfire Sessions, as well as Male Video of the Year and Video of the Year, both for "'Til You Can't.
"To be nominated for a CMT award is an honor by itself, but to be nominated for THREE is an incredible honor!," shared Johnson. "I'm so proud of everyone involved in these incredible songs that gave me the opportunity to be nominated. Let's keep country music alive y'all!"
Johnson recently tied a record held by George Strait and Garth Brooks, by selling out opening night of RodeoHouston, drawing more than 70,500 fans. The string of successes is a bit of a surprise for the 34-year-old, who had was on an entirely different career path when he switched jobs to focus on music full-time.
"I was around the prison system my entire life because my dad worked there for 32 years," Johnson told Cowboys & Indians. "I started there when I was 18, just because that's what my dad did. I worked in intake first, and it was an eye-opening experience. Then I moved to the Goree unit — a sexual-offender treatment program unit — and then I worked in maximum security. And then I rode horses as a field boss."
Johnson will make his debut appearance on The Tonight Show Starring Jimmy Fallon on April 8, to perform "'Til You Can't." In addition to headlining his own concerts, Johnson will also open for the Zac Brown Band for two stadium shows this summer, as well as opening for Luke Combs for three stadium shows. Find music and tour dates by visiting Johnson's website.