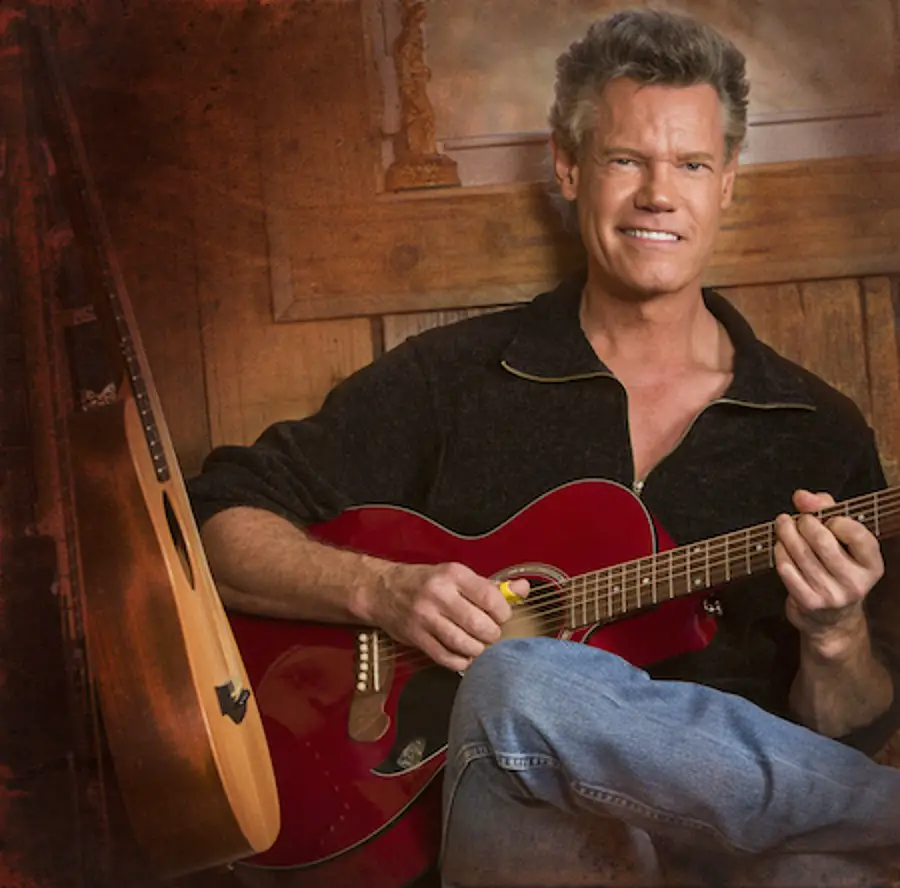 Country music is rich in songs about faith. With the heart of country music located in Nashville, Tennessee, in the middle of the Bible Belt, it makes sense that so many artists would record songs about their spiritual beliefs. While there are far too many songs about faith within country music to count, we picked ten of our favorites.
10. "Thy Will," Hillary Scott and the Scott Family
Lady A's Hillary Scott recorded this song with her family, and included it on the 2016 Love Remains album, recorded by Hillary Scott & the Scott Family. The song was inspired after Scott and her husband, Chris Tyrrell, suffered a devastating miscarriage after the birth of their oldest daughter, Eisele.
"It was my honest conversation with God about, why do bad things happen?" Scott said (via The Boot). "But, ultimately, I trust Your will for my life and that it's all going to be okay. So being able to write that song was such a part of the healing process for me in the beginning. And now even more so, with it being out and having people's feedback in their own lives and the stories that they are sharing with me and how this song is touching them."
"Thy Will" won a Grammy Award for Best Contemporary Christian Music Performance/Song.
9. "Family Bible," Willie Nelson
Willie Nelson can point much of his success in country music back to writing "Family Bible." Written while still working as a disc jockey at KVAN in Washington, Nelson dreamed of success in country music, and began writing songs, including "Family Bible." When he was refused a raise at the radio station, Willie moved to Houston Texas, selling "Family Bible" to Paul Buskirk, after the two men had dinner, and Willie was unable to pay his check.
Claude Gray recorded it first, taking it to the Top 10 on the charts. Fueled by that accomplishment, Nelson ultimately moved to Nashville, and included it on his own Yesterday's Wine album, released in 1971.
8. "I Saw God Today," George Strait
George Strait included "I Saw God Today" on his 2008 Troubadour album. Written by Rodney Clawson, Monty Criswell and Wade Kirby, the song tells the story through the eyes of a man who has just become the father of a baby girl.
"Monty Criswell and his father-in-law used to hunt with a guy named Junior," Clawson told American Songwriter. "They said every time they went hunting and got back to the truck, if he didn't have a deer or turkey, he'd always say, 'Well, I didn't get anything, but I got a glimpse of God today.' Monty's father-in-law called him when Junior died and said, 'Remember what Junior used to say? There's got to be a song in there.' Monty told me, 'I think the best way to say it is to say I saw God today.' We had a day to write with Wade Kirby, and we agreed the song should be about having your baby, and how special that moment is."
7. "I Believe," Diamond Rio
Diamond Rio had a No. 1 hit with "I Believe," which was on their 2002 Completely album. Penned by Skip Ewing and Donny Kees, "I Believe" is about losing a loved one, yet still feeling their presence after their death. With lines like, "And with all my heart I'm sure / We're closer than we ever were / I don't have to hear or see / I've got all the proof I need / There are more than angels watching over me / I believe, oh I believe," the song was inspired by the two men talking about the presence of people long after they are physically gone.
"That was just a wonderful experience and conversation between Donny and myself, talking about the way people touch us in our lives," Ewing said (via Songfacts). "Not necessarily life and death. In the lyric it says, 'When we die, our life goes on, it doesn't end here when we're gone.' That's one of the ways that we continue. But I think that energies are put into play a number of ways.
"Someone can have been a part of your life for a short time, you may never meet that person again," he continued. "That doesn't mean that they're gone from the world, but it also means that maybe part of what they offered you still has a great deal of presence in your life, and makes a difference. And that's what we wrote that song about."
6. "Jesus, Take the Wheel," Carrie Underwood
Few people will forget Carrie Underwood bursting onto the country music scene with "Jesus, Take the Wheel." Fresh off her American Idol win, Underwood released "Jesus, Take the Wheel" as the debut single from her freshman Some Hearts record. Written by Brett James, Hillary Lindsey and Gordie Sampson, the song was inspired at least partly by a car accident Brett's wife had been in, and miraculously walked away from.
"She had a very miraculous car crash that she walked away from," James told Roughstock. "Since then, a lot of people have. You hear those stories all the time where they say I don't know what happen, I just know that it was a miracle that I got out of there … Occasionally you need to write something that means something to people. Those are the most fun songs to be part of, and this one was definitely one of those."
5. "I Saw the Light," Hank Williams
Hank Williams is perhaps best known for "I Saw the Light," which he wrote by himself, even though it wasn't initially a big success for him. Singing "I saw the light, I saw the light / No more darkness, no more night / Now I'm so happy no sorrow in sight / Praise the Lord I saw the light," the song was the second song Hank recorded for MGM, following "Move It on Over."
Although it not only became popular by Hank, especially after his death less than six years later, it has also been recorded more than a dozen times by various other artists, including Roy Acuff, Bill Monroe, Ernest Tubb, Emmylou Harris, Merle Haggard, Earl Scruggs, Chet Atkins, Willie Nelson, Johnny Cash, Crystal Gayle, Jamey Johnson and more.
4. "When I Get Where I'm Going," Brad Paisley and Dolly Parton
Brad Paisley included "When I Get Where I'm Going," which featured Dolly Parton, on his 2006 Time Well Wasted record. The song was written by Rivers Rutherford and George Teren, and inspired by something in Rivers' own childhood.
"When I was about ten years old, I was sick one Sunday so my dad and I stayed home from church and watched the preacher on TV," Rutherford recalled to Rolling Stone. "And in the middle of his sermon, this guy comes out in a karate outfit and attacks the preacher. Once they got the guy under control, the preacher got back up and said, 'I wouldn't worry for a minute. I know where I'm going, and I can't wait to get there. The Bible says that the lion will lay down with the lamb. Can you imagine what it would be like to lay down with a lion and run your fingers through its mane?'
"Something about that image just stuck in my head," he added, "and 25 years later I remembered that sermon when I was writing with George Teren."
3. "Go Rest High on That Mountain," Vince Gill
Vince Gill started writing "Go Rest High on That Mountain" after the death of Keith Whitley in 1989, but didn't finish it until his older brother, Bob, died of a heart attack, four years later.
"I wrote this song, and I didn't have any idea if anybody would want to hear it, or like it," Gill said at his induction into the Country Music Hall of Fame (via Songfacts). "All I wanted to do was grieve for him and celebrate his life. That's how I always process grief — sit down with a guitar and make something up. Turns out that if anybody remembers any of my songs, it'll be this one."
"Go Rest High on That Mountain" won Gill two Grammys, for Best Male Country Vocal Performance, and Best Country Song. Ricky Skaggs and Patty Loveless joined him on the track.
2. "The Father, My Son and the Holy Ghost," Craig Morgan
Craig Morgan wrote "The Father, My Son and the Holy Ghost" after the tragic death of his 19-year-old son, Jerry, in a drowning accident.
"It was 2:30 in the morning and there I was, singing the entire chorus in my head before I even woke up enough to put the words down on paper," Morgan recalled to People. "It was the first time something like that had ever happened to me."
Blake Shelton started a Twitter campaign after the song was released to get the song to the top of the iTunes chart, taking it to No. 1 on the all-genre chart in September of 2019.
1. "Three Wooden Crosses," Randy Travis
Randy Travis' "Three Wooden Crosses" is a song that will likely go down in history as one of the best stories ever told in song. Written by Kim Williams and Doug Johnson, the song was about a "farmer and a teacher, a hooker and a preacher" who were all on a bus together, when they were in a car accident, with three of them dying in the accident, and one of them — the prostitute — surviving, later going on to raise a son, who became a preacher. The song resonated personally with Randy.
"I came from a background that was heavy with drugs and alcohol and arrests," Travis told Christianity Today. "I've heard people speak about how a vision or something hit them, like a light turned on, right then and there. For me, I was into my early twenties, and I went to bed one night and just started reading the Bible. That's how the slow process of coming to understand that I needed to know more about the Word of God began, and then coming to the point of accepting Christ and water baptism."