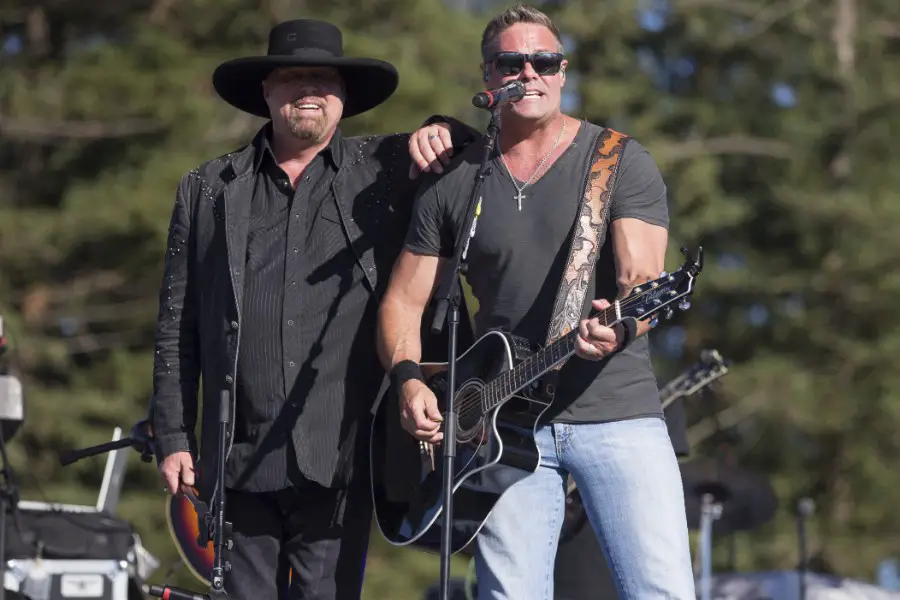 It's been four years since Montgomery Gentry's Troy Gentry was killed in a helicopter crash. The singer died on September 8, 2017, when a helicopter Troy was riding in, in Medford, New Jersey, crashed only hours before the duo was supposed to take the stage.
"It is with great sadness that we confirm that Troy Gentry, half of the popular country duo, Montgomery Gentry, was tragically killed in a helicopter crash which took place at approximately 1:00pm today in Medford, New Jersey," a statement read on Montgomery Gentry's social media accounts shortly after Troy passed away. "The duo was scheduled to perform tonight at the Flying W Airport & Resort in Medford. Troy Gentry was 50 years old.  Details of the crash are unknown. Troy Gentry's family wishes to acknowledge all of the kind thoughts and prayers, and asks for privacy at this time."
The pilot, James Evan Robinson, was also killed in the crash.
"Initial reports were the helicopter was going to attempt to crash land," police said in a statement after the accident. "Emergency crews arrived at the airport and shortly thereafter, the helicopter suddenly crashed in a field just south of the airport runway."
Montgomery Gentry was working on a new album, Here's to You, when Gentry was tragically killed.
"Our world was turned upside down in an instant and nothing could have prepared us for this," fellow Montgomery Gentry member Eddie Montgomery said after Troy's death. "Over the past few months me and T-Roy have been working on what I think is the best record of our career. In the last few weeks we had been talking about what our first single would be. Then on September 8, none of that mattered."
Montgomery made the decision to continue on as Montgomery Gentry, as a way to honor Gentry's legacy.
"I know T-Roy, he's always with us," Montgomery told PopCulture.com. "He always had that big wooden spoon, and he always liked to stir the pot. All these things that happened, all of us guys on the bus, when we get on there, we usually talk about it and stuff. Something will happen and we'll be like, 'Oh gosh, T-Roy's still around here now, somewhere.'
"That's what it's about," he continued. "We're gonna keep it going, because I know T would want it to and we actually talked about it years back. We was like, 'If either one of us ever go down, we want the MG brand to keep going.'"
Gentry was survived by his wife, Angie, and daughters Taylor and Kaylee. A public memorial service was held for him at the Grand Ole Opry on September 14.