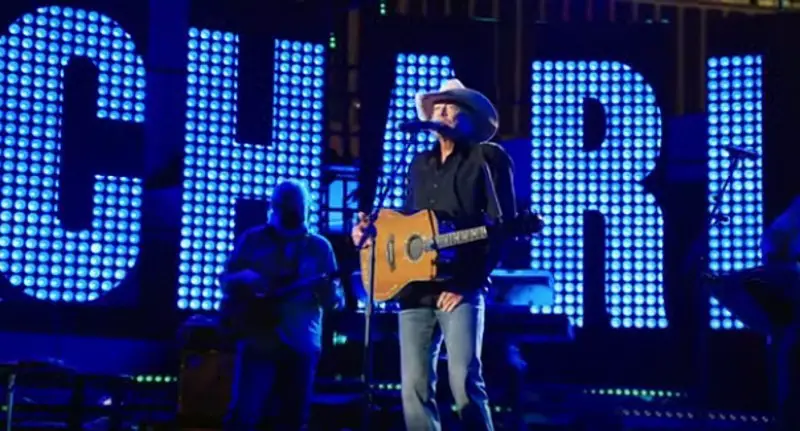 CMT Giants: Charley Pride aired on Wednesday, August 25, with artists like Alan Jackson, Lee Ann Womack, George Strait, Luke Combs and more honoring one of country music's biggest trailblazers.
Jackson performed "Where Do I Put Her Memory?," which became a No. 1 hit for Pride in 1979.
Womack sang "Crystal Chandeliers," included on Pride's 1967 The Country Way album.
"I think the most important thing about Charley Pride is that he was a great country singer, and he loved country music," Womack said. "What else could you say about somebody? He spent his life making country music, and he was one of the best at it."
Strait performed one of Pride's most-beloved hits, "Is Anybody Goin' to San Antone?"
"Charley was up here and we were all down here. When Charley was in the room, he kind of took the room over," Strait recalled. "He was funny, really funny. He told some great stories. He was definitely a huge part of the country music world."
Combs performed "Kiss an Angel Good Morning" alongside Robert Randolph and Reyna Roberts. The song not only became a No. 1 hit on the country charts, but his first to become Top 10 on the Adult Contemporary charts as well.
"Willie Nelson, Merle Haggard, Charley Pride — those are some pretty heavy-hitting names," Combs said of Pride's influence. "It's not like, 'Oh this guy had a song that was good.' This guy was a trailblazer for everybody in country music, regardless of if you're 20 years old, or you're 55 or 60 years old. Charley is somebody that influenced you in a lot of ways."
Darius Rucker sang "Someone Loves You Honey," the title track of Pride's 1978 album.
"Charley's an icon. He is one of the greats of country music," Rucker reflected. "The fact that he was African American and did it in a time that was so hard to do it, but did it in a way with so much grace and so much love. He was one of my idols."
Mickey Guyton, who performed Pride's 1971 hit, "I'm Just Me," was thrilled to continue the work that Pride began.
"When I got asked to be a part of CMT Giants, and honor Charley Pride, I was just floored," Guyton said. "I've been doing a lot of work over the last three years of trying to make sure that I can open the door for other people that look like me, and it feels like I'm carrying on that legacy. To honor him, it really means a lot to me."
Pride's son, Dion, also performed, singing Pride's chart-topping "Mountain of Love" single, released in 1981. Dion previously said he was honored by the tribute to his legendary father.
"This is so very meaningful to my family," Dion told People. "As proud as we are of all my dad's accomplishments, this is just something that keeps him alive, so to speak. During the screening, I was glad the lights were off because I teared up several times."
CMT Giants: Charley Pride will air again on Sunday, August 29, at 12:00 PM ET on CMT.