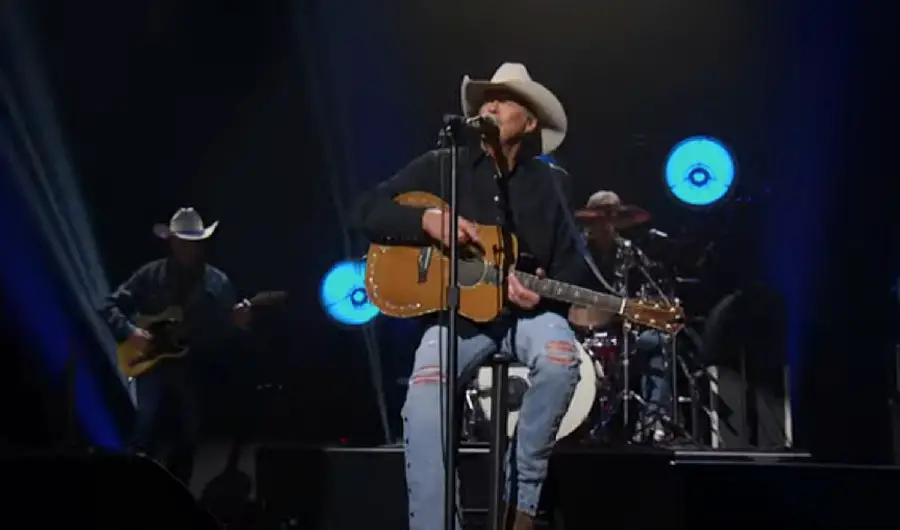 If Alan Jackson is one thing, it's determined. The Country Music Hall of Fame member has had one of the most successful careers of any artist in country music, success that was only won thanks to his tenacity, even when others stood in his way.
"I can't even remember all the showcases that I had done previous to that [concert] and had gotten turned down over and over from every label," Jackson said on Apple Music's Essential Radio (via CMT) . "One woman at CBS even told me I needed to go back to Georgia, and seriously!"
Thankfully, Jackson didn't listen, and his 1990 debut album, Here in the Real World, was a multi-platinum project. Although the 62-year-old says he no longer expects to have radio success now, he still vividly remembers both the highs and lows of those early days of his career.
"The '90s were a lot different than now," Jackson reflected. "You could have three No. 1 records in a span of a year, so you're just constantly rolling, and you're gone all the time, but it's fun because it's all new. I hadn't been anywhere in my whole life, and so where I went was exciting [during those] first few years. All of it was exciting, to have those crowds when you never had that.
"I mean, I've played clubs where people wouldn't even dance," he continued. "Then when I took my break, they'd turn the jukebox on and dance. They didn't know you were there. It's totally different, and it's a lot to swallow too. It's a big adjustment to get all the attention and all that can be hard on you. [Jackson's wife] Denise and I just had a baby right when my first one, "[Here in the] Real World," hit the top of the charts. And so it was hard on her. It's a whirlwind."
Jackson decided early on he wanted Keith Stegall to produce his albums, a partnership that continued with his latest  Where Have You Gone record.
"I was just hardheaded, I guess," Jackson said. "I think I'd been in it and recorded [as] you do, where you'd go and record a few demos to try and get somebody's attention. And, I'd had a couple of other producers trying to help me. Nobody could let me or get me what I wanted to sound like the type of sound and the music that I wanted. We would cut other people's songs, mostly.
"I had met Keith Stegall through the songwriting thing that I had, and I knew he had just been a part of Randy Travis' first album that did so well," Jackson recounted. "I knew Keith just from Louisiana, and his daddy was an old steel player. He was a country guy doing country music. I just had this feeling that Keith was the guy that could help me, and I kept harassing him."
All of Jackson's music is available at AlanJackson.com.