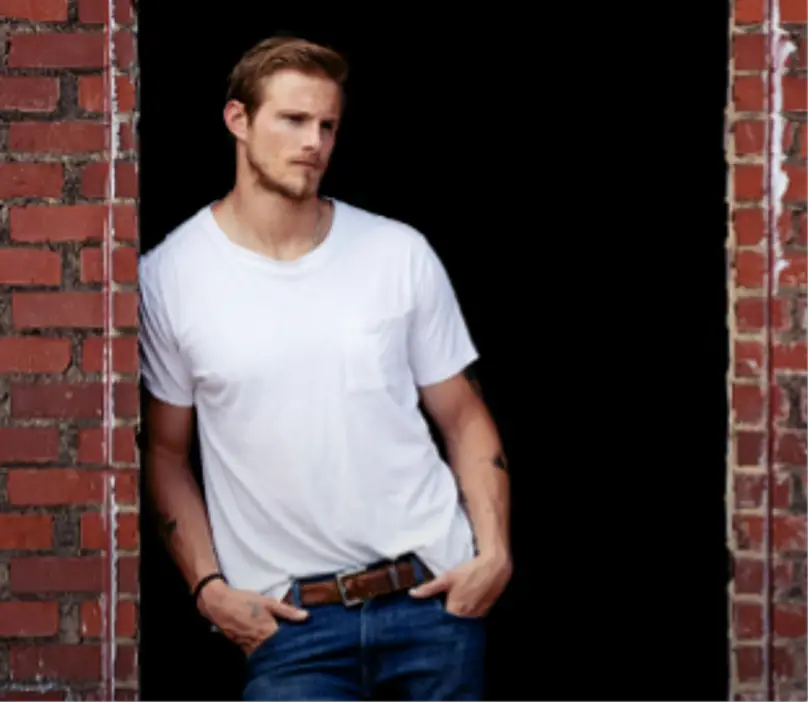 Alexander Ludwig just kicked off an entirely new creative chapter in his life and career. The seasoned actor, known for roles in The Hunger Games, Lone Survivor, Vikings and more, just released "Faded on Me." The song is his debut single from his forthcoming Highway 99 album, out this summer on BBR Music Group/BMG.
Ludwig's career is doing well — very well, in fact — so it's not that he needs to find another job. Instead, the 30-year-old says that it is important to him to pursue music, while also continuing to act, as much for a way for him to express his gratitude as for him to have another creative outlet.
"I'm just so grateful for the opportunity. But one thing that I always felt like when I went to Nashville, that I would tell every, every writer in every single room was just how much country music has always meant to me," Ludwig tells Everything Nash. "Whether I'm playing a dive bar or an arena makes no difference to me; I'd be playing and writing music regardless of whether or not I had a record deal. This was just such a blessing in disguise, but this is in no way, shape or form … I always say that the most cliche thing I feel like is when you hear an actor turned musician or musician turned actor, and I don't know why that is such a cliche, and I don't know why it happens so often."
Ludwig knew early on that he wanted to hone both crafts, as an actor and a performer. In fact, he says music might have come first, if he hadn't found success in films at a young age.
"Perhaps it's just because there's something in the brain with artists," Ludwig reflects. "But for me,  the only reason I'm an actor first and not a country artist is simply because one took off before the other. The music industry is a hard one to crack, especially country music. It's such a small town. I feel like once you're in, you're in, but people need to see you first. And the last thing I ever wanted people thinking was like, 'Oh, this is some actor from Hollywood just wanting a deal.'  That's so not the case for me. I really could care less. I just wanna play great music, and I want as many people to hear it as possible. I'm just grateful to be able to do that."
Ludwig might be moving full-speed ahead with his music career, but fans of seeing him on the big or small screen need not worry. The multi-faceted star insists he will likely continue to pursue both creative paths for a long, long time.
"I envision I'm going to keep doing both for the rest of my life," Ludwig maintains. "It's a fair question, but I also feel like it's such a hard one to answer because obviously if I was successful at this, that's a different story, in terms of what the industry would say is successful. Not in terms of what I think is successful, but if this suddenly became a thing where they were like, 'Alexander, we want you to do a full tour,' then there's a world where I go, 'Okay, acting takes his back seat. Now I'm gonna just focus on this, 'cause I'm certainly never gonna cancel the show.'
"I think it's more just being really, really smart about how you manage your time," he adds. "The good news is I feel like I'm fortunately at a place now in my other career where there is a little bit more leeway in terms of what I can schedule and where I can schedule my time."
Download or stream "Faded on Me" here. Find more of Ludwig's music by visiting his website.