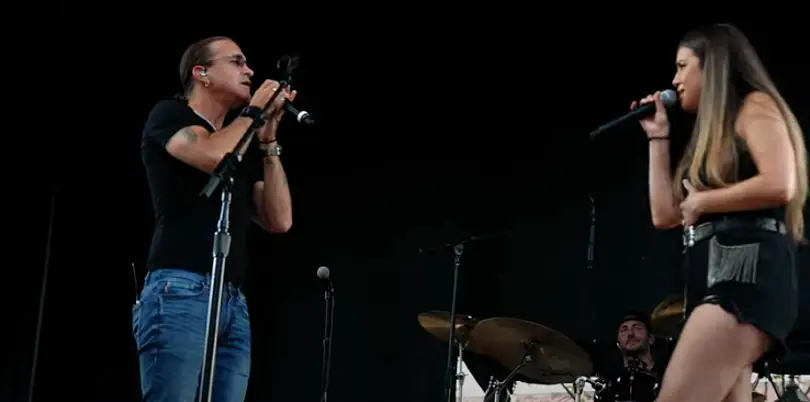 Only a couple of weeks after Alexandra Kay performed a medley of Creed hits on TikTok, which earned the praise of the group's lead singer and founder, Scott Stapp, the rising star was joined by Stapp for an epic medley. The two sang together during a show in Nashville, while she was performing on the Opry plaza, as part of their Opry Loves the '90s experience, which runs through the summer.
"We came up with our favorite Creed songs, and we put them all together, and we mashed them up and we uploaded it, and you guys completely blew it up on the internet," Kay says, as she introduces Stapp to the stunned crowd. "We were thinking about playing it for you guys today, and then we realized that Scott Stapp lives near Nashville."
Together, the two singers performed parts of some of Creed's biggest hits, including "Stand Here With Me," "Higher,"  "With Arms Wide Open," "Six Feet From the Edge," earning thunderous applause from the captivated crowd.
Kay captioned the video by saying, "The legendary and iconic voice of Creed, Scott Stapp and I surprised the audience at my Nashville show with a live mashup of my favorite Creed songs! Scott is not only an incredible talent but he is one of the kindest humans I have ever had the chance to share the stage with. I will never forget the look on the audiences face when you came out on stage! Thank for a memory that will stick with us all!"
After the epic performance, the "That's What Love Is" singer praised Stapp, not only for his musical legacy, but for who he is as a person as well.
"Scott has one of the most recognizable and truly unique voices I have ever heard," Kay boasted to Music Mayhem. "I thought after rehearsing that I would be used to hearing it in person, but live on stage I was just as in awe as the entire audience. He is not only an incredible talent and a true icon, he is one of the most down-to-earth, humble humans I have ever shared the stage with."
Kay might be a fan of Stapp, but the admiration certainly goes both ways, with Stapp also praising Kay for her soaring career.
"I have tremendous respect and admiration for AK, a young, independent artist out there working hard chasing her dreams," Stapp said. "I just wanted to show my support for what she's doing and sing with her before she gets too busy selling out arenas!"
Indeed, Kay has a very busy tour schedule ahead of her. After spending part of 2022 opening for Tim McGraw, on his McGraw Tour 2022., Kay is spending much of the remainder f the year on the road. Find her music and tour dates at AlexandraKayOfficial.