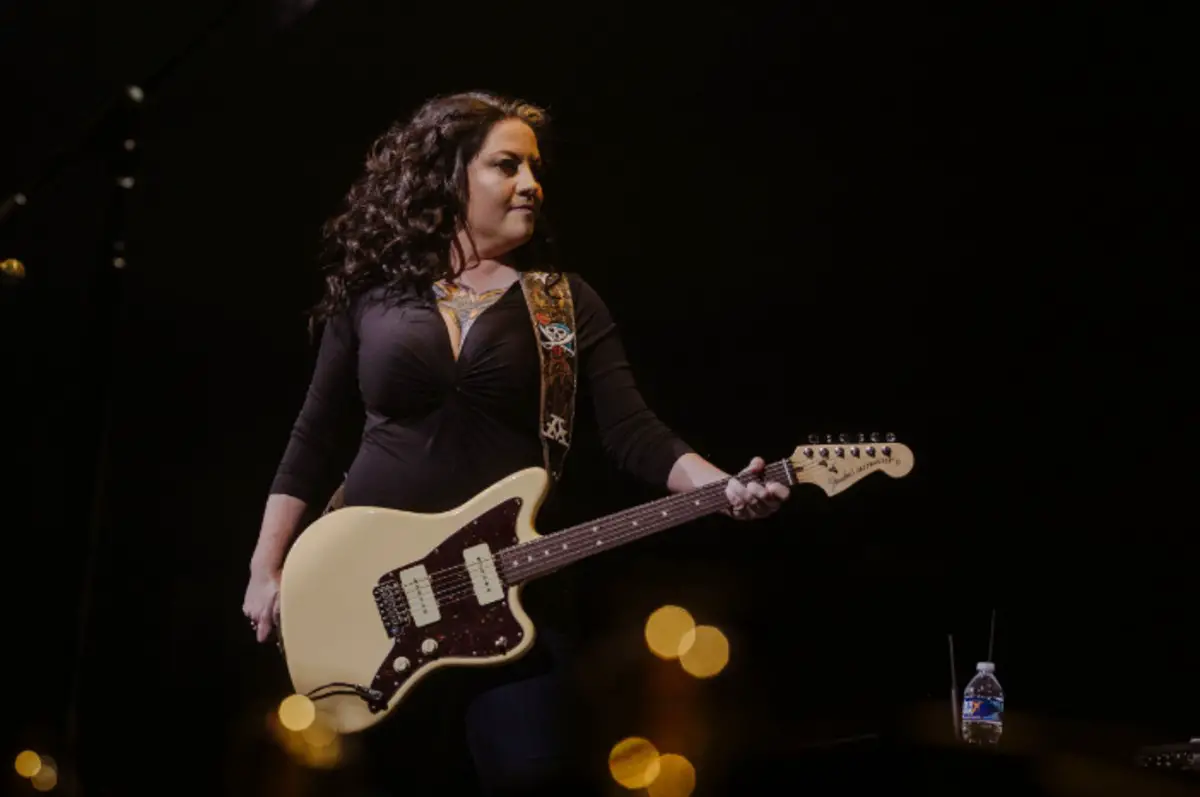 Ashley McBryde is heading out on the road! The Arkansas native just announced her headlining This Town Talks Tour, kicking off on June 12 in Roanoke, Virginia.
McBryde will be joined by Morgan Wade, Priscilla Block and Ray Fulcher on the road, with Adam Hambrick joining on two dates as well.
"AAAAAND we're back," McBryde says of the upcoming tour. "I've been waiting so long to be able to say that. We've missed you all so much, there aren't even words to do it justice. These songs were written and recorded to be sang together. Now, let's be together and make some damn music!"
McBryde also announced the good news on social media.
AAAAAND we're back!! We've missed you all so much. Now let's be together and make some damn music!

Tickets for the This Town Talks Tour go on sale this Friday with the Trybe Presale starting tomorrow! For dates and tickets, visit https://t.co/5cxMQtz1iR pic.twitter.com/RsquBra6ZO

— Ashley McBryde (@AshleyMcBryde) May 17, 2021
McBryde will perform in 37 cities across the country, which includes two shows at the Ryman Auditorium in Nashville, before the tour wraps up on January 15.
"There's so much ground to cover musically, a little rust to kick-off and a whole lot of love ahead," McBryde hints.
The 37-year-old is also working on new music, which she says will include a few guest artists on the project.
"During 2020, we have been able to have two writing retreats safely," McBryde tells Everything Nash. "And we wrote a lot of songs. I don't feel in my heart like it's time for record number three, but we did write an entire project one week. I think 2021 is going to get to see that happen. I'm hoping there's some other artists that are going to sing on it with me. And I think it's going to be a blast."
McBryde released Never Will in 2020, which includes her Top 20 hit, "One Night Standards," as well as her current single, "Martha Divine." Her Never Will: Live From a Distance EP will be out on May 28. See This Town Talks Tour dates below, and find ticket and date information at AshleyMcBryde.com.
This Town Talks Tour Dates:
June 12, 2021 Dr. Pepper Park at the Bridges Roanoke, Va.*
July 16, 2021 Gold Nugget Grand Event Center Lake Charles, La.
July 17, 2021 Floore's Country Store Helotes, Texas#
July 18, 2021 Nutty Brown Café & Amphitheatre Austin, Texas#
July 28, 2021 Bourbon Theatre Lincoln, Neb.^
Aug. 5, 2021 Cain's Ballroom Tulsa, Okla.*
Aug. 6, 2021 Orpheum Theatre Memphis, Tenn.*
Aug. 7, 2021 Robinson Performance Hall Little Rock, Ark.*
Aug. 17, 2021 Irving Plaza New York, N.Y.+
Aug. 19, 2021 Theatre of Living Arts Philadelphia, Pa.+
Aug. 20, 2021 House of Blues Boston, Mass.+
Aug. 21, 2021 The Fillmore Silver Spring Silver Spring, Md.+
Aug. 26, 2021 Ryman Auditorium Nashville, Tenn.
Aug. 27, 2021 Ryman Auditorium Nashville, Tenn.
Sept. 2, 2021 The Pageant St. Louis, Mo.+
Sept. 3, 2021 Bogart's Cincinnati, Ohio+
Sept. 16, 2021 The Sylvee Madison, Wis.^
Sept. 22, 2021 The Wilma Missoula, Mont.~
Sept. 23, 2021 Martin Woldson Theatre at the Fox Spokane, Wash.~
Sept. 25, 2021 Showbox Seattle, Wash.~
Sept. 26, 2021 Roseland Theater Portland, Ore.~
Sept. 29, 2021 Ace of Spades Sacramento, Calif.~
Oct. 3, 2021 House of Blues San Diego, Calif.+
Oct. 5, 2021 The Wiltern Los Angeles, Calif.+
Oct. 13, 2021 Ogden Theatre Denver, Colo.~
Nov. 12, 2021 The Eastern Atlanta, Ga.+
Nov. 13, 2021 Tivoli Theatre Chattanooga, Tenn.+
Nov. 14, 2021 The Fillmore Charlotte Charlotte, N.C.+
Dec. 8, 2021 Riviera Theater Chicago, Ill.+
Dec. 11, 2021 ` Mississippi Moon Bar Dubuque, Iowa+
Dec. 12, 2021 Egyptian Room at Old National Centre Indianapolis, Ind.+
Jan. 6, 2022 Brown Theatre Louisville, Ky.+
Jan. 7, 2022 Roxian Theatre Pittsburgh, Pa.+
Jan. 8, 2022 The National Richmond, Va.+
Jan. 13, 2022 20 Monroe Live Grand Rapids, Mich.*
Jan. 14, 2022 The Fillmore Detroit, Mich.*
Jan. 15, 2022 Agora Theater Cleveland, Ohio#
*Morgan Wade as support | ^Adam Hambrick as support | +Priscilla Block as support |
~Ray Fulcher as support | #Support to be announced