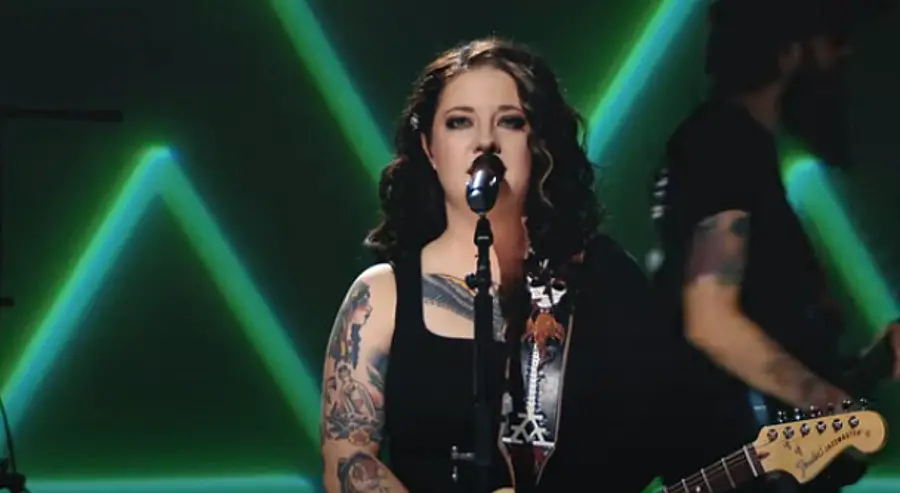 Ashley McBryde is speaking out about her recent accident while riding a horse, which forced her to cancel some of her shows on her This Town Talks Tour. The singer gave a detailed account of how she injured herself, and the extent of her injuries, which were much more severe than she originally thought.
"A few of us went to ride horses on a ranch in Montana before the scheduled show on Wednesday," McBryde shared on social media. "I'm not an inexperienced horseman by any means, I grew up riding a fair amount. The horses we were on are ridden a lot and cared for each day. Very good horses. The older mare I was riding was determined to go faster than the pack. Eventually I swapped onto a younger mare named Jenny.
"We got along famously," she continued. "We crossed a suspended bridge without any problems. We stayed with the others. We crossed a river that was chest deep to her with no problems. Even up the embankment with no unexpected jumps. On our last little journey back to their barn, something spooked her. This wouldn't have been a problem apart from my right foot slipping just outside the stirrup. I tried to correct that with no luck, and she was loping at a pretty good pace. We passed the ranch owner to whom I yelled 'I lost the stirrup I may go over,' and I did."
McBryde was quick to defend the horse, insisting it wasn't her accident that she fell.
"Jenny wasn't trying to throw me at all. But she was moving faster than I could stay on with one stirrup and a loss of center balance," McBryde maintained. "When I landed, I assumed I had hit my shoulder as did the rest of the party. Sadly I had landed on my head. After a trip to the ER staples to close my scalp up, the CAT scan revealed a pretty harsh concussion."
The "Martha Divine" singer is under medical care, and says she will be back to performing as soon as she can.
"You know me, I wouldn't postpone a show for bumps and bruises," McBryde said. "But at the moment I am not able to walk without assistance. We are in contact with my doctors and following everything they say seriously. And as soon as I am able to walk across a stage again, that is exactly where you'll find me. Y'all take care of yourselves. I'll be back soon."
McBryde is scheduled to perform a series of shows with Luke Combs this week. See her tour schedule here.