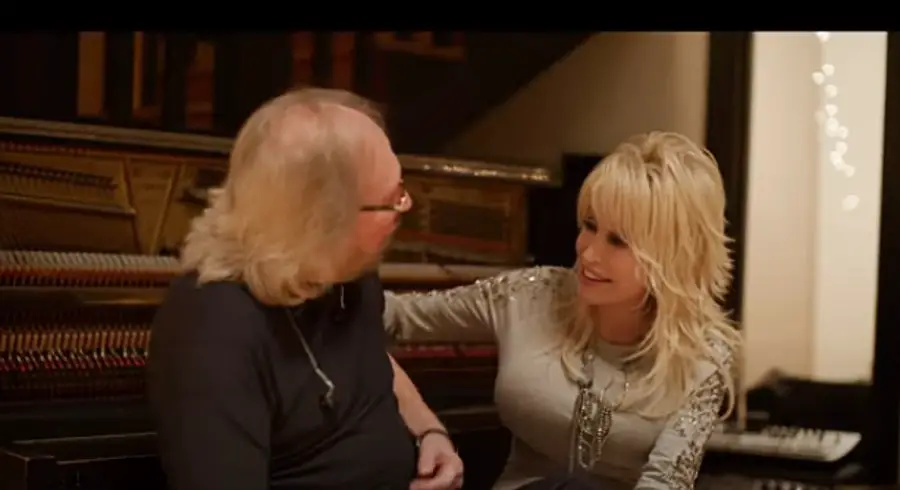 Dolly Parton is one of more than a dozen artists appearing on Barry Gibb's 12-track duets album, Greenfields: The Gibb Brothers Songbook Vol. 1, out on Friday, January 8. The Bee Gees singer praises Parton for who she is away from the stage as much as who she is as a celebrity.
"Dolly was a great thrill, and as incredible as she always is," Gibb told Billboard. "She's such a humble person. I just don't understand how people of that stature remain calm and humble and ready to have a laugh, you know? Dolly told me that where she was standing at the microphone is exactly where she stood when she did 'I Will Always Love You' and 'Jolene.' You know, that's mind blowing."
Gibb recorded Greenfields: The Gibb Brothers Songbook Vol. 1 at the historic RCA Studios, which was produced by Dave Cobb. His collaboration with Parton marked the first time the two singers had been together since she recorded "Islands in the Stream" with Kenny Rogers, which Gibb wrote with his brother, Maurice.
"I have not seen her since that time," Gibb said. "Her 50th wedding anniversary had just happened. And September was my 50th wedding anniversary. It's crazy. So 50 years, my God — but at the same time we had that much in common, you know?"
Greenfields: The Gibb Brothers Songbook Vol. 1  includes several iconic artists in addition to Parton, such as Miranda Lambert, Little Big Town, Keith Urban, Sheryl Crow and Alison Krauss.
"Alison was fantastic," Gibb boasted. "She was almost immediate. Olivia Newton-John was spot on from the first note. She hasn't been in the studio for awhile, she'd been out of action, and she was so thrilled to just get back to singing. So there were all kinds of feelings with every one of those people."
Gibb is happy with all of the artists on the album, but admits there is one artist he wanted who, unfortunately, turned him down: Chris Stapleton.
"Chris was just coming off the road and he was tired out," Gibb explained. "I think Dave Cobb put it perfectly: People like Chris, they can't say yes to everything. I truly understood that, because that's someone who knows how to deal with their own career. So you can't just go to the opening of an envelope."
See a track list for below. Greenfields: The Gibb Brothers Songbook Vol. 1. Pre-order the album here
.*
Greenfields: The Gibb Brothers Songbook, Vol. 1 Track List
1. "I've Gotta Get a Message to You" with Keith Urban
2. "Words of a Fool" with Jason Isbell
3. "Run to Me" with Brandi Carlile
4. "Too Much Heaven" with Alison Krauss
5. "Lonely Days" with Little Big Town
6. "Words" with Dolly Parton
7. "Jive Talkin'" with Miranda Lambert, Jay Buchanan
8. "How Deep Is Your Love" with Tommy Emanuel, Little Big Town
9. "How Can You Mend a Broken Heart" with Sheryl Crow
10. "To Love Somebody" with Jay Buchanan
11. "Rest Your Love On Me" with Olivia Newton-John
12. "Butterfly" with Gillian Welch, David Rawlings
*Everything Nash has an affiliate partnership with Amazon Music. By making a purchase via links on this page, we may receive a small commission, at no additional cost to the consumer or artist.