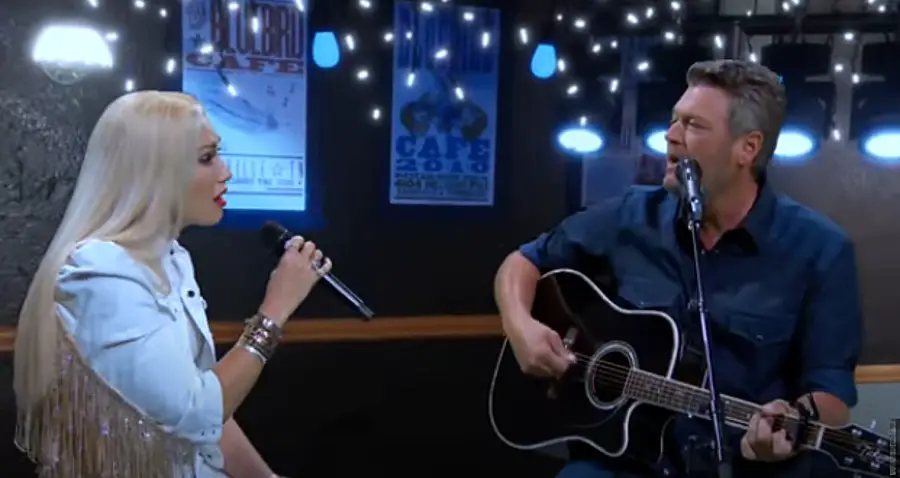 Blake Shelton is still as in love with Gwen Stefani, after 11 months of marriage, as he was the day they said "I do," and maybe more. The superstar couple, who will celebrate their one-year anniversary on July 3, says that Stefani makes his life, and the lives of everyone she meets, infinitely better.
"I wish everybody could have a chance to meet and talk to Gwen Stefani at some point in their life because you'll just be a better person for it, is the only way I know to say it," Shelton boasts to People. "She's just a magical person to be around. She really is one of a kind."
When Shelton first met Stefani, it was on The Voice. Although sparks didn't instantly fly, since both Shelton and Stefani were still married to other people at the time, the No Doubt singer still left an indelible mark on Shelton.
"It's hard to resist Gwen Stefani," Shelton admits. "Here's this iconic rock star coming to be a coach on The Voice in a black minivan. That was cool to me."
The couple divides time between her home in Los Angeles and his Oklahoma ranch, where Stefani has developed a love of farming and working the land.
"Gwen is absolutely into it," Shelton praises. "It's flower planting time. And Gwen doesn't settle for these little areas around the sidewalk. We're talking about fields, acres of flowers. So I have my work cut out for me."
Shelton might be in awe of his relationship with Stefani, but the admiration goes both ways. The mother of three says she also feels incredibly fortunate to be married to Shelton as well.
"It was so intimate," Stefani said said on The Ellen Degeneres Show, speaking of their wedding last year. "It was so exactly what it needed to be, and not just the wedding, but the marriage is so fun, and I'm so into it, so I feel very blessed."
Shelton and Stefani will both return as coaches for Season 22 of The Voice, along with John Legend and newcomer Camila Cabello. A premiere date has yet to be announced.