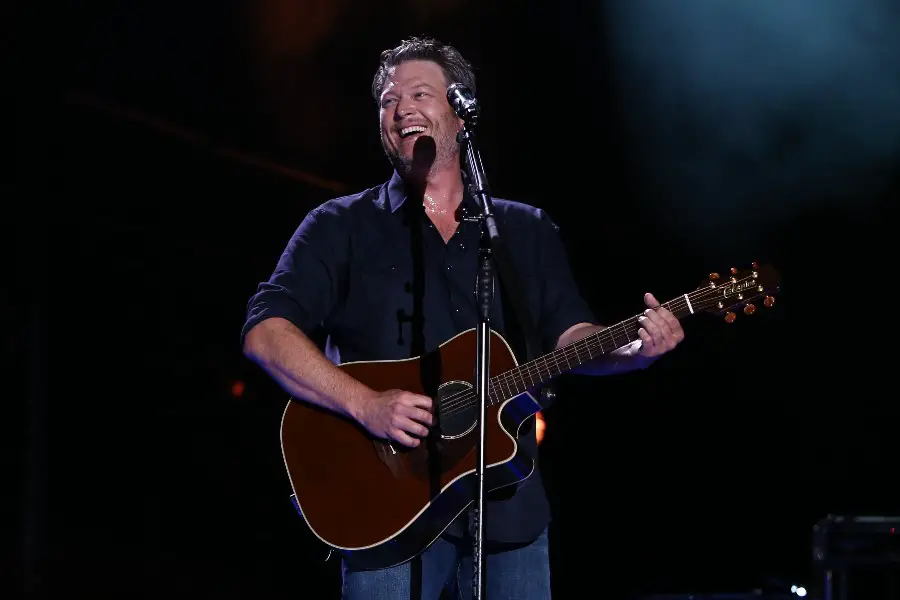 Blake Shelton's 12th studio album, Body Language, will be out on May 21 on Warner Music Nashville, but there may not be many after that one. The 44-year-old hints he is considering retiring, perhaps sooner rather than later, and enjoying time with his future wife, Gwen Stefani, instead.
"Well, I hope that's not too far down the road," Shelton revealed on the Today Show. "Ten  years sounds like way too long to me. I'd like to see that sooner than later. We both, pretty much, [have] taken it to the limit as far as our careers go and touring and now the television thing. [I've] been fortunate to accomplish a lot of things, but hopefully at some point we get a chance to live some life, and I think we're both ready for that honestly … The older I get, the more I kind of feel like I'm starting to turn into a little bit of a hermit, just kind of passing on things."
The one and only @blakeshelton joins @hodakotb as a surprise co-host while Jenna enjoys some time off. He talks about Ariana Grande joining #TheVoice next season, his upcoming album and more! pic.twitter.com/vjCRDsuu8A

— TODAY with Hoda & Jenna (@HodaAndJenna) March 31, 2021
Shelton is currently in his 20th season The Voice, the only coach who has been part of the show since it began in 2011. Over the years, Shelton has found parts of the show he loves, and parts of the show he loathes as well.
"I have my favorite moments, and then I have my least favorite moments," acknowledges the singer. "My least favorites are the Battle Rounds and the Knockouts, when it comes to my team, because you have these people, you beg on them to be on your team, and then the very next thing you do is kick half of them off. But that's what makes it great to watch as a fan of the show. That's what keeps you on the edge of your seat, but as a coach, I hate that part.
"My favorite is the blind auditions," he adds. "It's just so much fun. We get to hear all the singers, and that's when we really get to go for the throat, as far as coaches competing against each other."
Shelton's next set of tunes includes collaborations with The Swon Brothers, and Stefani, making it one of his favorite projects that he has ever released.
"This album is full of songs that I've had recorded for, some for a couple of years," Shelton reveals. "Part of the reason is because COVID kind of stopped everything while it was in motion. It I think makes for a stronger album, because it's a collection of songs that's stood the test of time for me, and we were able to keep making the record, and keep making it and refining it, so I'm really proud of it."
Body Language will be available for on April 23.