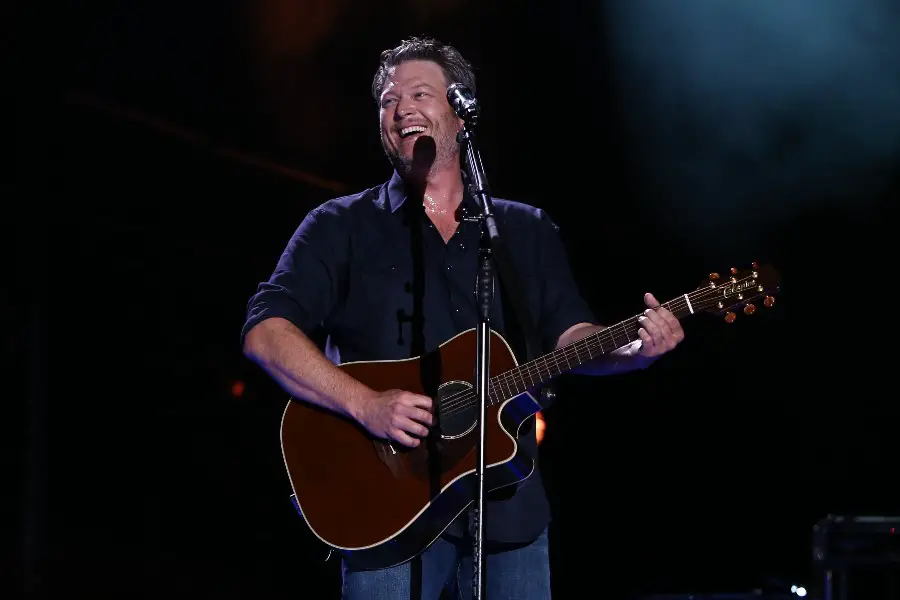 Blake Shelton's long-awaited Friends and Heroes Tour will kick off next week. The tour, which includes Martina McBride, Tracy Byrd and Trace Adkins, along with special guest Lindsay Ell, had multiple dates postponed last year, because of the pandemic. For Shelton, after spending so much time off the road, he was pleasantly surprised to find he still likes performing, which he discovered when he took the stage at CMA Summer Jam. The long-awaited performance not only marked Shelton's return to the stage, but also his first major live performance with his new bride, Gwen Stefani.
"I had a huge grin on my face," Shelton tells SiriusXM's Storme Warren. "Gwen was there. Gwen had come out on stage that night. It was her first back in front of people too. We both had this moment of, 'That was cool.' I don't know how many people [went] to that thing … It was a lot of people, and it was like, 'Man, I did miss this.' I always thought, 'I wonder if I'll miss it. I probably won't.' I just had that in the back of my mind.
"Maybe I was just trying to convince myself," he adds. "And I did. I didn't realize I missed it until after the show. I was like, 'Man, that was fun. I wish we had another one tomorrow, to keep this momentum going.'"
Shelton and Stefani tied the knot in July, with Shelton singing his vows to Stefani. The Oklahoma native hints that he recorded the song, which he might soon share with the world.
"I think it's something I want to share because I'm really proud of it," Shelton told Warren of the song, which he wrote with hit tunesmith Craig Wiseman. "To me, a marriage, a ceremony, you're not keeping it private when you get married to somebody. You're announcing to the world, 'Hey, this is my wife, just so everybody knows.' That's why we wear these rings. This is where we're together now. And I feel that way about the song. It's for me something that I want people to hear and know, because I'm proud to be married to Gwen and so proud of that song."
Find all of Shelton's upcoming tour dates at BlakeShelton.com.
Read Blake Shelton: 11 Things to Know About the Country Music Superstar here.