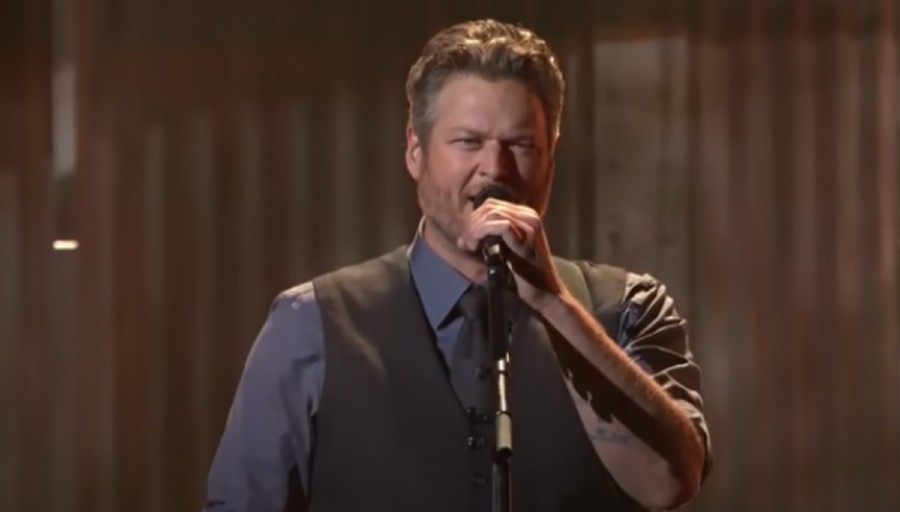 Blake Shelton is a singer, a songwriter, a husband, a stepdad, a coach on The Voice (for one more season), a business owner, and much, much more. We rounded up 11 of our favorite facts about country music's reigning mega-star.
1. His family was very, very normal.
Nothing about Shelton's family suggested that he would grow up to become one of the biggest superstars of all time. His father, who passed away in 2012, was a used car salesman, and his mother, Dorothy, owned a beauty salon. But Shelton had early dreams of being in country music, learning to play guitar when he was 12 years old, and performing all over his home state of Oklahoma when he was a teenager.
2. His first real job was roofing houses.
Shelton desperately wanted to be a country music singer, but needed to pay the bills. He got a job roofing houses, something he thinks he would still do today if he hadn't become a country music singer.
"I'd probably still be roofing houses. That's what I was doing before," Shelton said on CBS This Morning. "I blocked that out of mind. I'd have to relearn it now."
3. His role on The Voice was supposed to go to Reba McEntire instead.
Before Shelton was asked to be on The Voice, Reba McEntire was asked instead. After she turned it down, he was offered the role, although McEntire now regrets turning down the role.
"It was a very popular show in Holland, I'm pretty sure," McEntire recalled to Andy Cohen on Watch What Happens Live. "I watched the tape and I said 'No, I'm going to pass on that, because I don't think I'd ever be able to tell somebody that they're terrible, or 'Go find another job' or 'Hope you like your nighttime job.' I couldn't do that, day in and day out. I just couldn't do it. So I did pass on it. Blake was the perfect choice. He's done a wonderful job … After you see a very successful show that's been running, what, 15 years? Uh, yeah, I'm like, 'Shoot, I should have done that!'"
4. He still works his own land.
By now Shelton could certainly afford to hire an entire staff of people to take care of his vast Oklahoma ranch, but he still does most of the work himself. In fact, he was working on his property when he listened to the demo for "God's Country."
"'God's Country' is a song that was sent to me by [producer] Scott Hendricks," Shelton recalled (via PopCulture.com). "I was actually here in Oklahoma, on the ranch, and I'll never forget it. I was actually running a skid steer, and they sent it to me. I was shocked. I had to stop and just listen to this song, because the song was talking to me about a place that I was in at that moment, which was a place in the middle of nowhere that meant something to me that probably nobody else could ever understand, what that is and what it is inside of me and what my connection is to the land.
"At that moment, I realized, 'I've gotta record this song,'" he added. "And I think I even decided before I even recorded it, 'This has got to be the song that I put out next.'"
5. He thought his career might be over before "God's Country."
Prior to hearing "God's Country," Shelton thought the best days of his career might have been behind him, and he was surprisingly okay with it.
"Last year, I had a song out called 'Turnin' Me On.' It was the single we had out at radio about this time. It was struggling," Shelton said in 2019 (via Country Now). "Each single from that album, we had 'I'll Name the Dogs,' and then 'I Lived It,' which did pretty good, but it wasn't a No. 1 hit by any means or anything. It just did okay. And then 'Turnin' Me On' did just not even as good as that one. It struggled a little bit, especially for me having been on a roll at radio."
Shelton was musing the possible decline of his career when he heard "God's Country," while listening to demos his producer, Scott Hendricks, sent to him.
"I'll be damned the first song that I played was "God's Country" and it was HARDY singing the demo. I just, I mean I literally just couldn't believe what I was hearing," he said. "It was just like an awakening. It was like it reenergized me."
6. He was starstruck the first time he met Gwen Stefani.
The first time he met his now-wife, Gwen Stefani, was on the set of The Voice, when she was still married to Gavin Rossdale, and he was married to Miranda Lambert. But although he never could have predicted their future, he was blown away just by meeting her.
"She surprised everybody with a performance of 'Hollaback Girl,' and then they announced that she was going to be a coach," Shelton recalled to People. "I remember enjoying her performance, and then after the show, we all took a group picture. It was very much an industry-type meeting, and I told people, 'I met Gwen Stefani. That's crazy.'"
"She had just had a baby, so there wasn't even much of a friendship that first season," he added. "The thing I remember saying about her when people would ask was, 'Oh my God, that girl is unbelievable. She drives a minivan to work!' I thought rock stars drove Rolls-Royces, and Gwen was driving a black minivan."
7. He almost passed on opening Ole Red.
Shelton now has numerous Ole Red locations, but he almost didn't have any. When Ryman Hospitality Properties Chairman and CEO Colin Reed asked Shelton to open a restaurant together, Shelton initially balked at the idea.
"Colin started saying to me, 'Let's do a restaurant together," Shelton previously said. "And by now I think I had been on The Voice for a minute, and I was just thinking, 'Oh my God, I don't have time.' Even back then, [he was] saying, 'Let's call it Ole Red.' I was going, 'What is wrong with him?! Let's go shoot a duck! That's what I came here to do!'"
"He said the magic words, which were, 'This isn't like a restaurant, you know, this is a music venue,'" he continued. "And for me, when I moved to Nashville…really, the only gigs I could get performing were songwriter nights. Well, I wasn't a hit songwriter, so I was kinda just stuck in the middle there. I wanted to be a country singer, [but] there wasn't really a place for me."
8. He can cook.
Shelton is actually pretty proficient in the kitchen, especially when it comes to a traditional, home-cooked meal.
"I do cook," Shelton tells Country Living. "I grill a lot of steaks and things, but my favorite is chicken fried steak, mashed potatoes and country gravy."
He also can make his favorite comfort food.
"Homemade cheese dip," he adds. "I use some Velveeta, chopped-up jalapeños, some sautéed onions, mix it up, and start dipping!"
9. His biggest career achievement was being invited to join the Grand Ole Opry.
Shelton was invited to join the Grand Ole Opry, via Twitter, by Trace Adkins, in 2010, and it remains his favorite place to perform.
"I get the same feeling when I come to the Opry as when I see one of my heroes," Shelton says. "I am in awe. To me, the Grand Ole Opry is an artist and I'm really proud to be one of its songs."
10. He washes his hair with eggs and ketchup.
Yes, really. Shelton washes his salt-and-pepper hair with eggs, from his own chickens, and ketchup!
"I am raising chickens now, and I have started going out to the barn, or when I am out on the road, I will go buy some eggs, and I use an egg mixture with ketchup, believe it or not," he told CMT. "I will soak my hair in that once a week for about an hour. Other than that I just wash it in regular shampoo."
11. He hates his tattoo.
Years ago, he drew a picture of deer tracks that he wanted as a tattoo. But instead what he got was something that doesn't exactly look like what he envisioned.
"This is what I drew him for a deer track," Shelton said (via The Boot). "To this moment, people still come up to me and say, 'Man, ladybugs … that's cool. What does that mean to you?' I probably have the crappiest tattoo — not only in country music — but maybe the world."
Later, Stefani's sons got temporary tattoos to match their future stepfather, which she showed off on social media.
— Gwen Stefani (@gwenstefani) April 2, 2017