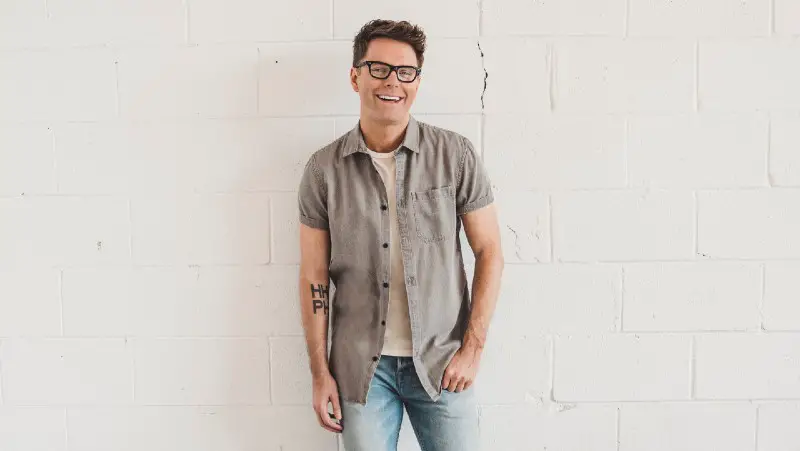 Two of the things that Bobby Bones is passionate about are supporting those serving in the military, and animals. So it makes sense that the Bobby Bones Show host is once again partnering with Purina Dog Chow, as part of their annual Service Dog Salue, in honor of Service Dog Awareness Month, which takes place in September. The program helps provide service dogs to veterans experiencing PTSD, a cause Bones has proudly partnered with for the last few years.
"On my radio show, we have really dialed in to helping our military for as long as I've been doing the show, for 20 years or so," Bones tells Everything Nash. "We try to build a military member a home every year, one that's been through some physical trauma. We try to support families, but something about animals always draws me in."
Bones began researching service dogs several years ago, and was shocked to discover that each one costs about $20,000.
"I thought, 'There's no way that someone that's been fighting for our country comes back and just has $20,000 to throw down on the dog," Bones says. "And so we started to raise money and buy dogs on the show."
It was Purina who first reached out to Bones to see if they could join forces to support the same cause. This year, they also released a documentary, Even Heroes Need Heroes, which shows true stories of three veterans who are battling PTSD, who have each been profoundly helped by having a service dog.
"We've been doing it for years," Bones shares. "Dog Chow's been so generous financially. They have done this documentary that I helped executive produce where we're just showing the value of service dogs, because people may not even know what they do."
Bones is on a lifelong mission to illustrate how imperative these service dogs are to veterans who struggle with PTSD after returning from service, which is why he helped create Even Heroes Need Heroes.
"I wanted to show, and Dog Chow wanted to show, just how, how much they're worth to these veterans and how you can also be a part of making sure they get them," Bones says. "I always love being with the people. And not only am I an executive producer on it, but I wanted to go and talk with people on camera and get their stories. It's the the only thing I'm good at. And so, just being involved with the dogs in general for years, and being able to get them to servicemen and women has been very important to me, but to actually craft a story like that is exciting, a story that I'm passionate about.
"I've written books and I've done stories and TV shows," he continues. "We use storylines on the radio show obviously, but this is a storyline like no other. You see the growth, the dog and the training and the human, and how they come together, and the changes that are made, and then what changes we can make in general to help out more of our veterans. So that was why I got involved. I'm no documentary maker, don't get me wrong, but I'm very proud of this one."
The Breaking Bobby Bones star understands that most people can't go spend $20,000 on a service dog, but he insists that everyone can do something.
"Just go read and know," Bones urges. "Because if you educate yourself … listen, we only have the capacity to do so much, period. Like if you have $5 or five hours or whatever it is. Go read about it. Watch the documentary. And if you feel like you have the capacity to do a little bit with it, if it's financially, if it's volunteering, if it's talking to friends about it, that's what you can do, and it's better than what you weren't doing … I knew nothing about it until I stumbled across it and was like, 'Wow, I wish I would've known this earlier.'"
The Service Dog Salute is working in partnership with Got Your Six Support Dogs. Find more information, including ways to help, at dogchow.com/service.
Want to see more exclusive interviews? Click here to subscribe to our YouTube channel.