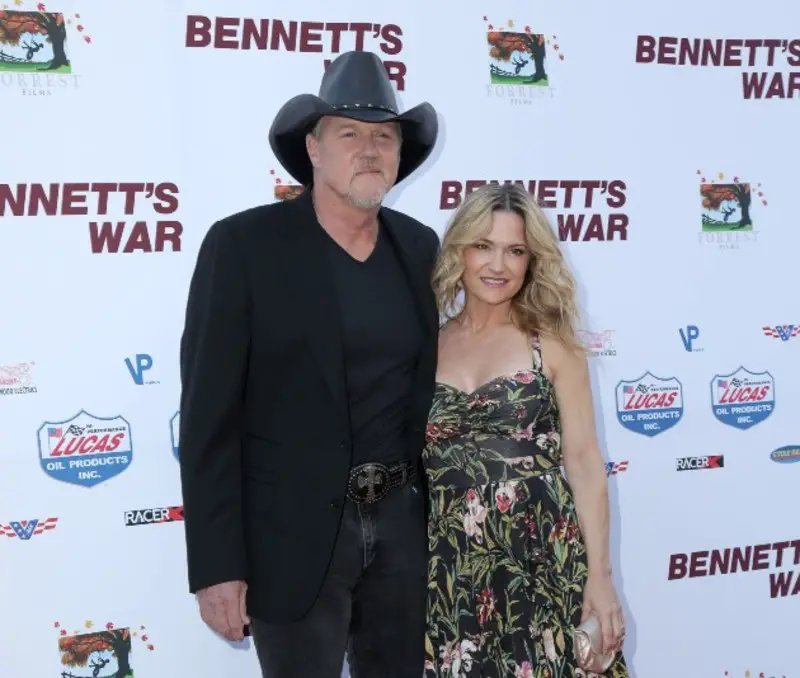 Trace Adkins doesn't know where he would be without his wife of almost two years, actress Victoria Pratt, and he doesn't want to know. The 59-year-old just released his 25-track The Way I Wanna Go album, crediting Pratt with giving him the inspiration to create such an ambitious project.
"I can't even begin to explain what a difference she's made in my life," Adkins tells People. "She rejuvenated me and inspired me to take whatever time I have left and make the most of it…and then just make the best music that I can make."
"I can't take all the credit," he adds. "She's my muse."
Adkins might have found true love, but he is still quick to poke fun at his good friend, Blake Shelton, and his recent marriage, especially since Shelton didn't invite Adkins to his wedding to Gwen Stefani. The lack of an invitation is just more fuel for their ongoing friendly feud.
"I'm glad that he didn't invite anybody to the wedding because just speaking for myself, I didn't want to be a witness to that woman throwing her life away," Adkins quips. "But really, they're adorable together and I love both of them."
Shelton joins Adkins on "If I Was a Woman" from The Way I Wanna Go, one of two songs that Adkins had a hand in writing on the record.
"That came from Sherrié," Adkins tells Everything Nash. of the song, which was written by him, Sherrié Austin, Jeff Bates and Kenny Beard. "Sherrié Austin got to chatting with me and Jeff Bates and Kenny Beard. And she's like, 'I think we should write a song, 'If I Was a Woman,' with all of you,' because she thought we were incredibly crude. And so she said, 'Let's see what the song would be like  coming from a guy's perspective of if you were a woman.' And I was like, 'Oh my God.' That was fun. And then I immediately thought this should be a duet with Blake. And so that's the approach that we took.
"Immediately, I said, 'Okay, let's write this as a duet, this back and forth thing," he continues. "I think we wrote the song in about 30 minutes. It was one of those that just wrote itself. Once we had the idea, the direction, it was easy."
Adkins didn't need to release such a lengthy project, which also includes collaborations with Melissa Etheridge, Pitbull, Luke Bryan, Keb' Mo', Stevie Wonder, Snoop Dogg, but it was the best way he knew to celebrate the 25th anniversary of his debut Dreamin' Out Loud record.
"I could not let my 25th anniversary go by and not commemorate it somehow. That's a milestone in my life and I wasn't going to let it go by unnoticed, if for nobody else other than my family, I wasn't going to let that go. I'm gonna make you listen to this."
The Way I Wanna Go is available at TraceAdkins.com.