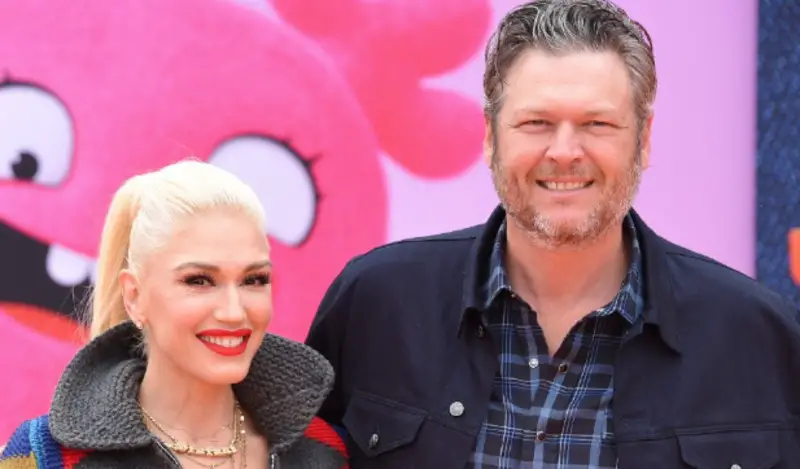 Blake Shelton is a man of faith, at least now. The 45-year-old says marrying Gwen Stefani changed almost everything about him, including his belief in God.
"I think honestly looking back under the circumstances that Gwen and I fell in love with each other and got together, that alone was all of the proof I needed," Shelton told Lon Helton at this year's Country Radio Seminar. "She has such a strong faith in God. I mean, if Gwen was sitting here right now, she would [say it's] God, and then everything else. That's number one in her life and has been her whole life. She doesn't beat you over the head with it; she would never do that. That's her relationship. But I've learned a lot from Gwen about a lot of things, really just watching her and learning from her and learning how she thinks and how she treats people, and how she just operates in her life."
It's his relationship with Stefani that inspired Shelton to include "Bible Verses" on his latest Body Language album, and will likely inspire him to include more spiritual songs in the future.
"Naturally I start seeing the God in everything, 'cause she does," Shelton explains. "And of course, that starts bleeding into my records and my music and next thing you know, I'm dreaming songs, and recording songs and writing songs about faith and God … I do like having it on my records."
When Shelton married Stefani, he not only gained a wife, but three stepsons as well. But her family circle expanded as well, thanks to her in-laws, and she is soaking up every minute of it.
"She loves it, and she's been great for my family," Shelton boasts. "My sister,, and her family and my mom and my stepdad. She wants that. She's got her arms around all of.you, I never experienced that with anybody really 'cause that's a lot to take on."
Shelton is currently enjoying a Top 15 hit with "Come Back As a Country Boy." The song was written by HARDY, Jordan Schmidt and Josh Thompson. Find all of his music at BlakeShelton.com.