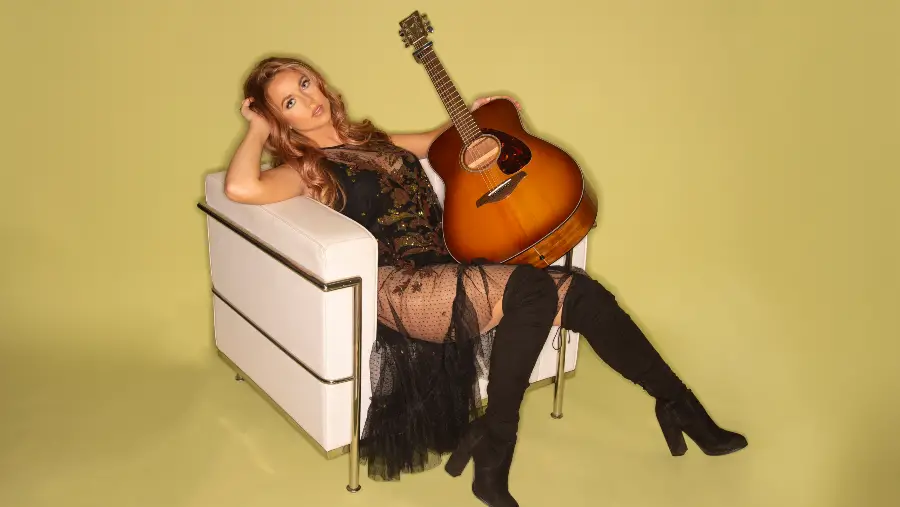 Caitlin Quisenberry is baring her heart and soul in her new song, "Take Only What You Need." The rising star wrote the song with her producer, Ben Simonetti and singer-songwriter Jesse Labelle, inspired by their shared experiences of loss and changing chapters.
"It was the first time Ben and Jesse had met and the first time the three of us wrote together," Quisenberry tells Everything Nash. "We were just casually chatting about moves we had all just made – mine from Denver to Nashville, Ben and his wife Olivia were moving into a new home, and Jesse had lost his home in the Nashville tornado and had to relocate in Germantown. Our conversation was focused on 'taking only what you need' being so freeing and getting rid of things/baggage that weighs us down."
From there, the three writers had the idea for Quisenberry's contemplative new song, about grieving love lost amid the hope of its return.
"The lyrics paint a vivid storyline of a breakup, where he is leaving and she is pleading with him to leave things behind – to take only what he needs in the meantime," Quisenberry shares. "She's doing this because she wants to hold onto their memories and him, hopeful that he may one day come back and things will work out. She implores him to, 'take only what you need, 'cause you're breakin' all of me, when you leave.'"
Quisenberry grew up as the granddaughter of a Southern Baptist minister in Colorado, singing in church before she realized she wanted to make music her career, instead of just a hobby.
"My singing quickly grew from enjoyment to my passion," Quisenberry explains. "My parents recognized my talent and really supported me and started making connections for me. When I was 14, I recorded an EP with multi-Grammy award-winning producer, Robert Cutarella. The following year at 15, I auditioned for American Idol, won a golden ticket and was pushed through to Hollywood."
Quisenberry continued to pursue music, even studying with a renowned opera singer in Switzerland, before ultimately deciding to follow what felt like a more practical route, and enter law school, even though her heart wasn't in it.
"As I was studying for the LSAT, I began to miss music," Quisenberry remembers. "One night I sang the Chris Stapleton song, 'Millionaire,' and put it on my Instagram. It flagged the attention of a producer in Nashville who asked me to come record. I had never been to Nashville, and my parents told me I should go for it – that now is my time to try this, because law school would always be there, but this dream wouldn't. So, I followed their advice and started making trips to Nashville to record music."
From there, Quisenberry's music quickly started garnering attention, with CMT adding her video of "Blue" to their site, which ultimately helped in her decision to relocate to Nashville instead and focus on her music.
"I made the decision to surround myself with the world's top musicians, writers, publishers, and producers," the singer explains. "Along with this, there is just an energy in Nashville that really gives my creative abilities wings."
Quisenberry has been busy releasing music every three weeks, which she vows to continue into next year as well, including her version of "O Holy Night," which will be available on December 3. Find all of Quisenberry's music at CaitlinQuisenberry.com.