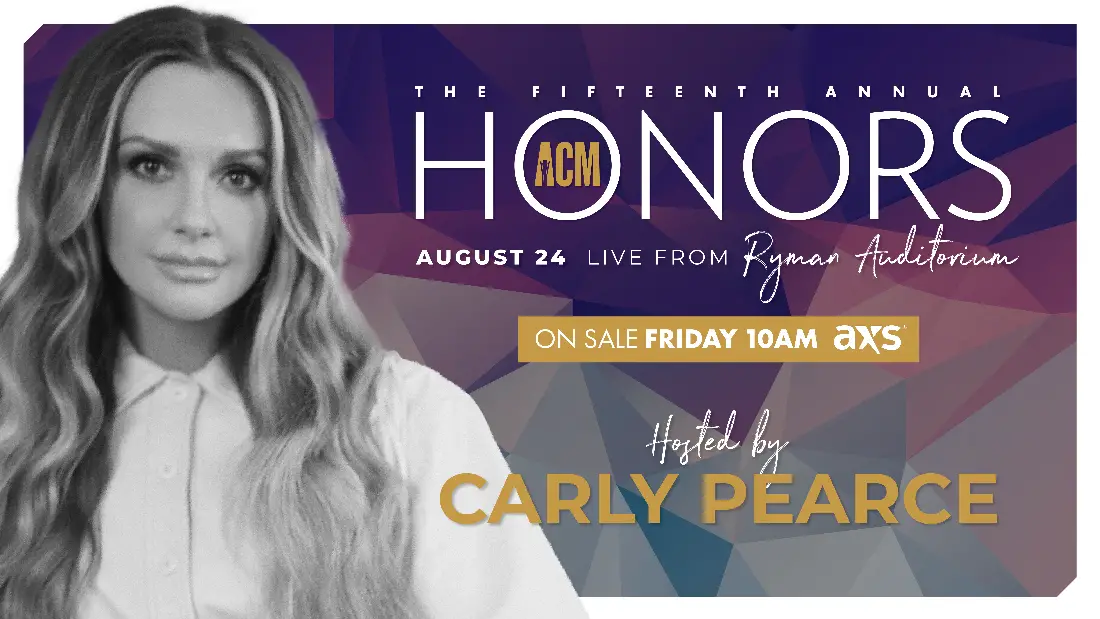 Carly Pearce is returning for the second year in a row to serve as host of the ACM Honors ceremony. Pearce, who is the reigning ACM Female Artist of the Year, is thrilled to once again helm the star-studded ceremony.
"ACM Honors is one of my most favorite events of the year,"  Pearce says. "It is a privilege to once again host this special night and celebrate those who are making a profound impact on country music."
ACM Honors, which takes place this year on August 24 at the Ryman Auditorium, will honor some of country music's biggest stars, including Morgan Wallen, Chris Stapleton  and Shania Twain, among others.
"ACM Honors is shaping up to be an unforgettable night, honoring some of the biggest names and achievements in country music, all while also shining a spotlight on the studio recording musicians and Industry professionals that make the music scene in Nashville and around the world possible," says Academy of Country Music CEO Damon Whiteside.
"We're so excited to have Carly back to host ACM Honors for her second year in a row," he continues, "making the 15th anniversary of this event even more special with our reigning ACM Female Artist of the Year steering the show."
Pearce will return to the Ryman only a couple of months later, to headline her sold-out Carly Pearce: One Night at the Ryman, taking place on October 26.
"I truly can't get over how many people gave me grace and love when I was dealing with so much hurt," Pearce says of the upcoming show. "Now to be on the other side, talking to fans not only about their challenges, but also offering hope that it will get better. Country music is three chords and the truth. Well, those who know me know I can't help but be honest in my music so what better way to celebrate my first time playing the Mother Church of Country Music than with some cold hard truth songs!"
Tickets for ACM Honors will be available to A-List subscribers and Academy of Country Music members through an exclusive pre-sale beginning Thursday, June 23. General on-sale tickets will be available beginning Friday, June 24 through AXS.