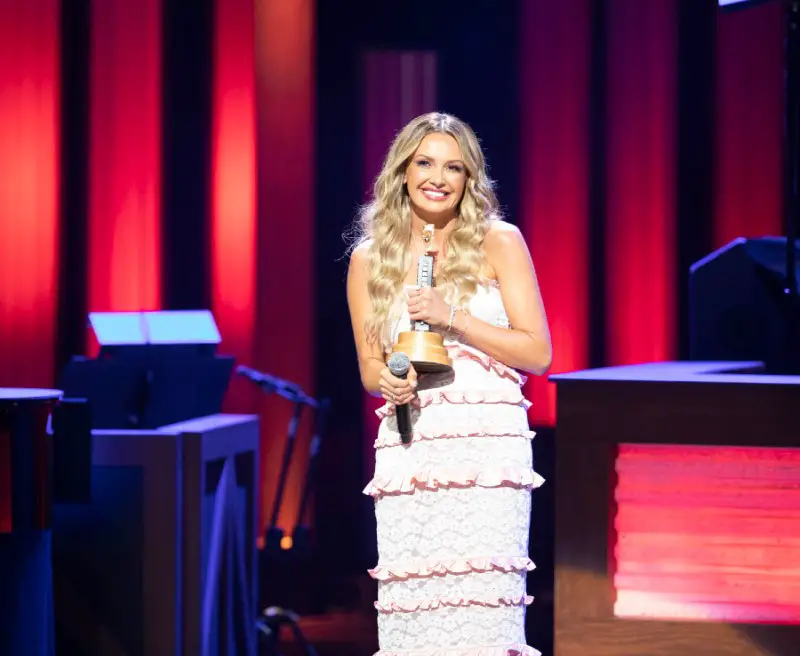 Carly Pearce is the newest member of the Grand Ole Opry! The 31-year-old was inducted by Trisha Yearwood on Tuesday, August 3, fulfilling a dream she had since she was a little girl.
"There are a lot of things that I could say, and I've tried to think of how to sum up what this means to me," Pearce said from stage. "The best way to describe it is, when I was a little girl, I dreamt of country music, and I dreamt of singing on this stage. And my grandma, my Mamaw and my Papaw Pearce, I always told them that if I made it here, they would be front row. And they didn't get to see that happen, but I really do genuinely feel like they're here with me tonight. And I know that it was my dream as much as it was theirs."
Pearce also reflected on the successes she has had in country music, ever since her debut single, "Every Little Thing," was released in 2017.
"I've seen a lot of my dreams come true over the last few years, but I think what makes this place so special, what makes this family such a place that I wanted to be a part of, is because you can have hit records," Pearce maintained. "You can sell out shows. You can be on awards shows. But all of that can fade, and this is something that I will have forever, and a place that I can come to, and a stage that I can sing on, and a circle that I can stand in, and a family that I can be a part of, and that can never be taken away from me. And that's super special to me.
"All I've ever wanted to do in the entire world is sing country music," she continued. "The Grand Ole Opry let a 25-year-old Airbnb cleaner — yes, that's me — stand on this stage before I ever had a record deal, so I kind of feel like I've grown up in this industry over the last five years with them. Grand Ole Opry, this isn't another feather in my cap. This isn't another accolade. This isn't another thing to add to my wall. This is a promise to all of you, and to this organization, that I will do my due diligence as a Grand Ole Opry member to make sure the circle is never broken."
It was Dolly Parton who invited Pearce to become a member of the Grand Ole Opry in June, while Pearce thought she was filming a commercial for Dollywood.
"Dolly is not only one of America's greatest living songwriters, vocalists, entertainers and superstars," Pearce said after her invitation. "She represents all of the values country music holds for me. She has the grace of a woman in full, a heart that is all love, the grit to get it done, the courage to stand up for herself and just enough glitter to be everyone's fairy godsister…"
"And the Opry? It's been the greatest love of my life since I was a young girl listening with my grandparents," she continued. "All of the greatest writers, legends and pioneers have been on that stage, and I feel them in my bones anytime I walk in the stage door… To actually be asked to join the Opry family, there are no words."
Pearce just announced the release of her 15-track album, 29: Written in Stone. The record, which will be out on September 17, is available for pre-order here.
Photo Credit: Courtesy of Schmidt Relations / Chris Hollo