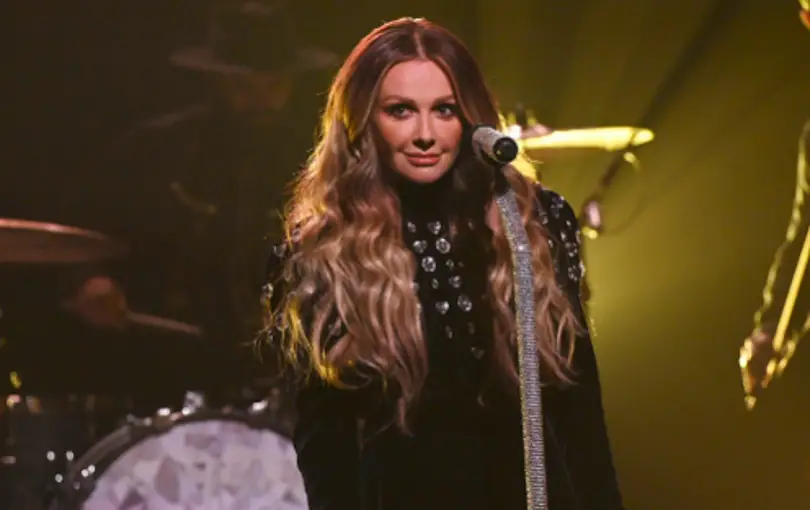 Carly Pearce performed one of the songs off 29: Written in Stone on Monday, January 3, on The Tonight Show Starring Jimmy Fallon. Pearce performed "Diamondback," which was written by Pearce, along with Kelsea Ballerini, Tofer Brown and Shane McAnally.
Ballerini originally intended to release "Diamondback," but when she decided it wasn't right for her record, Pearce took the song and made it her own.
"I actually was never in the room with Kelsea for this one," Pearce told Lyric magazine.. "Kelsea, Tofer Brown and Shane McAnally had started the song, almost as if Kelsea was playing a character, but the only part of the song that really stayed the same was the post-chorus. Honestly, Kelsea just didn't feel like it was for her at that time and so Tofer and Shane sent it over to me. The three of us finished it very quickly and it was very easy for me to go there in that song."
"Diamondback" is the first song on 29: Written in Stone, a deliberate decision for Pearce, who used the record as a way to share her broken heart following her brief marriage to Michael Ray.
"This song makes such a statement and I wanted it to be the opening of the journey," says the singer. "Jenee Fleenor plays fiddle on it; she does this whimsical, messed up, witchy, fairy tale gone wrong, three-part fiddle on there which is outstanding. And that's why I picked it for the album opener because that was exactly what happened, it was a fairytale that went wrong."
The reigning CMA Female Vocalist of the Year intertwines her love of country throughout all 15 tracks on 29: Written in Stone, continuing to set a firm boundary line about the kind of music she wants to make.
"I want to be a country artist," Pearce tells Everything Nash. "I don't want to collaborate outside the genre. I don't want to do anything else. I just want to be a country artist. And I think that this music for the first time really shows that. If you look at the credits of writers on this, it's pretty small, and you see a lot of the same names coming up because these people just really tapped into what I was doing. Obviously I went through a lot of brutal things in the process of making this album. I didn't really want to air all of my information out to a bunch of people. So I kind of kept it with just my friends and the people that I felt comfortable with."
Pearce's current single, "Never Wanted to Be That Girl" with Ashley McBryde, is currently in the Top 20. Pearce will head out on her extended The 29 Tour in March, followed by joining Kenny Chesney on his Here and Now 2022 Tour. Find music and tour dates here.
 here to subscribe to our YouTube channel.
Photo Credit: Paula Lobo/NBC