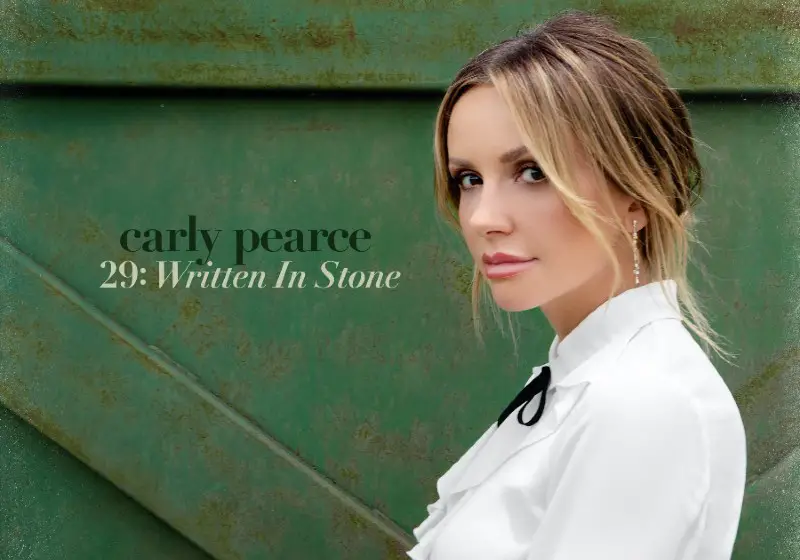 Carly Pearce's telling and personal 29: Written in Stone is out. The 15-track record, co-written entirely by Pearce, follows on the heels of her shockingly-honest 29 EP, which detailed her heartbreak over the unexpected end of her marriage to Michael Ray, less than a year after she said "I do."
All seven songs on 29 are on 29: Written in Stone, including the title track, "Should've Known Better" and "Day One." But there are also other reflective songs on 29: Written in Stone, like "Dear Miss Loretta," "What He Didn't Do" and her duet with Ashley McBryde on "Never Wanted to Be That Girl."  They all tell a story, a story that Pearce was brave enough to tell.
"I think as this project progressed (from 29 to 29: Written in Stone), you can see the shift," Pearce tells Medium. "And these things aren't any less painful, but the hurt moves into a different part of the brain and the heart. I wanted people to see I'd gotten to a better place; I'd experienced the thing no one who says 'I do' ever intends to, felt all the emotions and went through it in my songs."
When Pearce started telling her story in 29, she was surprised at how quickly country music fans connected to her story, telling their own stories of heartbreak and loss as well.
"It's the roots and the real stuff," the Grand Ole Opry member reflects. "I want to keep that piece of this music alive. People have always latched onto my songs and my stories, but 29 and 29: Written in Stone took it up a whole other level. I'm seeing true communication in a way I never have before — and it really shows you what songs can mean. Maybe it's pain with a purpose, it makes you feel like you're maybe giving somebody else a hand."
Pearce has a very specific reason for naming her new record 29: Written in Stone, in many ways making the title her own proverbial flag in country music.
"Part of why I wanted to call this project Written In Stone, beyond being the prayer for things I really want for myself and the people I love, is that life should be indelible," says the singer. "Your words, your actions, your truth, those things should be written in stone. They should last forever, anything less, you're not truly committed to them. Whether it's love, life, country music, that's what the last year has taught me."
Pearce might have made a shift, within herself and within country music, but 29: Written in Stone is just a hint of what can be expected from Pearce moving forward.
"I want to be known as a strong woman in everything I do," Pearce maintains. "Not jaded, or scorned, or bitter, but a woman who meets life on its terms, feels the things I need to feel, but then grow and learn from what I get handed."
The Kentucky native not only wanted to be vulnerable and open in the songs on 29: Written in Stone, but she also wanted to make sure there was no mistaking her deep commitment to country music — and to telling her truth.
"I want to be a country artist," Pearce tells Everything Nash. "I don't want to collaborate outside the genre. I don't want to do anything else. I just want to be a country artist. And I think that this music for the first time really shows that. If you look at the credits of writers on this, it's pretty small, and you see a lot of the same names coming up because these people just really tapped into what I was doing. Obviously I went through a lot of brutal things in the process of making this album. I didn't really want to air all of my information out to a bunch of people. So I kind of kept it with just my friends and the people that I felt comfortable with."
Pearce is currently on the road serving as direct support for Lady A on their What a Song Can Do Tour. She just announced her own headlining The 29 Tour, kicking off on November 4 in Des Moines, Iowa. Andrew Jannakos will serve as the opening act. Find tour dates, and purchase 29: Written in Stone, at CarlyPearce.com.
SURPRISE!!! I can't wait to bring the 29 album in its entirety to you LIVE this fall. Pre-sales begin next Tuesday, September 21. Public onsale is next Friday, September 24. https://t.co/9X3pgUUDYV #29tour pic.twitter.com/YhtUa7u2mk

— Carly Pearce (@carlypearce) September 17, 2021
Want to watch more exclusive artist interviews? Click here to subscribe to our YouTube channel.