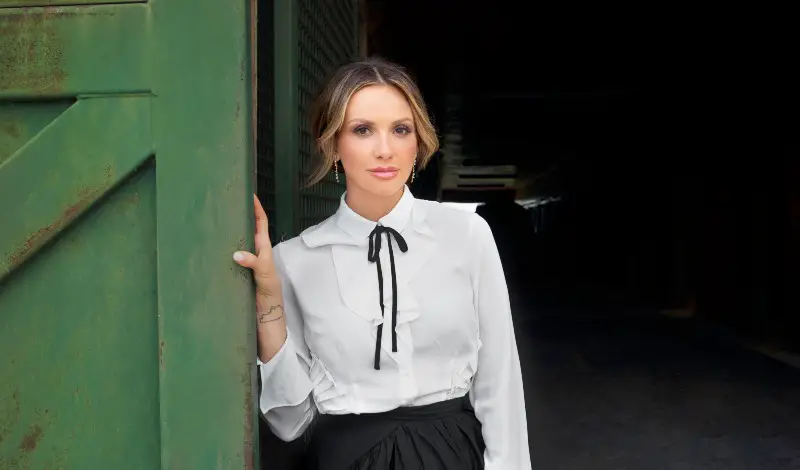 Carly Pearce just dropped "Never Wanted to Be That Girl," her collaboration with Ashley McBryde from her upcoming 29: Written in Stone album. The song was written by Pearce and McBryde, along with Shane McAnally.
"'Never Wanted To Be That Girl' was exactly how 'I Hope You're Happy Now' happened for me," Pearce tells Everything Nash. "I played a show with Luke Combs and I wanted to write with Luke, so I asked him. I played a show with Ashley. I wanted to write a song with her, so I called her and asked her."
Far from a song about retribution, "Never Wanted to Be That Girl" is an unfortunate understanding from both sides, a twist that Pearce and McBryde both heartily embraced.
"I think that what's so cool about this song is it is two women that never meet in the song," Pearce says. "We never meet, but we're experiencing something so similar. It almost wrote itself in the room, of her perspective, to my perspective. It's something that I think a lot of women go through and deal with."
Pearce and McBryde express their artistry in country music differently, but together they make musical magic.
"I think musically, if you listened to us sing, we're very different, but we sing the same," the Kentucky native ascertains. "We come from the same part of country music. She's a little edgier than me, but we know our stuff. I just really am a fan, and I think that she felt the same way about me."
Pearce is heartily celebrating her love of country music in all 15 songs on 29: Written in Stone. The record, which also includes a collaboration with Patty Loveless (on "Dear Miss Loretta"), is Pearce putting her firm roots in the genre she loves so much.
"I want to be a country artist," Pearce maintains. "I don't want to collaborate outside the genre. I don't want to do anything else. I just want to be a country artist. And I think that this music for the first time really shows that. If you look at the credits of writers on this, it's pretty small, and you see a lot of the same names coming up because these people just really tapped into what I was doing. Obviously I went through a lot of brutal things in the process of making this album. I didn't really want to air all of my information out to a bunch of people. So I kind of kept it with just my friends and the people that I felt comfortable with."
Pre-order 29: Written in Stone here.
Want more exclusive interview? Click here to subscribe to our YouTube channel.