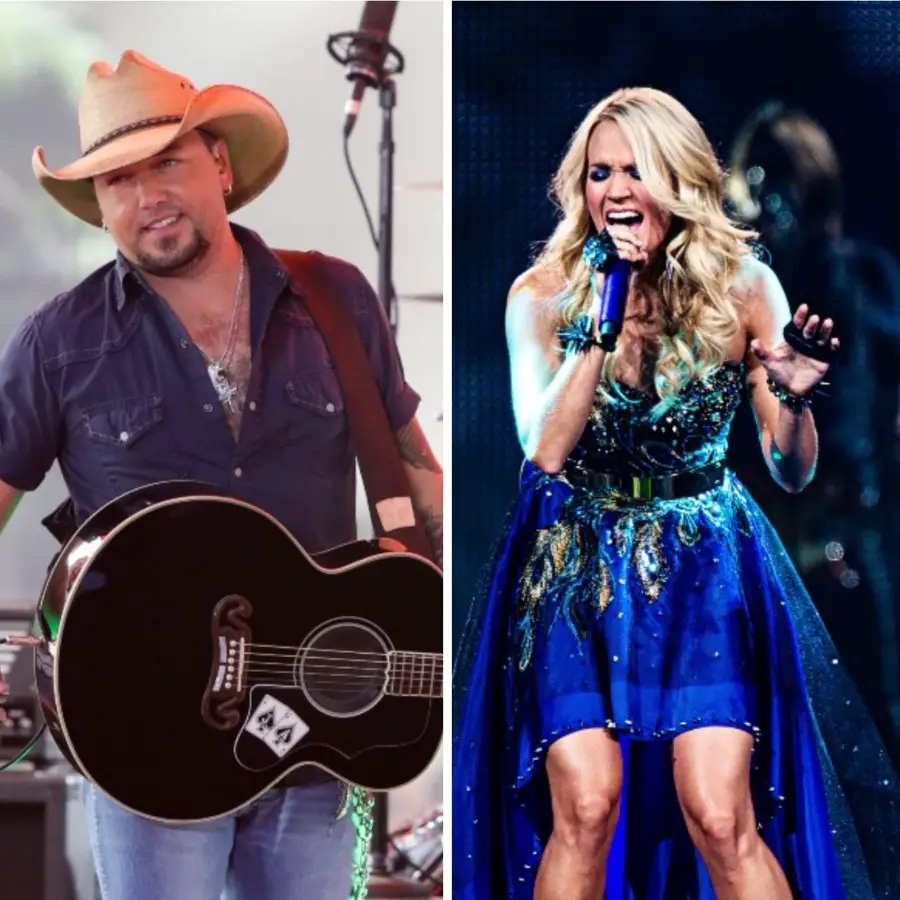 After Jason Aldean revealed on social media that he was releasing a new duet, "If I Didn't Love You," on Friday, July 23 with a mystery duet partner, we now know that the singer is, in fact, Carrie Underwood. Although Underwood has yet to publicly comment on their new collaboration, she did answer the burning question with the emoji of a woman raising her hand.
— Carrie Underwood (@carrieunderwood) July 22, 2021
The new song comes after Aldean just celebrated his 25th No. 1 hit, with "Blame It On You," from his 2019 album, 9.
"25 No. 1 songs is bigger than I could have dreamed while I was driving that delivery truck back in Macon, GA," Aldean said. "This one is for the fans, country radio and my team for taking this crazy ride with us."
Aldean has not released many duets in his 16-year career. He was joined by Kelly Clarkson on "Don't You Wanna Stay" in 2010, followed by "The Only Way I Know," featuring Eric Church and Luke Bryan in 2012. He also had a No. 1 hit in 2018 with Miranda Lambert, on "Drowns the Whiskey." But it's his first duet, with Clarkson, that was the biggest learning curve for him.
"I remember with 'Don't You Wanna Stay,' Kelly was actually my first choice for that song. I've just always been a fan of her voice," Aldean says on Apple Music Country's Today's Country Radio with Kelleigh Bannen.  "And then when you get on stage or in the studio and start trading vocals with them, it's like, , you realize really quick who the better singer in the room is. Those guys are amazing singers and really powerful and just a lot of range."
Aldean loves working with powerful vocalists, like Clarkson and Underwood, because of how hard it makes him work, and the industry attention songs like that receive.
"It's really cool for me to get to work with people like that and sort of find my spot in the song to make my voice work with theirs," Aldean reflects. "It's been great. I mean, obviously Kelly, the song we did with her got us a Grammy nomination and just was a really big song for us, Single of the Year at CMAs. Hopefully, we can replicate that with this song."
9 also included the Top 10 single, "We Back," as well as the No. 1 hit, "Got What I Got." The father of four revealed earlier this year that he was working on his tenth studio album.
"We're actually going back in the studio in a week or two to try and finish tracking everything," Aldean told The Tennessean in May.  "I'll probably do all the vocals in June, and hopefully have an album that drops later this year. That's what I'm hoping for."
Aldean will kick off his Back in the Saddle Tour next month, where he is eager to — finally — get to see his fans again.
"I'm looking forward to just getting back to life as we all know it," said the singer.  "I think stuff like this kind of gives a glimpse to people that we're getting on the other side of it now."
Aldean has certainly had a successful career, but the ACM Artist of the Decade admits it wasn't without his low points as well.
"The lowest point in life was probably,  I would say just going through some of the media stuff that's happened with me over the years," Aldean shares on the SiriusXM's Exit 209 with Storme Warren podcast. "Sort of getting shown in this negative light [with] things, and especially when it wasn't always an accurate portrayal of me and who I am, and my character. You make mistakes. And unfortunately, when you're in the public eye, it gets magnified by a thousand, and that was something that I had never dealt with before. So that was pretty hard."
Find Back in the Saddle Tour dates at JasonAldean.com.