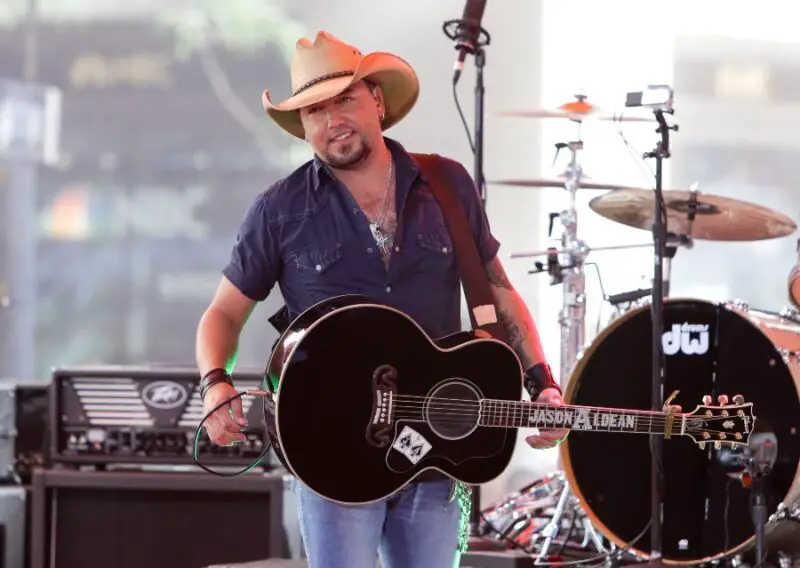 Jason Aldean's life in many ways has exceeded his wildest dreams, but he's also had his share of trouble as well. The country music superstar went through a very public divorce several years ago, with the memory of that time of his life, and the backlash that followed, becoming one of the darkest seasons he has ever experienced.
"The lowest point in life was probably,  I would say just going through some of the media stuff that's happened with me over the years," Aldean shares on the SiriusXM's Exit 209 with Storme Warren podcast. "Sort of getting shown in this negative light [with] things, and especially when it wasn't always an accurate portrayal of me and who I am, and my character. You make mistakes. And unfortunately, when you're in the public eye, it gets magnified by a thousand, and that was something that I had never dealt with before. So that was pretty hard."
Aldean married Brittany in 2015, with the couple enjoying plenty of unexpected time together in 2020, while the singer was off the road.
"We're good in the sense of, we have spent a lot of time together," Brittany told Everything Nash. "We've been able to be blessed and be home and be a family. And Jason's watching things with the children that he probably wouldn't have otherwise,  being on the road. But we're ready. We're excited to get back to tour life and a sense of normalcy."
"I really can't complain because we have been very blessed in the situation of being able to be at home, and in this new home that we have," she continued. "Our hearts really do go out to everybody, because it's just been such a tough year for everybody."
Aldean is on the road again, headlining his Back In the Saddle Tour, and is also at work on new music.
"We're actually going back in the studio in a week or two to try and finish tracking everything," Aldean told The Tennessean.in May. "I'll probably do all the vocals in June, and hopefully have an album that drops later this year. That's what I'm hoping for."
Keep track of album updates, and find all of Aldean's music, by visiting his website.