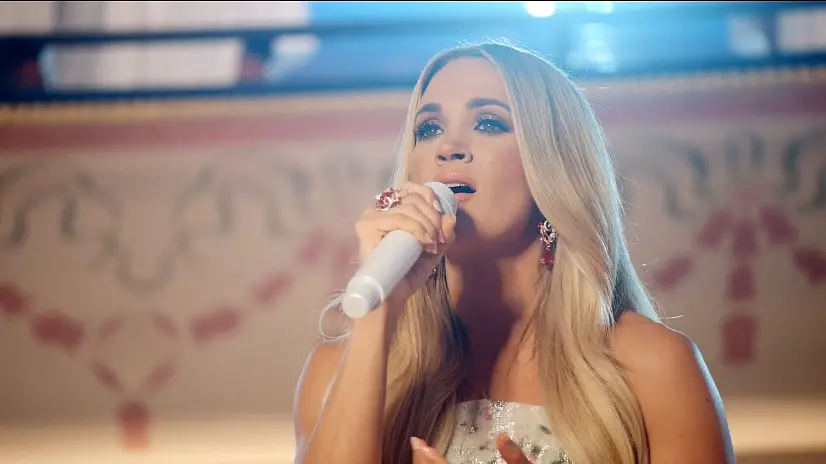 Carrie Underwood has never had as much time at home as she did last year. The singer, who was unable to tour because of the pandemic, found a lot to be thankful for, even with so much uncertainty, throughout 2020, including time with her husband, Mike Fisher, and sons Isaiah and Jacob.
"Everybody was at home, and not dealing with all the distractions and craziness of every day life. We were at home," Underwood told CBS This Morning. "There was a lot of heaviness in the past year, but there were also a lot of silver linings. I got to sit in one place and watch my boys grow up."
While she admits she is eager to return to at least some sense of normalcy, Underwood did cherish the forced family time.
"Just getting to wake up every morning and see them, and put them to bed every night," Underwood reflected. "My husband was like, 'How many dinners have we sat at this table?' And I'm like, 'Well, there's 52 weeks in a year, seven days a week. You can do the math!'"
Underwood and Fisher also found their marriage was able to withstand a lot of pressure, making their relationship stronger than ever before.
"My husband did say, 'You know what? I like you.' And I was like, 'I like you, too,'" Underwood recalled. "It's kind of weird. He's like, 'No, you know you love someone, but when you are off doing your own thing, and then you come have dinner together, you don't really have to deal with each other that much.'
"We've been together, and some couples kind of get stronger, and you see some go the other way. We were really good at being together all day, every day. That was really nice."
Underwood's recent My Savior album became her ninth consecutive No. 1 album to debut at No. 1 on the Billboard Country chart, but her reason for making the record was much more personal than professional. The 38-year-old found solace by working on the gospel project, a feeling she hoped others would also find as well.
"I feel like the entire time that we were making the album, I felt like I was praying the whole time," Underwood said. "It was all just so hopeful and inspirational and joyful, at such a time when there was so much fear, and having no idea what was around the corner, or what the next month or week would bring. Getting to work on this music was peaceful for me."
My Savior is available for purchase here.*
*Everything Nash has an affiliate relationship with Amazon Music, which means we may receive a small commission from sales made on this page, at no additional cost to the artist or consumer.