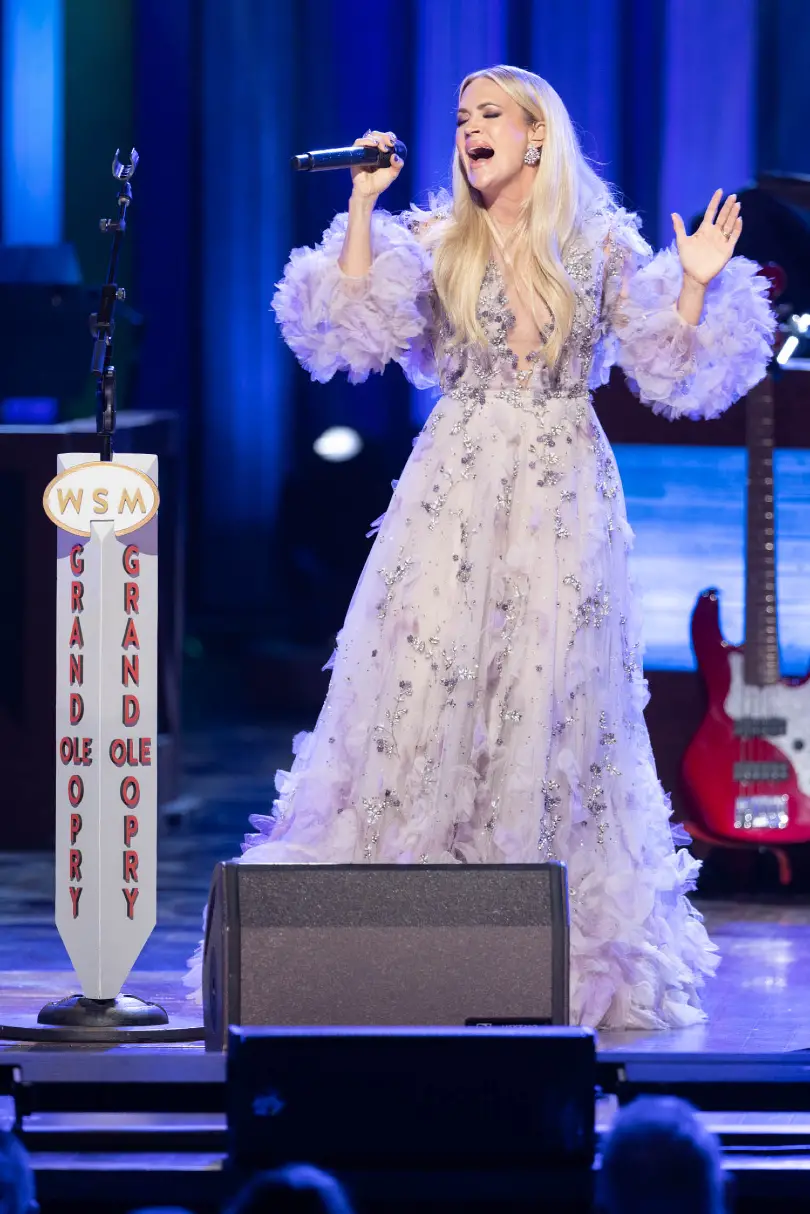 The Grand Ole Opry has been celebrating the '90s era of country music all summer long, which will continue with a special show dedicated to that decade this weekend. Opry Live: Opry Loves the '90s will premiere on Saturday, July 23, on the Circle Network. The show includes performances by Carrie Underwood, Keith Urban, Michael Ray, Jimmie Allen, BRELAND with Deana Carter, Kelsea Ballerini, Cody Johnson, Midland, Lainey Wilson and Chris Young.
The artists will perform some of the biggest songs of that era, by artists like Garth Brooks, Patty Loveless, The Chicks, Toby Keith, Hal Ketchum, John Anderson, John Michael Mongtomery, Travis Tritt and Vince Gill.
Underwood, who will appear at the Opry on July 30 to honor Barbara Mandrell on her 50th anniversary of becoming a Grand Ole Opry member, recently said that she pays attention to every detail of her performances on the sacred stage, including her wardrobe.
"I'm very particular when it comes to [my[ Opry wardrobe," Underwood tells Audacy's Rob + Holly. "You see pictures on the wall, or looking up things about the Grand Ole Opry, and I feel like the women always dressed a certain caliber. It was very rhinestones, it was very shiny. It was a certain kind of dress. I love trying to carry that legacy on because they were just so beautiful to me."
See a complete list of artists and the songs they will perform below. The show will air at 9:00 PM ET on the Circle Network, with an encore performance at midnight. For more information, or to see a schedule of upcoming performances, visit Opry.com.
Opry Live: Opry Loves the '90s Performances Include:
Jimmie Allen, "Should've Been a Cowboy" (Toby Keith, 1993)
Kelsea Ballerini, "Cowboy Take Me Away" (The Chicks, 1999)
BRELAND/Deana Carter, "Strawberry Wine" (Deana Carter, 1996)
Cody Johnson, "When I Call Your Name" (Vince Gill, 1990)
Midland, "Seminole Wind" (John Anderson, 1992)
Michael Ray "Small Town Saturday Night" (Hal Ketchum, 1992)
Carrie Underwood, "Blame It On Your Heart" (Patty Loveless, 1993)
Keith Urban "Sold (Grundy County Auction)" (John Michael Montgomery, 1995)
Lainey Wilson "T-R-O-U-B-L-E" (Travis Tritt, 1992)
Chris Young "Papa Loves Mama" (Garth Brooks, 1991)