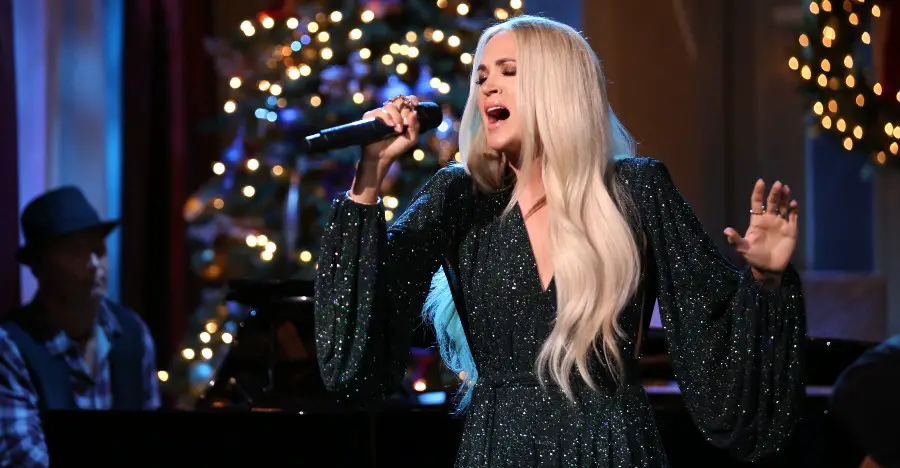 Carrie Underwood loves everything about the holidays, especially being with her loved ones. The mother of two shares some of her family's favorite Christmas traditions, which include plenty of both family time and decadent — and delicious — food.
"My perfect Christmas, generally we do a lot of traveling around Christmas," Underwood shares with her record label. "We'll go see either my family or my husband's family. I'll spend all day cooking. I'll make a small turkey, even though I don't eat turkey. I'll make myself some tofurkey. cranberry sauce, of course. Of course, sweet potato casserole. You have to have that. That's one of my favorites because it's a side dish and dessert, but I'll just make a ridiculous amount of food. Just celebrate, have a fire. We wait for Santa and open our presents, then we're off to see the next group of family. It's all about watching it through my sons' eyes and just getting to spend time with family."
Underwood also enjoys picking out a tree with her husband, Mike Fisher, and sons Isaiah and Jacob.
"We were an artificial tree family growing up," Underwood reveals. "It was easier, but now in our own home, we do the real tree thing, and we kind of try to make that a little bit of a tradition. We go and we pick it out. The boys have some say in which one we get, and they feel some ownership and we all decorate it together and of course, have Christmas music playing in the house.
"I make cookies that were my husband's grandmother that my kids call Gigi," she continues. "It's her recipe, her ginger snap cookies, and we make those and it's super sweet. Isaiah loves makes Gigi's cookies, because he still remembers her a little bit. So, it's something special we get to do."
The 38-year-old loves all kinds of Christmas music, which is why she released My Gift in 2020, followed by My Gift (Special Edition) earlier this year.
"There is no other like part of the year that gets its own music exclusively," Underwood shares. "When you think about it, entire radio stations switch over to play Christmas music around Christmas time. So, I feel like it just puts you in the mood for Christmas. Christmas is something that everybody looks forward to and to have Christmas music start playing way before Christmas. It usually does because people just can't wait to get there. It puts you in a mood. It changes your state of mind. It gets you ready for it and it just makes you feel a certain way."
One of the new tracks on My Gift (Special Edition) is "Favorite Time Of  Year." The song was inspired by all the joy and happiness that seems to be multiplied during the holiday season.
"'Favorite Time of Year' is a song about all of the things that make you smile during Christmas," Underwood explains. "There's so much about Christmas that is absolutely wonderful. Obviously, the birth of Jesus, that's what we're celebrating, but there's so many other things too – like the presents, the family, the weather, the decorations – just all those things all wrapped up to make the it the favorite time of year.
"I love the song because it's hard to sing it without smiling," she adds. "It's hard to listen to it without smiling. I think it's a perfect edition to the rest of my Christmas song collection."