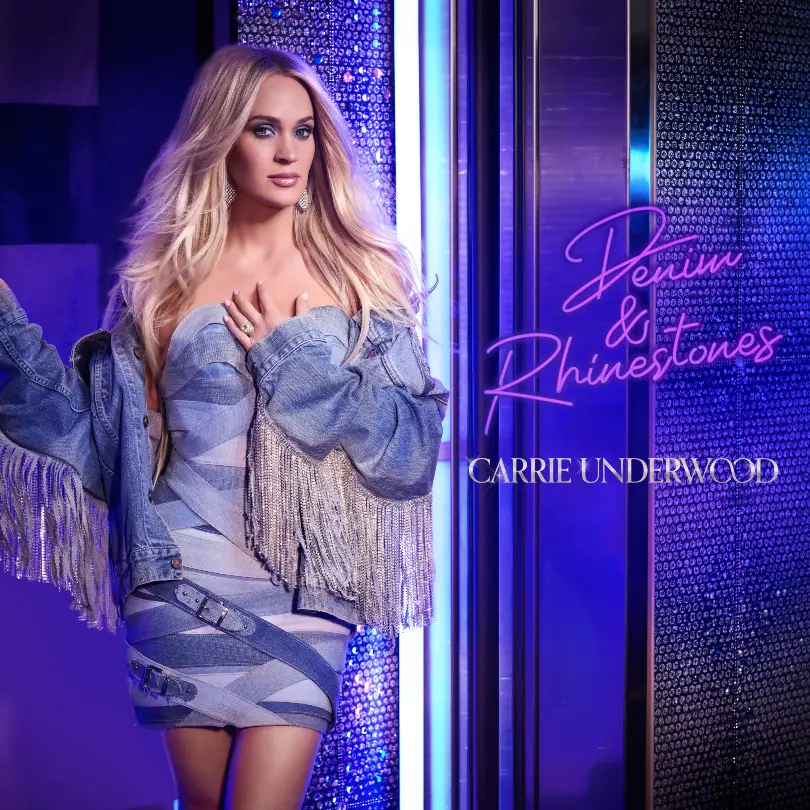 Carrie Underwood just revealed the track list for her upcoming album, Denim & Rhinestones. The record, out on June 10, features 12 songs, including the title track, which she dropped today, and her current single, ""Ghost Story."
"We cover a lot of ground on this album," Underwood says of Denim & Rhinestones, in the album's trailer she just released. "We have a lot of songs that have a bit of a 'throwback' feel, but they sound super fresh. I grew up listening to so many different kinds of music and that is extremely evident in this body of work. These are musical influences that are all in me and work their way out, and I just decided this time not to get in their way. I think this whole album ended up being a big reflection of me as a person and as an artist."
Underwood co-wrote the title track with her co-producer, David Garcia, and Josh Kear and Hillary Lindsey.
"The song 'Denim & Rhinestones' is super fun, with a bit of a retro vibe – we just go together, like a sweet tea and a lemon, like denim and rhinestones," Underwood says. "You have these things that are great on their own and then you put them together and they just fit. That's how this album feels."
The reigning country music superstar says Denim & Rhinestones will share a bit of all of her influences, into one cohesive project that is uniquely her.
"I grew up listening to so many different kinds of music, and I feel like that is extremely evident in this body of work," says the singer. "We weren't trying to do anything. We just wanted to go in and see what happened. I really just wanted to make an album. That just felt like fun."
The mother of two previously said that Denim & Rhinestones was one of the most enjoyable projects she ever recorded, which came out in the finished product.
"I feel like overall, just this next project is … It's fun. It's a lot of fun," Underwood said on Apple Music Country's Today's Country Radio with Kelleigh Bannen. "We covered a lot of ground making it, and just went into the whole project of 'Let's just have fun and make music we love and see what happens.' I got to write a lot. I got to co-produce again with David Garcia, which is just so much fun being able to be there from the ground up and really make more musical decisions. It's a lot of fun and I feel like people are going to hear everything and just going to get some warm fuzzies.
"Hopefully, it'll make people happy to listen to," she adds. "it's a very sing into your hairbrush, in your house, in your room kind of album, which I think it's going to translate well. I think people are going to like it."
See a track list for Denim & Rhinestones below. Pre-order is available here.
1. Denim & Rhinestones (Carrie Underwood, David Garcia, Josh Kear, Hillary Lindsey)
2. Velvet Heartbreak (Carrie Underwood, David Garcia, Hillary Lindsey)
3. Ghost Story (David Garcia, Josh Kear, Hillary Lindsey)
4. Hate My Heart (Carrie Underwood, David Garcia, Michael Hardy, Hillary Lindsey)
5. Burn (Carrie Underwood, David Garcia, Ashley Gorley, Hillary Lindsey)
6. Crazy Angels (Carrie Underwood, David Garcia, Lydia Vaughan)
7. Faster (Carrie Underwood, David Garcia, Hillary Lindsey)
8. Pink Champagne (Carrie Underwood, David Garcia, Ashley Gorley, Hillary Lindsey)
9. Wanted Woman (Carrie Underwood, David Garcia, Josh Miller)
10. Poor Everybody Else (Carrie Underwood, Chris DeStefano, Josh Miller)
11. She Don't Know (Carrie Underwood, David Garcia, Hillary Lindsey)
12. Garden (Carrie Underwood, David Garcia, Josh Miller)
Photo Credit: Courtesy of Capitol Records Nashville / Randee St. Nicholas