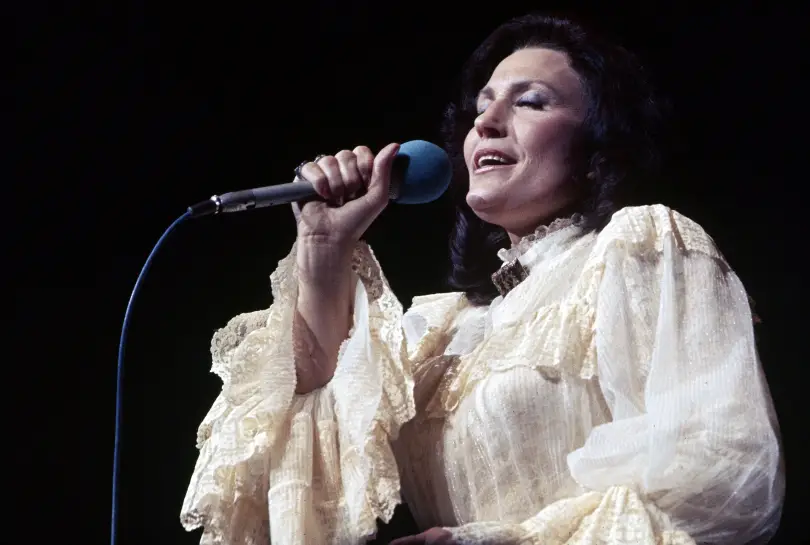 The Grand Ole Opry will celebrate Loretta Lynn's upcoming 90th birthday in a big, big way. The country music icon will be honored with a star-studded birthday bash, as part of a special Opry Country Classics show on Thursday, April 14, featuring performances by Lynn's sister and fellow Grand Ole Opry member Crystal Gayle, along with The Gatlin Brothers, Elizabeth Cook and Maggie Rose.
In addition, Twitty & Lynn, the duo made up of Lynn's granddaughter Tayla Lynn. and Conway Twitty's grandson, Tre Twitty, will make their Opry debut as well.
"I can't believe it,' Tayla gushes to Talk of the Town. "That's the dream. That's the thing. I gew up watching Memaw go to the Opry, and how much she adores the Opry, how she respects the Opry. She acts different at the Opry. That's her queen; that's her place. And so to be asked to come on her actual birthday, April 14th, and sing her songs and sing with Tre Twitty, and be able to do Conway and Loretta, is unbelievable."
While Lynn might not be physically present at her epic celebration, her granddaughter said she has a special way to feel her presence from stage.
"I am gonna wear one of her outfits, one of her jumpsuits, so I feel like I'm kind of covered in her," Tayla reveals. "That's gonna be so fun."
Tayla has received nothing but praise from the "Coal Miner's Daughter" singer for her work with Twitty &  Lynn.
"I worship my grandmother. She's everything to me," says Tayla. "And to be able to not only sing [her songs] … but to have her support me in that and say, 'I love that you sing my songs,' and her help me choose what songs to sing, and for her to have been my teacher for so long — my heart is full."
Lynn doesn't make a lot of appearances anymore, but Tayla insists Lynn is still doing very, very well.
"She's doing so good," her proud granddaughter boasts. "She is chilling at the ranch and planting stuff, and feeding her animals, and writing songs. She's really into her gospel music right now. She's just doing great, seeing lots of family."
Twitty & Lynn will also celebrate the Country Music Hall of Fame member's birthday with a performance on April 10 at The Nashville Place. Tickets for the Opry Country Classics show honoring Lynn are available at Opry.com. The show can also be heard on WSMOnline.com, and will be played on SiriusXM Willie's Roadhouse, and WSM Radio.
Photo Credit: Courtesy of Schmidt Relations