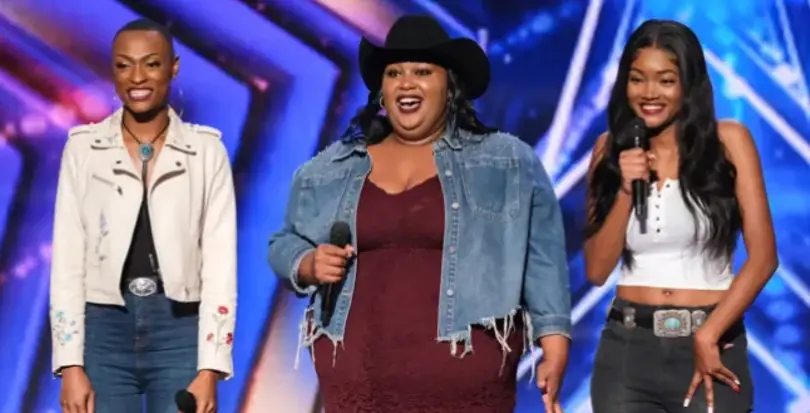 Much has changed for Chapel Hart since earning a collective gold buzzer from all four judges, plus host Terry Crews, on America's Got Talent earlier this week. The trio, made up of sisters Danica Hart and Devynn Hart, and their cousin Trea Swindle, performed a song in tribute to  Dolly Parton, and her legendary "Jolene" single, taking Chapel Hart from being a rising country music act to one of the most talked about, earning praise from Country Music Hall of Fame member Loretta Lynn, and an invitation to appear on the Grand Ole Opry.
"I love it, ladies," Lynn commented on social media, while sharing their stunning performance. "Now I'm wondering what you might be able to do with one of my songs!"
I love it, ladies. Now I'm wondering what you might be able to do with one of my songs! (: Chapel Hart #AGT #breakingthrough #girlpower #stillwomanenough

Posted by Loretta Lynn on Wednesday, July 20, 2022
Chapel Hart also tweeted about their dream of performing at the Grand Ole Opry, to which the Opry responded by issuing an invitation to make their Opry debut.
"Ya know what would be the icing on this triple layer German chocolate cake of a day?" Chapel Hart tweeted. "If the [Opry] invited us to sing there!"
The Opry responded by issuing their invitation via Twitter as well, putting the date on top of a chocolate cake.
🥹🥹🥹 IS THIS REAL LIFE?!?! We graciously accept…as soon as we pick our jaws up off of the floor 😭😭😭 https://t.co/AvJbWQlIRe

— Chapel Hart (@ChapelHartBand) July 21, 2022
Shortly after Chapel Hart's performance. Parton praised the threesome for their spin on her 1973 single.
"What a fun new take on my song, [Chapel Hart]!" Parton tweeted. "Carl's birthday is today so I think I'll hang on to him, and I'm not notifying Jolene that today is his birthday."
One artist who didn't need America's Got Talent to see how gifted Chapel Hart is, is Darius Rucker, who reveals that he had already included them on his next album.
Already put them on my next record. https://t.co/EwLZ0swTYo

— Darius Rucker (@dariusrucker) July 20, 2022
Chapel Hart had been trying for years to get their music heard in the country music industry, a challenge that seemed even harder because of being three Black female singers.
"We've been trying to break into Nashville for the last couple of years and It's been kind of hard when I think country music doesn't always look like us," Danica said from the stage.
Chapel Hart has a busy concert schedule for the next couple of months. Their The Girls Are Back In Town album, which they released independently last year, shot to the top of the iTunes Country Albums chart after their AGT performance. Find music and tour dates at ChapelHart.com.
Photo Credit: Courtesy of Trae Patton/NBC/America's Got Talent