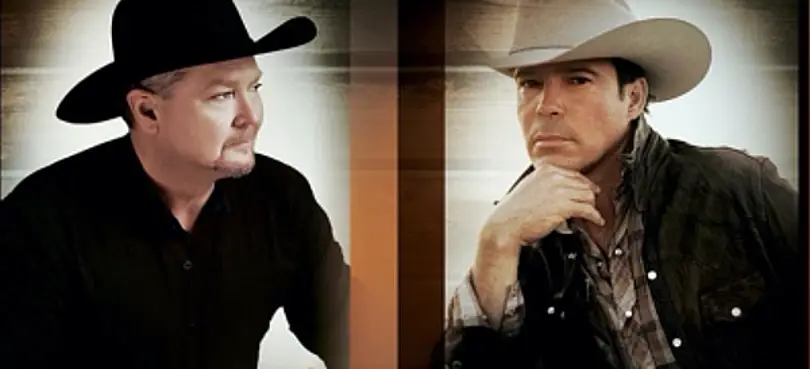 Tracy Lawrence and Clay Walker are hitting the road together on their joint, co-headlining tour, which kicked off on Thursday, March 3, in Charlotte, North Carolina. The two friends had been wanting to tour together for years, not only because of their friendship, but because of their admiration for each other and their musical talents.
"His longevity is because of that great voice," Walker tells Everything Nash, speaking of Lawrence's three-decade career. "That guy's got one of the best country music voices of all time."
Apparently, Walker isn't the only one who is a fan of Lawrence's voice, at least according to a conversation Walker recently had with another country music superstar.
"I was on the phone with Tim McGraw a couple of weeks ago, and I was telling him that Tracy and I were going out together," Walker recalls. "He paused for a minute and he goes, 'Is there a better voice than that?' There's a lot of admiration for Tracy in the business, and that's his longevity. And I think for both of us, the passion that we have for great songs, it's not just being a good singer like Tracy is.
"You've got to know a great song when you hear one," he continues. "I think Tracy would agree with this, that an average singer can have a good career if they have great songs, but a great singer can have no career with average songs. You've got to have an ear. If you don't write them you gotta be able to pick them. Tracy, I'm a little envious of the track record he's had with great, great songs."
Walker has also had a career that has stood the test of time. He's had a successful, and busy, run as a country music hitmaker, ever since his debut "What's It To You" was released in 1993. Walker is grateful to still be making music, even if his success has come at a price, including missing things like dance recitals or sporting events that his children are involved in.
"I miss out on them all the time, and it hurts," the father of seven concedes. "We'll have a tour, or we'll have our schedule a year in advance, and then all these things come in on the weekends, and you can't de-commit to tour dates. And I love what I do, as Tracy does. Our families didn't ask, and our kids didn't ask to be put in these roles. But my wife and I decided that this year that we would spend a lot of the time, not all of it, but a lot of the time on the road together. Because I need the kids as much as they need me,"
Alexandra Kay is joining Walker and Lawrence for the first three dates on the tour. Find all of Walker's shows and music here, and click here for updated information on Lawrence's music and tour dates.