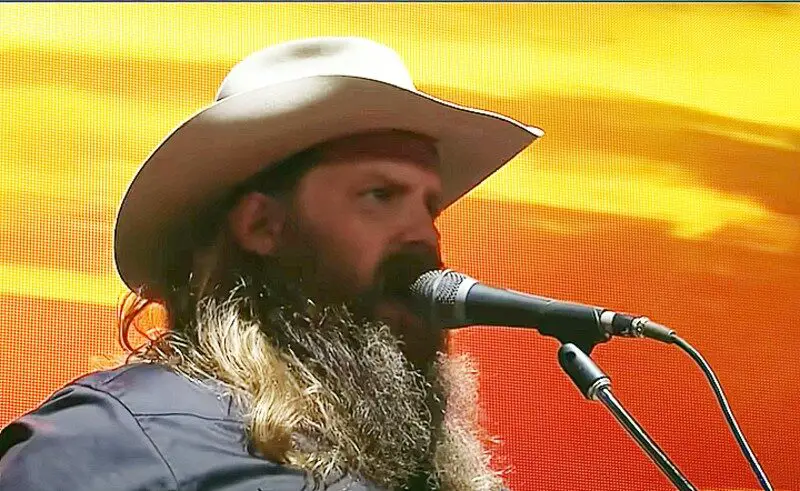 Happy birthday, Chris Stapleton! The 44-year-old has had one of the biggest impacts in country music, of any artist, in the last decade. The reigning CMA Male Vocalist of the Year has had record-breaking songs, sold-out tours, and more. Keep reading to discover more about one of country music's biggest stars.
1. He met his wife, Morgane, when they were both writing at adjacent publishing houses.
Morgane is also an established singer-songwriter herself, co-writing one of Carrie Underwood's early hits, "Don't Forget to Remember Me." It was, of course, music that first brought them together.
"We'd hear the jingle of his keys as he walked down the hall, and we knew he was coming to play us whatever new song he had written," Morgane recalled (via Yahoo! Life). Their first "date" was a writing session, on a Friday night. While they didn't walk out of that meeting with a song, they did walk out with a love connection.
"We didn't get much writing done that night," Morgane recalled.
2. He comes from a long line of coal miners.
Stapleton comes by his work ethic honestly. His father, Herbert (who passed away in 2013), was a coal miner, as were plenty of other people in his family. Stapleton still has one of the first pieces of coal his father ever mined, which he has brought on stage with him, dedicating a song to his father.
"It's not really fragile," Stapleton said (via NPR). "it's heavy. That sat on my dad's desk for years. It was the first piece of coal he ever mined."
3. He's smart. Really, really smart.
Stapleton has talent, but he also has brains. The Kentucky native excelled in school, becoming the class salutatorian at Johnson Central High School when he graduated. He later attended Vanderbilt University for a year, studying engineering, followed by two years of business school, before he realized his heart was in music.
"The main thing I learned from both of those things is that I didn't want to be an engineer or an economist," Stapleton told the San Diego Union-Tribune. "Sometimes, when you're 18, career paths are not clear. You have things you like to do, but everyone I knew made a living in business. My dad was an electrical engineer who worked on coal mines. My brother is an FBI agent … But I'm glad I did [engineering and business] first because all the wrong roads bring you to the right roads."
4. His first real singing job was in the bluegrass band, The Steeldrivers.
Stapleton quickly became known as a great songwriter and singer around town. He began fronting the bluegrass band, The Steeldrivers, in 2007, releasing two albums with the group on Rounder Records, with one of them earning a Grammy Awards nomination in the process. In 2010, Stapleton left the group to focus on his family. He later founded the Southern rock band, The Jompson Brothers, where he remained until he signed a solo record deal with Mercury Records in 2013.
5. He and Morgane homeschool their children.
While plenty of people were forced to homeschool, at least in some capacity, during the pandemic, Stapleton and his wife were already pros at remote learning. The parents of five children have plenty of experience, doing it as a way to keep their family together while he was on the road.
"When the twins were born … we took about six months where they stayed home and they traveled some with us on the back end," Stapleton told Billboard in early 2019. "We haven't fully figured all that out because the big kids are eight and nine and they're road dogs and they're pretty resilient. Shoot, they're better on the road than I am. We homeschool and they've been to, I don't know how many presidential museums and national monuments, Mount Rushmore, the Grand Canyon, Yellowstone.
"They get to see this stuff that I only got to read about," he continued. "I know there will be a point when they're teenagers or pre-teenagers where they go, 'If I have to get on that bus one more time I'm going to kill my dad,' but we'll figure all that out when it's time. Hopefully it will make them well-rounded human beings eventually."
6. He's good friends with Justin Timberlake.
We already know that Stapleton and Justin Timberlake make musical magic together, with songs like "Tennessee Whiskey," "Drink You Away" and "Say Something." But the two are also good friends, bonding over their love of their children as much as their love of music.
"We tell a lot of kid stories," Stapleton told Entertainment Weekly. "He's a new dad and I've got little kids."
7. He used to work at Papa John's, and keeps his employee badge as a reminder of how different his life could be.
Stapleton might have massive success, but he will always remember his humble beginnings.
"I keep a little badge in my medicine cabinet at home — where I worked at Papa John's for a time," Stapleton said (via CMT). "Every time I open my medicine cabinet, I see it as a reminder that I worked a lot of different things to be doing what I'm doing now."
8. He likes bourbon, but not beer.
Try as he might, Stapleton has never learned to like beer, but that doesn't mean he abstains from drinking entirely. He will happily imbibe, just with hard liquor instead.
"Just not into it," Stapleton told the Los Angeles Times. "It wasn't for lack of trying. But I like bourbon. I'll stick with that."
9. He has "You Are My Sunshine" engraved inside his wedding ring.
When Stapleton and Morgane wed in 2007, his bride surprised him by having the words, "You Are My Sunshine," engraved inside his wedding band.
"In our first house together we had an empty room where we would sit around and play music," Stapleton told Garden & Gun. "That was one of the songs we played a lot."
10. His favorite album is Tom Petty's Wildflowers.
Stapleton might be a country artist, but his influences are as varied as the songs he writes. Still, if he had to pick one album to listen to for the rest of his life, he says it would easily be Tom Petty's 1994 Wildflowers.
"I hold it as the standard — in terms of sonics, sequencing and songs," Stapleton told Rolling Stone. "It shows that making a complete record is important, rather than just making a single. I think we've forgotten that a bit."
11. Reba McEntire announced the birth of Stapleton and Morgane's twins at the ACM Awards.
The 2018 ACM Awards were a big deal for Stapleton, who won Male Vocalist of the Year and Album of the Year for From a Room: Volume 1. But Stapleton wasn't at the awards ceremony; he was at home with his wife, Morgane, who had just given birth to the couple's twins.
"Those little rascals came a little bit early," McEntire quipped from stage.