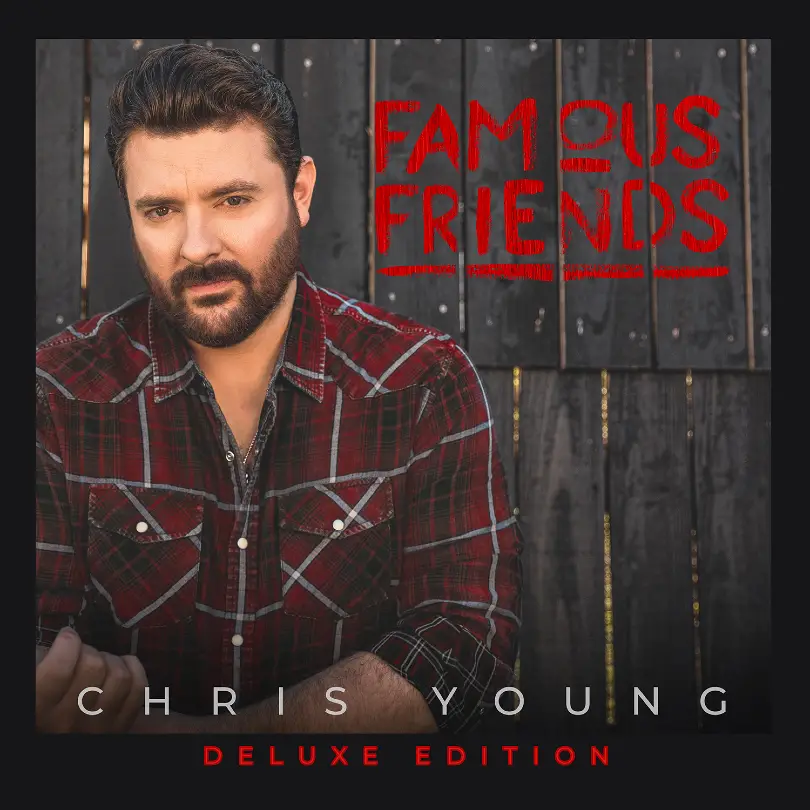 Chris Young is enlisting the help of even more of his famous friends for the deluxe edition of his Famous Friends album. The Tennesse native just announced that Famous Friends (Deluxe Edition) will be out on June 3. The record includes all of the original songs on his latest project, as well as six new tracks, including collaborations withf Old Dominion, Jimmie Allen and Cassadee Pope.
Old Dominion joins Young on "Everybody Needs a Song," which is out now. Allen joins Young on "Music Note," while Pope reprises her role as his duet partner, this time for an acoustic version of their Grammy-nominated "Think of You."
The new deluxe version of Famous Friends also includes his three collaborations on the original record, with Lauren Alaina on "Town Ain't Big Enough)," Mitchell Tenpenny on his current Top 25 hit, "At the End of a Bar," and with Kane Brown on the record's title track.
Famous Friends, which came out in August, marked Young's first new album in nearly four years when it was released, but Young stayed true to his promise that the wait would be worth it in the end.
"We've been teasing everybody for years," Young told  People ahead of its release last year. "It's been so long that I've been talking about all the stuff that I did in the past year-and-a-half, and I think people at one point thought I was just messing with them a little bit. They were like, 'Do you actually have an album coming out?' It's so exciting to have this information out there."
See a track list for Famous Friends (Deluxe Edition) below. Pre-order the record here.
Famous Friends (Deluxe Edition) Track List:
Raised on Country
Famous Friends (with Kane Brown)
Town Ain't Big Enough (with Lauren Alaina)
Drowning
Rescue Me
Break Like You Do
At the End of a Bar (with Mitchell Tenpenny)
Love Looks Good on You
One of Them Nights
When You're Drinking
Cross Every Line
Hold My Beer Watch This
Best Seat in the House
Tonight We're Dancing
Everybody Needs a Song (with Old Dominion) – NEW
If I Knew What Was Good for Me – NEW
Music Note (with Jimmie Allen) – NEW
Like a Slow Song – NEW
Think of You (with Cassadee Pope) (Acoustic Version) – NEW
I'm Comin' Over (Acoustic Version) – NEW