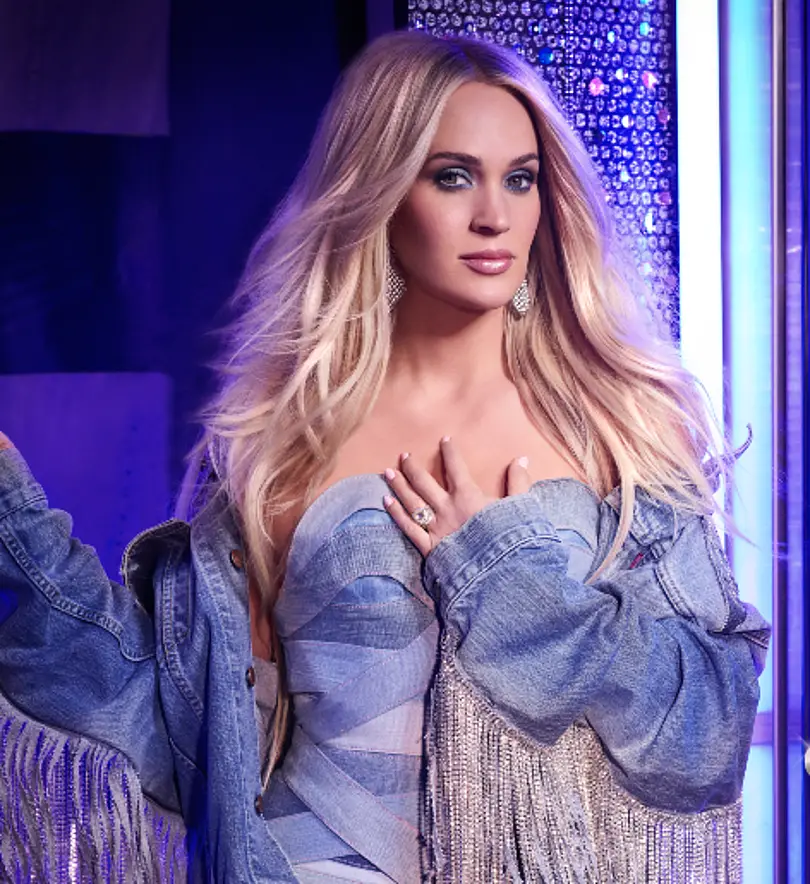 Carrie Underwood just released the haunting video for her current single, "Ghost Story." The song is the only one she didn't write for her forthcoming Denim & Rhinestones album, out on June 10.
In the video for "Ghost Story," the American Idol alum stars opposite a male actor, although their only scenes together are of him wishing her back after he walked away from their relationship. Underwood can be seen in various scenes, including soaring on a swing, similar to what she did for her stunning CMT Music Awards performance. The video was directed by Randee St. Nicholas, and shot at the Los Angeles Theatre.
"Randee St. Nicholas has an incredible eye and always knows how to film everything in the most unique and beautiful way," Underwood says. I" am very visually-oriented and from the first time I heard 'Ghost Story,' I had a vision for how I wanted to bring this song to life in performance and Randee always takes everything to a whole other artistic level beyond my own imagination."
"Ghost Story" might not have been written by Underwood, but it was written for her, and she knew as soon as she heard it that she wanted to include it on Denim & Rhinestones.
"'Ghost Story' was written for me by David Garcia, Hilary Lindsey and Josh Kear, and I feel like they just nailed it when they got together to write," Underwood shared with her record label. "I've worked with all those incredibly talented writers, a couple of which I've worked with since pretty much the very beginning. I feel like they just know me so well. The song is hauntingly beautiful, has a really wide range and amazing melody, and just tells this really cool, cinematic story of how this guy is never going to be able to let go of the girl he let go of because she's just always going to be haunting him.
"He's going to see her everywhere. He's gonna want her back but she's moved on – sorry man," she adds with a laugh. "I loved this song, I loved recording it. It's challenging vocally, but I like that. I feel like it's just a really awesome song and I'm glad they got together to think of me while they were writing one day."
Denim & Rhinestones is Underwood's first studio album of original material since Cry Pretty was released in September of 2018, and the 39-year-old made sure she poured everything she had into her new set of tunes.
"We cover a lot of ground on this album," Underwood says of Denim & Rhinestones, in the album's trailer she just released. "We have a lot of songs that have a bit of a 'throwback' feel, but they sound super fresh. I grew up listening to so many different kinds of music and that is extremely evident in this body of work. These are musical influences that are all in me and work their way out, and I just decided this time not to get in their way. I think this whole album ended up being a big reflection of me as a person and as an artist."
Pre-order of Denim & Rhinestones is available here. Find all of Underwood's music and tour dates by visiting her website.