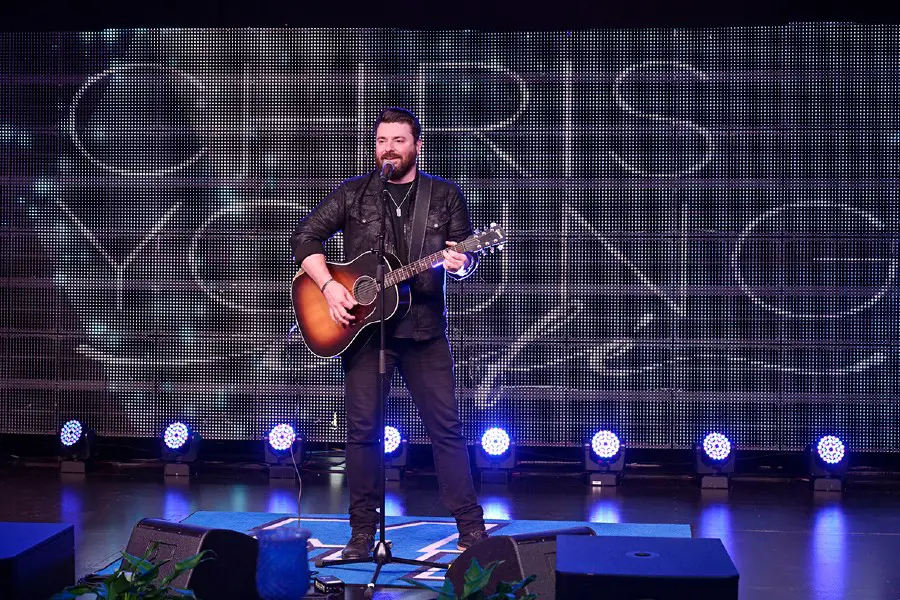 Chris Young has been honored with a cafe at his alma mater, MTSU. The Chris Young Cafe opened on Wednesday, January 27, with an official ceremony, which also included the unveiling of a Famous Friends mural, showing Young with some influential MTSU graduates, and a new Tennessee Music Pathways marker.
"It's kind of hard to describe what it means to me," Young told Everything Nash of the honor. "I keep telling people, I went to school here and I've been in this building before it was what it is now. It's not the same. So it it's an incredible feeling, just knowing that I had a part in making this space what it is now for people that are going to go to school here, and faculty to be able to utilize it. Knowing that it's got my name on it, in my hometown where I went to school is pretty mind-blowing."
The Grand Ole Opry member has been nominated for numerous awards over the years, including two Grammys, but says nothing compares to being honored with a cafe at MTSU.
"I don't really know if there is a comparison, because this is something that's going to exist for quite a long time on the MTSU campus, where I went to school in my hometown," reflects the singer. "And there's just something indescribable about how awesome that is, one, and two, just knowing how many people are going to see this coming through the recording program that I was part of."
Young was also honored by The Charlie Daniels Journey Home Project, with a $10,000 donation to launch the Daniels/Young Veterans Scholarship. The scholarship will benefit student veterans in the Department of Recording Industry. Young volunteered to help with the ongoing mission of The Charlie Daniels Journey Home Project, after Charlie Daniels passed away last year.
"That's another thing that I was very, very happy to be a part of," Young shares. "I was lucky enough to get to know Charlie. [His manager], David Corlew, I have known for quite a long time with a bunch of different work that we've done with military, and with veterans. And obviously the Journey Home Project is such an incredible thing for people that are trying to come back, and reinsert themselves into civilian life, and giving them as many opportunities to help with them as possible.
"Obviously, with Charlie's passing, they were trying to figure out exactly what they were going to do to keep raising money for this moving forward, and keep raising money for veterans," he added. "And, I kind of put my name in the hat. I was like, 'Hey, if there's any way for you guys to be able to use me in any way, shape or form to continue the work that you started, I would love to do that.'"
Photo and video courtesy of MTSU.