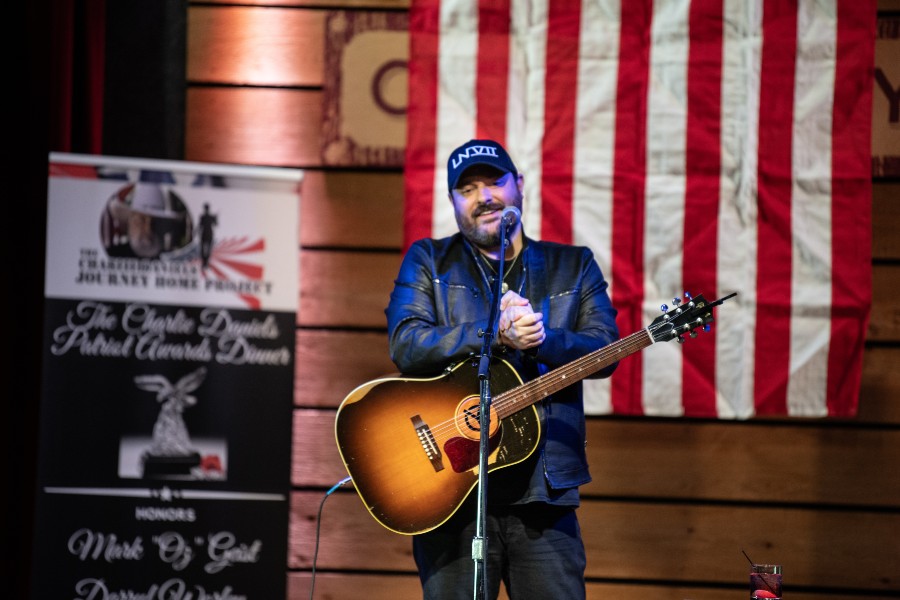 While many will be using the Memorial Day holiday to enjoy time out on the water, or a picnic with friends, Chris Young is using the day to remember those who have served in the military. The "At the End of a Bar" singer will honor his family members who served, as well as remember Charlie Daniels, and the work he began with The Journey Home Project.
"I'll shamelessly use this opportunity to talk about the military charity I've been working with, which is the Charlie Daniels Journey Home Project," Young shared with Everything Nash and other outlets, during a virtual media event. "And I would say that for me, it's seeing Charlie's love for the military, getting a chance to help them raise money multiple times a year, and knowing it's going to help our veterans who might need a leg up or might need to reintegrate into society in a way where they're not quite prepared yet. They've got a lot of different outreach things for veterans if they're dealing with something, or if they need some help."
Young grew up with a deep appreciation for those who served in the U.S. Armed Forces, which is why he is so passionate about carrying on Daniels' legacy in supporting veterans.
"I think to me, just knowing that not only my sister, but my grandfather was a Marine as well before he passed," Young shares. "And having that military connection to my family, having been able to be lucky enough to go around the world playing for the military, being able to offer some help to veterans and especially with Charlie Daniels' name attached to it, is part of his legacy. It's really, really important for me to have a chance to do that."
In the immediate aftermath of Daniels' sudden passing, it was Young who quietly stepped in and vowed to continue the work Daniels started with The Journey Home Project, later renamed The Charlie Daniels Journey Home Project, after Daniels' death.
"Obviously, with Charlie's passing, they were trying to figure out exactly what they were going to do to keep raising money for this moving forward, and keep raising money for veterans," Young told Everything Nash. "And, I kind of put my name in the hat. I was like, 'Hey, if there's any way for you guys to be able to use me in any way, shape or form to continue the work that you started, I would love to do that.'"
To learn more about The Charlie Daniels Journey Home Project, or to make a donation, visit TheCharlieDanielsJourneyHomeProject.org.