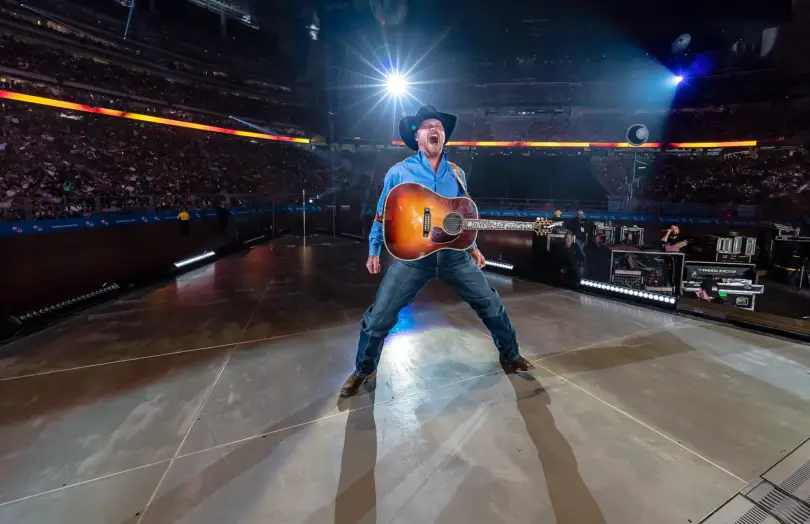 Cody Johnson is officially in the company of greatness. The Texas native sold out opening night of RodeoHouston, drawing more than 70,500 fans to his electric performance. Only two other artists in the history of RodeoHouston — George Strait and Garth Brooks — have managed such a feat.
"Last night was a historical night for myself as well as Rodeo Houston; sold-out opening day!!" Johnson said of the honor. "I can't thank everyone enough for coming out and showing support to me and my band. CAN'T WAIT TO DO IT AGAIN NEXT YEAR!"
Johnson also shared a clip of his performance on social media, saying he has the "best fans in the world."
Houston! Thanks for another unforgettable night at @RODEOHOUSTON! I truly do have the best fans in the world. #SoldOut #OpeningDay @Wrangler, @Resistolhats pic.twitter.com/8J3cwpNeqN

— Cody Johnson (@codyjohnson) March 1, 2022
Johnson just celebrated a No. 1 hit with "'Til You Can't." The song is the debut single from Johnson's latest Human: The Double Album, out in October.
"I'm so excited to see the ripples that this song has created. "Til You Can't" has such a positive message, and it's so much fun to sing!" Johnson told Billboard of the song, which was written by Matt Rogers and Ben Stennis  "After playing music for almost 15 years, I'm still taken back by the power of a good country song;"
Although Johnson didn't write "'Til You Can't," the song resonated with him as personally as if he had written it himself.
"You hear lyrics like fixing up the car with your grandpa, and everyone who hears it thinks, 'Well, grandpa may die,'" Johnson reflected. "Well, our time is limited, too. I think about all the division that we've had politically and with race and different things in our country… If you spend your time spreading hate, your time is going to be up, and that's all you did with your time here."
"'Til You Can't" was already personal to Johnson, but became even more personal after a private jet he was on with his wife almost crashed.
"After that I thought, why did I tell my daughters I didn't have time to get down on the floor and play with them?" he later asked. "Why didn't I tell this person I loved them, why didn't I tell that person, 'Hey sorry for doing that,' or why didn't I apply myself more here? Our days are numbered and I think it's something people need to hear. Do it now."
Johnson is spending much of 2022 on the road. He has a series of shows with Easton Corbin and Ian Munsick serving as his opening acts. He will also open for Luke Combs for three stadium shows. Find all of Johnson's upcoming shows, as well as his music, at CodyJohnsonMusic.com.
Photo Credit: Courtesy of Schmid Relations