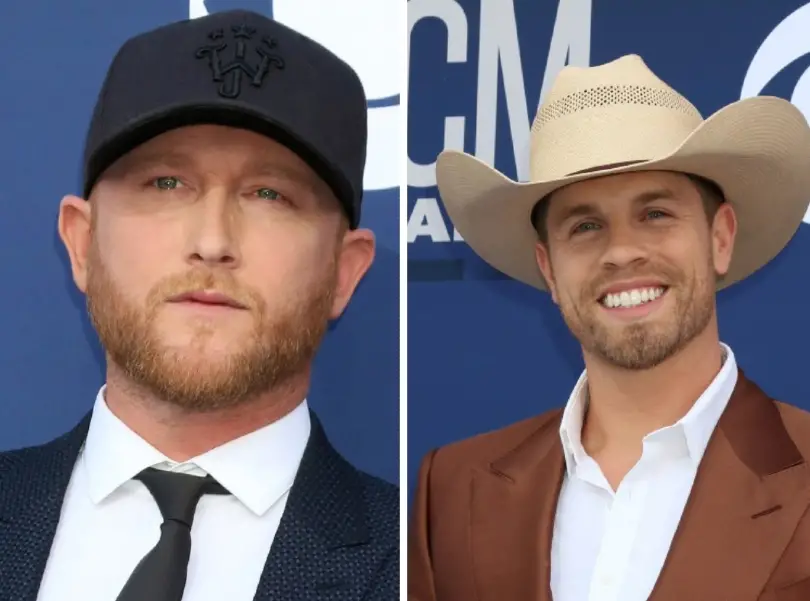 Cole Swindell is showing off his romantic side with his new song, "I'm Gonna Let Her." The sentimental track, from his upcoming album, Stereotype, out on April 8, was written by Dustin Lynch, along with Justin Ebach and Josh Thompson
The song, which says in part, "I'm gonna let her / To keep on makin' my days and nights a little better / Might change her last name right down to the letter / So if she wants to think I'm thinkin' 'bout forever / Well, I'm gonna let her," is one of 13 tracks on Swindell's new record, which he is eager to share with his fans.
"I am so proud of this album and excited for everyone to hear what we have been working on," Swindell says. "I've always had a 'best song wins' attitude when recording an album and I hope every song we recorded for Stereotype makes you feel something. I can't wait for the Down to the Bar Tour to start and play some of these songs for the fans."
Swindell wrote seven of the 13 songs on Stereotype, including his "Never Say Never"  duet with Lainey Wilson, which is currently in the Top 20, and climbing, on the charts.
"We wrote the song and we wanted it to be the right person," Swindell tells Off the Record. "When her name came up, I was like, 'That's perfect,' because I legit am a fan. I love how country she is, how real she is. We're friends, and just anytime you're around her you just feel that energy. She's got it. That song, it is kind of rocking and whatever, but it just shows you she can do anything. She nailed it, and I could not be more excited to have her be a part of this. I know she's excited."
The album also includes songs by Thomas Rhett, HARDY, Ashley Gorley, Luke Laird and more. Swindell celebrated a multi-week No. 1 hit with "Single Saturday Night," the debut track from Stereotype.
See a track list for Stereotype below. Pre-order of the record is available here.
Stereotype Track List:
1. Stereotype (Cole Swindell, Michael Hardy, Jordan Schmidt)
2. Every Beer (Cole Swindell, Michael Hardy, Jordan Schmidt)
3. Never Say Never (with Lainey Wilson) (Cole Swindell, Jessi Alexander, Chase McGill)
4. She Had Me At Heads Carolina (Cole Swindell, Ashley Gorley, Jesse Frasure, Thomas Rhett, Mark D. Sanders, Tim Nichols)
5. Sayin' You Love Me (Mark Holman, Ernest K. Smith, James McNair)
6. I'm Gonna Let Her (Dustin Lynch, Justin Ebach, Josh Thompson)
7. Down To The Bar (feat HARDY) (Cole Swindell, Michael Hardy, Jordan Schmidt, Josh Thompson)
8. How Is She Hunter Phelps, Brock Berryhill, Greylan James
9. Miss Wherever (Cole Swindell, Chris LaCorte, Luke Laird, Josh Miller)
10. Single Saturday Night (Ashley Gorley, Michael Hardy and Mark Holman)
11. Some Habits (Chris LaCorte, Josh Miller, Scooter Carusoe)
12. Girl Goes Crazy (Cole Swindell, Michael Hardy, Ross Copperman)
13. Walk On Whiskey (Randy Montana, Rodney Clawson, Jared Mullins)